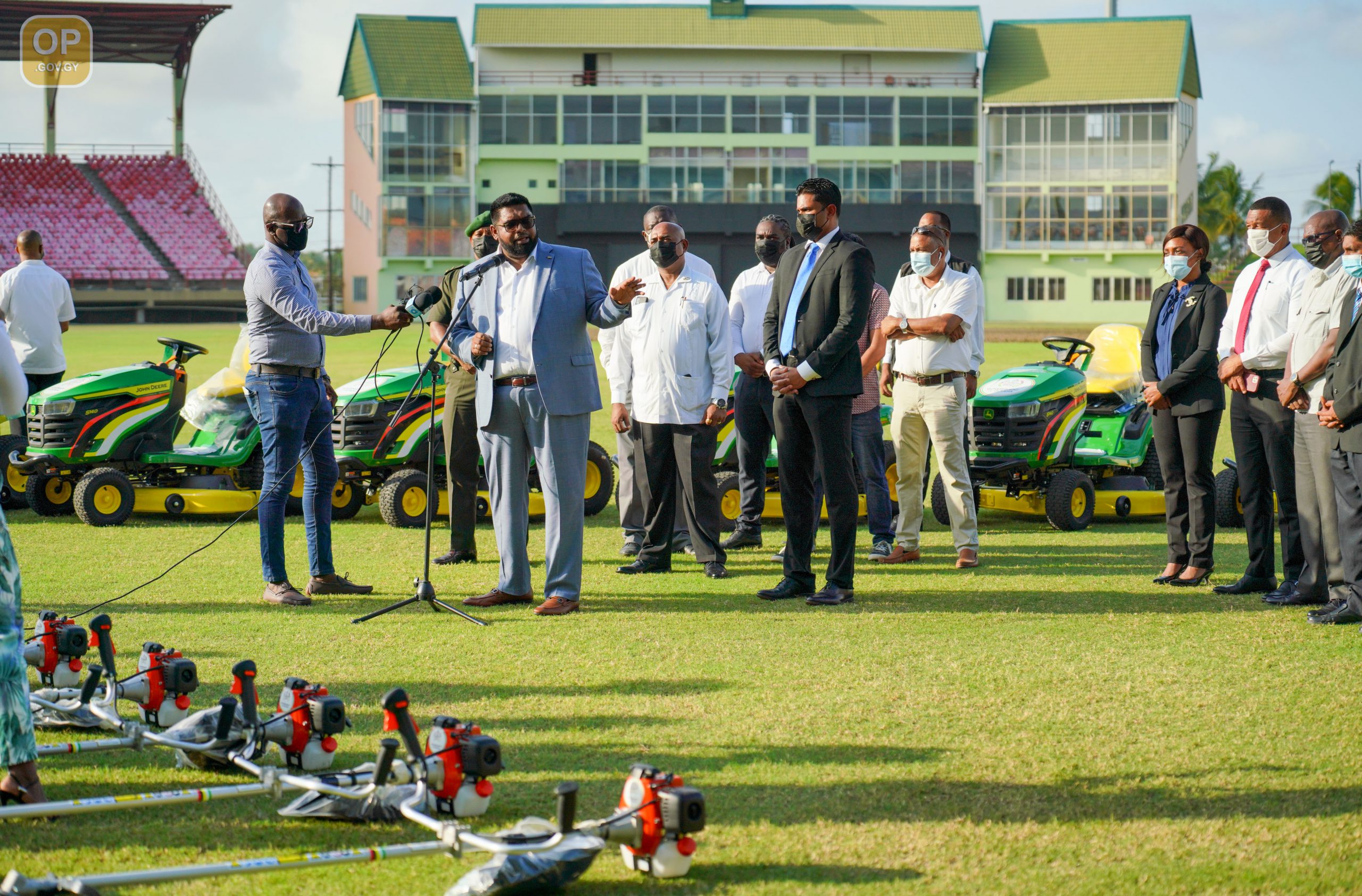 —Intends to use former athletes for coaching and mentorship programmes
Georgetown, Guyana—(September 16, 2021) His Excellency Dr Irfaan Ali today said that along with enhancing sport facilities, his Government is aiming to create safe zones and wellness centres for children and families to motivate communities to be more health-conscious.
Part of this holistic programme will also be the development of night facilities in every region and a physical education programme that will be integrated at the community and school levels.
President Ali made these statements after he handed over 12 lawnmowers and 17 brush cutters to the Ministry of Culture, Youth and Sport through the Government's Ground Enhancement Programme. The equipment will be further distributed to various communities around the country over the coming weeks.
The Head of State praised the Ministry for its "very aggressive and determined work" in building sport and culture from the "community up".
"This is the beginning of numerous investments that we are going to make all across the country. Every single NDC (Neighbourhood Democratic Council) will see tremendous investment and upliftment in their sporting facility. But much more than creating sporting facilities; we want to create wellness centres, safe zones in which families and children can come out as a family unit and they can enjoy sharing time with the wider community in a safer environment."
The President said he wants to create wellness centres that would motivate people to become more health-conscious, which would result in the alleviation of many primary healthcare issues.
The Head of State emphasised that the Government's model will build an integrated approach to community, sport and culture development.
"Every single region must have at least one proper night facility. We are going to ensure that in the larger regions you have more facilities like these. And in every NDC, and even in areas where there is no NDC, in a group of villages, we are looking to put one facility that will stimulate interest in sport, stimulate interest in community health and that would advance our efforts in promoting sport and also culture."
PHYSICAL EDUCATION PROGRAMME
The President noted that communities play a significant role in the development of sport and culture.
"Another programme we are going to launch is a programme that will focus on physical education at a community level and at a school level. At a school level, we will have a concentration of schools serviced by a professional coach."
The President said that he has already tasked the Minister of Culture, Youth and Sport, the Honourable Charles Ramson Jr to find ex-athletes from various sporting disciplines to be trained in a mentorship and coaching programme. This, President Ali emphasised, has to be a collaborative effort between the Ministry of Education and the Ministry of Culture, Youth and Sport.
"They will be part of transforming the mind, the mindset and the sporting environment…"
The President added that it is the intention of his Government to invest time and energy into the development of sport and culture via a "bottom-up approach".
"The entire approach by the Government and the Ministry is community engagement, community involvement, community participation, community ownership, community spirit, and once we build this type of integration across all the communities it will resound to the One Guyana that we want to create."