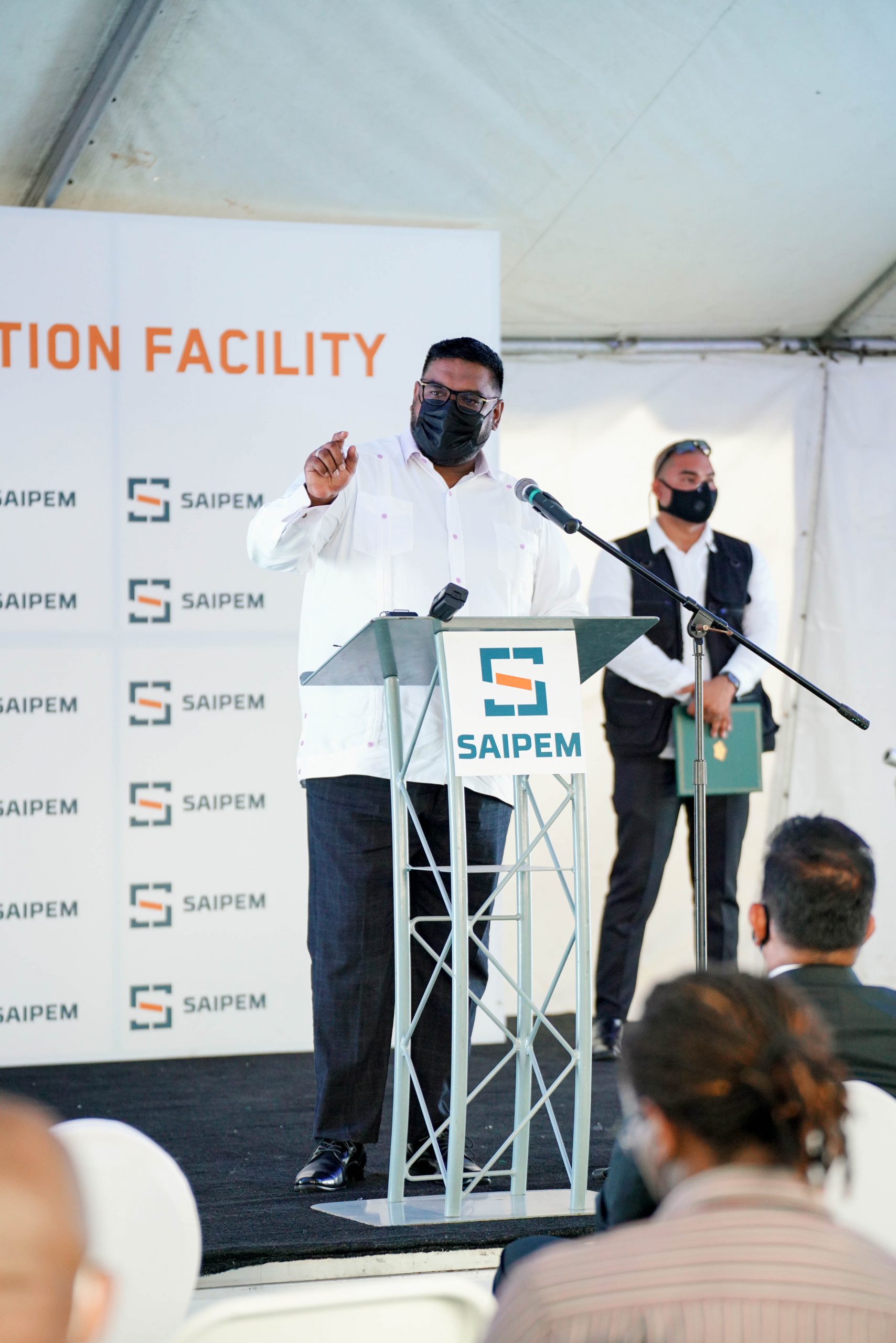 H. E. Dr. Irfaan Ali: Directors, Managers of Saipem, Mr. Alister of Exxon, members of the Private Sector, distinguished ladies and gentlemen. As I speak to you today, I just returned from a very long trip, I came back to be a part of this function and then return to another long trip this evening and tomorrow and the Pomeroon, and what is happening? We cannot know what is happening, many of our brothers and sisters across Guyana are faced with the worst disaster we have ever had or they have ever had in the history of our country.
You may not see it here, I just returned from Olive Creek, Kurkum Button, Jawala, Kamarang, spoke to people in Jawala and Kamarang where their entire life has been destroyed everything, they worked for all their life has disappeared. Blackbush Polder's and when you speak about impact, I'm telling about a farmer who from the last four generations had livestock that is no longer there today.
This occurring as we celebrate world environment day, natural disasters, historic in nature, hundreds of homes completely destroyed, tens of thousands of farms completely destroyed, listening to father in tears telling me that his avocado farm is completely gone but worst is that the trees will no longer be there after these floods, with his 15-year-old son standing behind him and he glances to his son and say what is this boy going to do a very emotional time across our country.
The scale of this disaster is misunderstood by those of us in region four. We are lucky here because we have the hope canal that was done that is assisting tremendously but I ask you do not underestimate the scale of this disaster. I am very happy the chairman of the private sector was with me a few nights ago. This is going to take some doing to recover from, mining camps are empty, infrastructure in some instances completely destroyed. Seeing it first-hand gives you the full extent of the situation that you're faced with right now.
So, I congratulate Saipem on the very difficult circumstances for Guyana and the people of Guyana. It is for this reason that I must speak passionately about the future of the people of this country. I am thankful and we are thankful for investors and investment. We will continue to embrace investors and investment, we will continue to acknowledge the fact that we don't have the necessary technology at this point, the skill set at this point and the love of investment at this point but we must be clear on one thing this point will always not be the point it will have to change.
I am tired of picking up International articles speaking about this small developing country called Guyana that is rich in natural resources with an exciting future and the next paragraph goes on to criticise us but this country is heavily divided this country is entrenched and all kinds of problem that is mostly based on perception has to change, we have to change it, President and the people of this country we have to change it no one can change that for us no investor no international writer can change that for us we have to decide whether we want that type of article, those type of articles and writing to be how were defined we have to decide. This is nothing to do with any political parties, the private sector, the civil society, it has to do with us as a people, we have to make that decision individually and then collectively the change will occur. And why I tell you this, going to those communities today, reinforces the risks we take as a country, we are a tremendous risk as a country never forget we are below sea level.
What is happening now is that the volume of water that has to be drained will create another havoc for those communities when the rain is gone. We have had the opportunity to look at the volume of water that has to come down.
It's frightening in some instances. I've had the opportunity to fly over black bush polder with hundreds of livestock stranded, would die, this is the environment in which we have to build our Guyana. How do we secure our future against this and climate change. It is not about investment tomorrow; we have to make some critical investment now and we have to and we will make those investments. We can talk and have someone lecture to us on what constitute our approach and how we secure the revenue for the future but we can secure well the revenue for the future and have our people suffering and living in poverty and farms destroyed and not implementing an adaptation plan to deal with climate change.
I'm sorry as president I would not allow it, we have to make those investments now and the resources that will come our way would have to help us together to make those investment to secure the livelihood of the people of this country. I ask my staff last night to get the phone numbers of the poorest farmers affected in every community because I want to speak to them directly, I want to speak to them myself and I want to tell them that this is not over and this government and people of this country that come together would come together and make the investment to ensure that the life that the livelihood and that the future is secured, the same message we have to take to linden, to the bauxite workers, to Kwakwani. It's about how we create, and I am not going to listen to transactional efforts, transactional efforts are good but transformative planning is what is needed. That is why I am very happy with Exxon, Mr. Alistair, we are discussing a transformational solution in building an oil and gas institute right here in Guyana. Identifying the skills and providing that opportunity right here so we can have our human resources trained.
So, I want to make this point that the key investments to secure livelihood and open up opportunities in this country will have to be made and we have to make it now. Just like you, foreign investors come they make the key investment and only last night I was in the conversation with an investor who said to me the draft local content legislation look very tough. Last, was it on Thursday, I met with the management of Saipem to first find out what they are doing for local content and reinforce our position on local content and I pointed out to that investor was right next door to us, is a sister country where investors are not allowed to buy land or own land you, hear me? this is our land right now we have an open position there is no discrimination, but we will have to ensure that in this openness Guyanese are owning the facilities to be rented; Guyanese are owning the opportunities to invest in those facilities.
I have made is very clear and I am very transparent in what I am saying you don't have to guess me. Logistics is not scientific work; logistics should easily go to Guyanese. Don't tell me I need a foreign logistics firm to tell me how to do brokerage service, or how to clear someone at the airport, or how to hire taxies and rental to be used in the industry, and then the very logistics companies will come and own twenty properties and do the logistics themselves. It will not go down well don't second guess I am telling you openly it will not go down well whether you are a sub-contractor or not it will not go down well, you will push us to change our policy you will push us to change our policy.
When we talk about investment and local content, we are not talking only about the creation of jobs that is important. And I congratulate SAIPEM not only for the jobs you are creating, but the level of training that you have given, and your commitment the further training because fabrication is an important part of the future development of this industry, and I'll come back to that. I'll come back to that but what I would like to see is generational wealth created not only jobs but how do we create a thousand entrepreneurs, how do we create opportunity that we have general wealth.
Old Guyana and old investors here showed us with the limited resources how they would have done it. How do we get that opportunity for generational wealth creation? And I am not only asking for that opportunity in Oil and Gas I am saying to us as Guyanese that that opportunity can only be created is to use the resources from the sector to open up other aspects of the economy and strengthen other aspects of the economy to give that opportunity whether its agro-processing, whether it's mining, whether it's…whether its owning hotels, the first two, the first two hotels one is already under construction …by Best Western. The second one in two weeks, we'll be turning the sod, Marriott by the airport, both owned by Guyanese, both owned by Guyanese.
How do we support the other sectors? And this is where the Government has to invest; invest in creating the environment and the opportunity through education, through training and development, through land ownership, through homeownership, through small business development in the machining aspect of this sector and the offset of the sector is another massive area.
We have the best machinists. Guyana has the best machinists internationally. Check it, go to Canada. All the leading machinists came out of Port Mourant training centre from Berbice. How do we create an incentive to mobilise them, bring them together and for them to create the opportunity?
The foreign investors can't answer that for us, I'm sorry. We have to do that ourselves. The private sector has been to come together, build synergy, build consortiums… for the opportunity so give us something to fight with you for. It can't be that Mr. Barrow has invested in such a wonderful facility for example, and we still have people using facilities outside of Guyana, or offices outside of Guyana. That is just one example I am giving, and this goes throughout, across the sectors.
The local content is very clear. If Guyanese have the capability and are competitive, they have to be given the opportunities. They have to be given the business opportunity and in any good business model, good corporate business responsibility investors should find it not only essential, but part of a value, part of their own internal value to collaborate with the local private sector, to work with the local private sector so that we can build capacity and create opportunity, and the opportunity is not only for Guyana.
I know a lot of people in the private sector say a lot of the business goes to Trinidad. Even Alastair was mentioning in his address some of business from Trinidad will be coming to Guyana. We have first jump; a lot will be happening in Surinam but now we're going to ensure that we can provide some of those business solutions.
We have to think bold. We have to think bold, what are we doing to ensure that we …I know Mr. Muneshwar is smiling under the mask because I know he is thinking of it already. So, the concept generational wealth is important. How do we find the opportunities and build the opportunities for the creation of generational wealth… is another concept.
This sector gives us the opportunity to leverage ourselves in many other different areas. So, for example, the gas to shore project is not only going to cover electricity costs by 50%. It is going to migrate manufacturing and industrial development to Guyana. That itself brings a whole fabrication industry with it. it brings with it marketing, servicing, packaging, distribution, logistics and that is the macro plan we're looking at in the industrial estate and the manufacturing.
Already the growth of cargo coming into the …is exceeding the port facility. That's another major area: commercial cargo. We have to build a modern facility; massive investment, private sector opportunity. These are the type of transformational things that will create new value.
The new town; linking the new town to Georgetown, creating new opportunities around the new town. There must be a reason why we have, how much people, about 20? There must be a reason why 20 large concrete plants were established in Guyana. What hampers the local chambers of commerce in region three to bring together their business leaders and say let's form a company and let's form a concrete plant in region three?
We have to learn to break them down the individual approach to the collective approach. That is how transformation takes place. The scale of development, the scale of transformation, the scale of investment is completely different from what we are accustomed to. That is why we have to build a model, a business model, to speak to that scale and this is what we have to do. So, the lead and leveraging if we have a state-of-the-art agro-processing facility we have better opportunity and better prices for the farmers.
Let me give you a very simple example. Many of you have heard me say in a press conference 'swamp shrimp'. Many of you may not even have had it. it's a red shrimp that comes from Berbice. We don't have enough to supply the diaspora market in the US, a high-value market. How do we get the more than 200 graduates from the University of Guyana in agriculture to go through a six-month intense entrepreneurial training and then lead them into this industry and create value for them?
We have invested 370 plus million dollars to increase the production of the swamp shrimp and across the region, we are now going to talk to farmers all across the east coast, Lusignan, Buxton, BV, Triumph on how to improve our livestock capacity not only in terms of production but in terms of the quality. So, you have …that requires special cut meat, will require seafood. This is the type of lead and leveraging that is called for in society that you have to go after. One people, one Guyana will produce opportunities.
One area you can take this opportunity is in oil and gas. You have to look at the spill off. The spill off have a lot of opportunity in itself. And let me say that as a president and as a government we are very open to criticism but you have to be positive too you know. As a people, you have to be positive. You can't wake up every morning with a stream of negativity. It weighs you down. You have to be positive about the output and positive about the vision.
It is good to question. You have to question everything. You have to question development decisions but there is a difference between questioning and destroying development opportunities. You can turn off investors and turn off investment very easily. So, I want to say to Saipem, we're with you and there are investors who are committed not in words but are committed in action and through local content. Right now, we are building the organisational structure of Exxon so we have checks and balances on the government side too and we have communicated with Exxon and the government, we have very frank meetings. So, we have a procurement specialist so it not going to be Exxon saying that the procurement is pushing more locals. We will have our own procurement audit. We will have our own local content audit by persons who will be working in… and what I am saying to you here is what I say in the meetings we have.
We have to open and transparent about the way, it may be uncomfortable sometimes but as uncomfortable as it is, it is the reality. It is the environment which we will all operate in and any investor, and any government want a predictable environment. So, it's best we all know upfront where we are. …we have already spoken. There can't be a disconnect between the city and the central government. There can't be a disconnect between the city and the central housing and planning authority because the people suffer for that every day. It is absolutely ridiculous that to build in modern society will take a year to give a permit. It can't happen. It will not be tolerated. The …system will have to…answers and if we don't respond then it will be automatic approval.
You can't have an investor waiting a year for a permit, or an investor waiting three months for a GPL connection. Whatever investment we have to make to change those things we have to do it; critical for us to do it. So, there are things we have to do on our side, there are ways and old habits that we have to change, this culture and mentality that we have to change from our side and then there are things from the investor's sides that they have to change too.
Don't believe you are coming in Guyana to deal with backward people. we have the smartest minds here… and don't believe it is easy to advance yourselves on this basis. We are in this together; a better Guyana is a better CARICOM; a better CARICOM is a better world. more…CARICOM had; we could have gone to full vaccination faster.
Guyana's, and let me be very clear, Guyana's future and prosperity will be shared with this region. We always took our regional responsibility seriously but at the same time, the region must help us to grow. So, the barriers in terms of agricultural export, we have to have serious discussions on those barriers, serious discussions. I am happy to welcome all private sector entities just as enthusiastic as the private sector for example in Trinidad is to invest in Guyana, I want them to be enthusiastic in the same way to remove the barriers to in Trinidad for our trade and our agricultural produce to enter the market.
We're not asking, I'm not asking for any favour. We welcome your enthusiasm in investing here, we want the same enthusiasm in helping us remove those barriers, that's all, wherever they exist. So, congratulations, best wishes, the government is your partner, the government is the private sector partner but let us continue to do it not only the right way but in a way in which the people of Guyana, their lives can be transformed. Thank you very much.