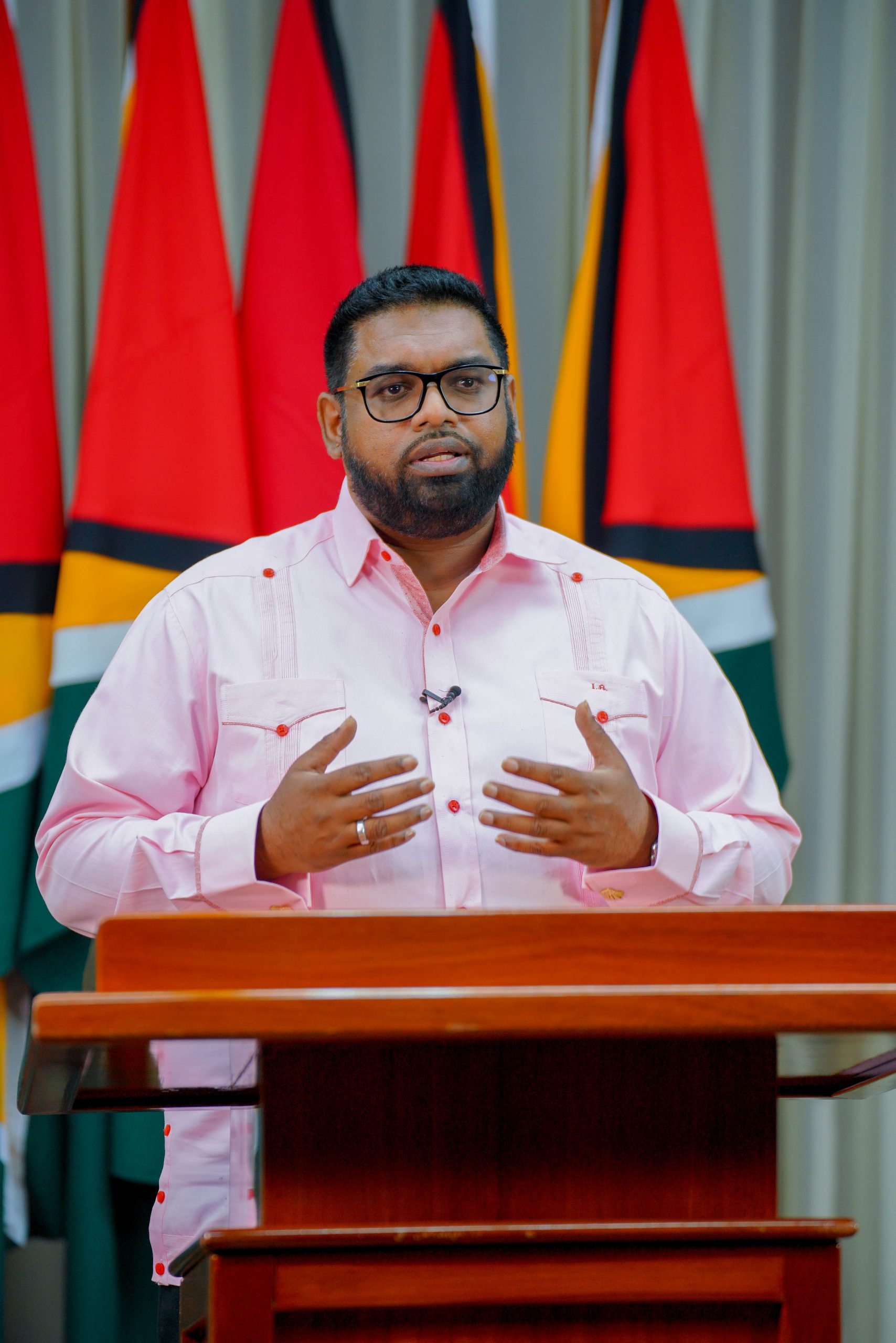 His Excellency Dr Irfaan Ali called for more Guyanese to become inoculated against Covid-19 and promised that his Government will make necessary investments in the coming weeks to ensure that the country reaches herd immunity.
The Head of State in a passionate social media Live broadcast on Thursday evening assured the population that vaccines are the best defence against the disease, which has resulted in over 156M cases and over 3.26M deaths worldwide.
At home, there have been almost 14000 cases of Covid-19 and 310 deaths.
"As a country, it pains us every time we lose one of our brothers or sisters, and indeed this pandemic has taken too many of our Guyanese brothers and sisters….I, therefore, continue to appeal to every Guyanese that though not mandatory at this stage, taking the vaccine is the best option we have to save lives and exit this pandemic."
The vaccination drive in Guyana has so far resulted in 31% or 154,000 Guyanese adults (18 and older) receiving their first dose. Of this group, 61% are 60-years or older.
President Ali lauded local health officials for their efforts and pointed out that the vaccination process is no small feat.
"I must compliment our healthcare workers and all those who played such an instrumental role in bringing us to this point thus far. Achieving this was no easy task. As a country, we had to act proactively. As you're aware, these vaccines are hard to come by. They are expensive. The logistics in moving them around is also very cumbersome."
Many countries are in desperate need of vaccines, but according to the President, adequate provisions have been made in Guyana to ensure that a large percentage of the population receive both doses.
"For all the first dose vaccines that have been administered, our planning carefully ensured that the corresponding second dose of the vaccine is available and will be available to be administered."
The second dose is given approximately one to three months after the first, depending on the type of vaccine.
COLLECTIVE RESPONSIBILITY
The President, who has been proactive in sourcing vaccines, said that the Government will do all in its power to take the country out of the pandemic, but pointed out that Guyanese need to play their part.
"We are all in this together. We're not facing this in a separate way by belief or systems or identity; we're facing this together, as a collective. We can only beat this and get ahead of this together as a collective. We have the responsibility of ensuring our families stay safe, we have the responsibility of ensuring our communities stay safe. This is not a Government-alone task. This is not a Government-alone responsibility. This is our collective responsibility. This is our collective responsibility as Guyanese, and this is our collective responsibility as part of humanity."
In order to reach herd immunity, which occurs when a large portion of a country becomes immune to the disease, more Guyanese need to get inoculated.
"I want to assure Guyanese that our plan is to return this country and economy to normalcy as fast as possible and we're going to invest the necessary resources in the coming week to take us there through herd immunity. The Ministry of Health would continue its aggressive campaign to have everyone vaccinated."
WHISPER CAMPAIGN
President Ali said that he was very concerned about anti-vaxxers, who continue their whisper campaign against the vaccination programme. He said that their reasons are not grounded in science or fact and put people's lives at risk.
"This does not help our communities and country to exit this pandemic and I appeal to all of us to put our country first; put the lives of the people of our country first, and help in advancing the vaccination programme by encouraging every Guyanese to come on board."
The President said that in terms of demography, younger people are not supporting the vaccination process as their older counterparts. In the 18-39 age range only 21% of the population have taken their first dose.
"We all know that the bulk of our population is the younger population. I want to take this opportunity to call upon all our young people to go out there and get vaccinated, to ensure that they take this very seriously. Not taking this seriously put at risk your families, put at risk your friends, your community and your country."
In terms of administrative regions, the President pointed out that Region Eight and Region 10 are lagging behind.
"In every single administrative region, we would have had coverage of between 30 to 36% of the population above 18 years old, with the exception of Region 8 and 10. So in two regions, we're not having this coverage, particularly in the case of Region 10. Only 8.9% of the population above 18 years took the first dose of the vaccine….This is very concerning. This is very alarming."
The President appealed to residents of the two regions to get their vaccines. He said that the Ministry of Health would continue "its aggressive campaign to have everyone vaccinated," but that more needs to be done by Guyanese, especially those in leadership positions.
"I call upon all leaders within our society to act maturely in not only taking the vaccines but in encouraging others to do the same."