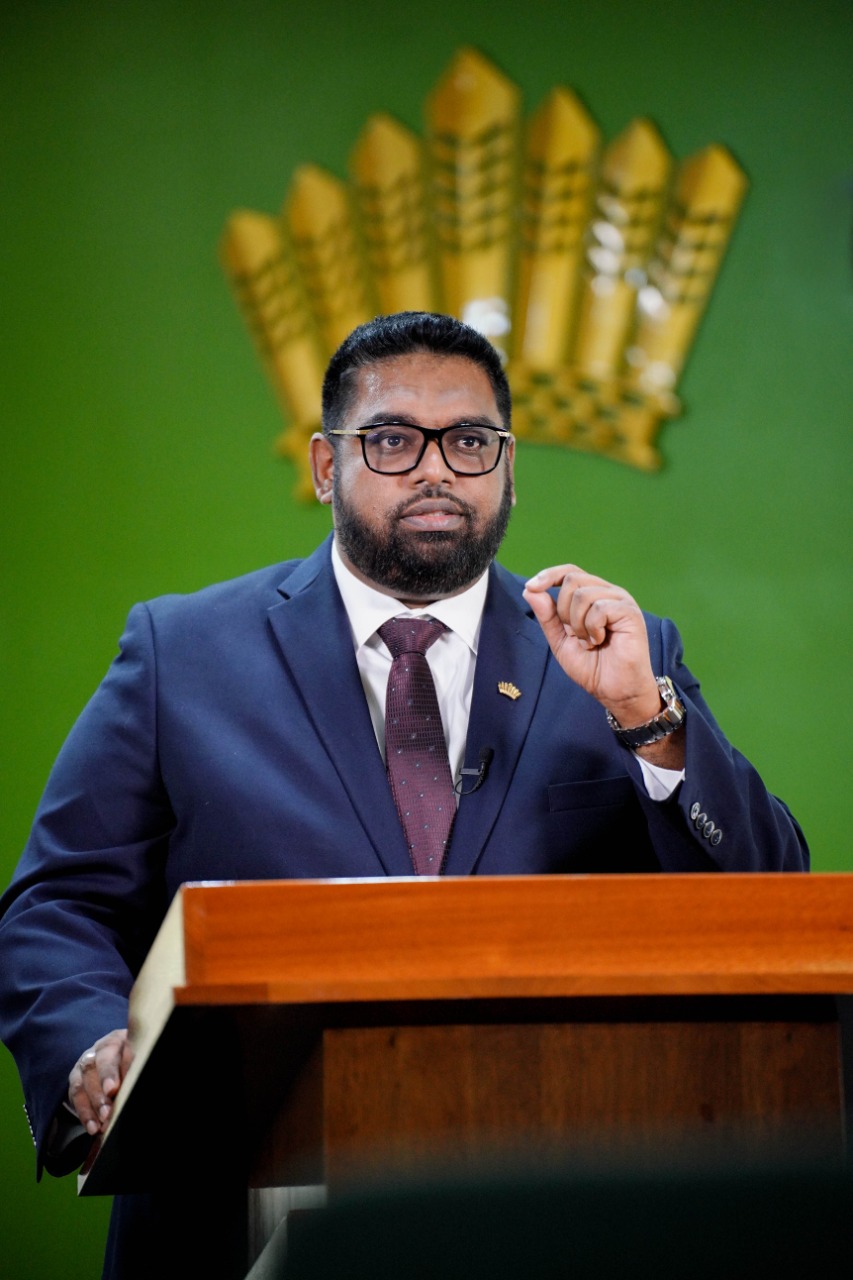 Members of the Diplomatic Community, Distinguished ladies, and gentlemen of the Georgetown Chamber of Commerce. I am very pleased to be given this opportunity this afternoon to share a few moments with you albeit virtually. I have also been told that our Minister of Tourism, Industry and Commerce will join you this afternoon particularly to deal with issues surrounding small and medium enterprises.
The business community in Guyana has proven itself to be adept and resilient. Emasculated from national development for more than a decade prior to the 1990s – it was crowded out by the public sector, subjected to import restrictions, starved of foreign exchange, and saddled with crippling power outages. The private sector persevered through the harsh times until the country's yoke of oppression was lifted with the rebirth of democracy in 1992. In the ensuing years, the business community has blossomed and is assuming its rightful role as the driver of national growth.
The key to the business community's resilience was its ability to adapt to change. Ingenious ways were found to source goods, including spares. Small-scale trading allowed for the survival of commerce, and when the situation changed for the better, the business community positioned itself to make the most of the improving economic climate. Adaptation to change has indeed been the forte of the local business class.
Guyana's economy is once again in the throes of change. The size of our economy is expected to more than double within the next ten years. This will result in an expansion of economic activities and, by extension, greater opportunities for the business community.
I have expounded before on the plans of my Administration. In addressing the Guyana Basin Summit on 17th March this year, I highlighted that:
"Guyana is set to become an economic and energy epicenter in the Western Hemisphere. It is also destined to emerge as one of the most diversified regional economies, providing a treasure-trove of economic opportunities. The country will be propelled not only by oil and gas but by other sectors including manufacturing, knowledge services, health services, digital technology, agriculture, tourism and aquaculture. These sectors will complement the traditional sectors which are being modernised and which will retain their role as economic mainstays. This dynamic transformation will be driven principally by the private sector. Local and foreign businesses, working in tandem and sometimes in partnership, will act as the main drivers of economic output, efficiency and competitiveness".
These plans include the development of an energy corridor linking the Guianas, the construction of mega infrastructural projects, a shore- to-base facility and the development of an industrial heartland on the West Bank of Demerara. These and the other transformative developments which are being unleashed at present will spawn greater economic opportunities for industry and commerce.
The local business class must begin to position itself to become part of the national economic transformational revolution. It must put itself in a state of readiness to seize the opportunities arising from an enlarging economy and the revolutionizing of the productive, services and manufacturing sectors.
As I have alluded to on many occasions, economic transformation demands a new mindset. The private sector must begin to think bigger, bolder, braver and brainier. In other words, it must become more ambitious, less risk-averse and more innovative.
There is no time to be lost. The COVID-19 pandemic has setback business prospects but the impending economic recovery must become the impetus for the private sector to upscale its ambitions and upgrade its capacity.
The business community must not only think local but also regional and international. Guyana's economy is expanding and buzzing. The business community must grasp the opportunities provided by these developments so as to make inroads into regional and global markets. The expanding local market must become the springboard for extending the local business community's reach into the larger international and global economies and markets.
There will obviously be challenges to overcome. But the longest journey starts not with the first step but the idea of the first step. The time is now ripe to germinate the seed for the economic take-off of local companies in order for them to expand their reach into regional and international markets.
Guyanese have always possessed business acumen and entrepreneurial acuity. Guyanese are known for their industriousness. By applying these strengths, there is no reason why Guyanese goods and services cannot become regionally and globally competitive.
National Business Development Plan
In relation to our National Business Development Plan, my Government remains supportive of the transformation which is necessary in the local business environment. Last November, I adumbrated a 7-point programme for business development.
Recognizing the link between democracy and economic freedom, and between the latter and investor confidence, we have committed to ensuring democratic rights and freedoms are upheld.
Bottlenecks, red tape with its tedious, multi-layered official procedures and administrative gridlock, all carry additional costs for businesses and harm their competitiveness. As such my Government is committed to dismantling barriers which act as a humbug to businesses. This is all part of enhancing the ease-of-doing-business.
Among the measures to facilitate business we will be implementating an Electronic Single Window for Trade. This will reduce time and costs, simplify trade procedures and eliminate duplication and unnecessary redundancy. I have also discussed with the Mayor of Georgetown the development of a similar system for the processing of Building Permits and Plans. We also recognise the harmful effects of crime on businesses and we are formulating a robust anti-crime strategy to better protect businesses, communities and citizens.
Competitiveness is the passport to enhanced business opportunities. In this regard, the government is committed to supporting the private sector's desire for greater competitiveness.
Improved competitiveness requires a commitment to quality. The National Quality Infrastructure (NQI) project aims to improve the quality of local products and services, thereby stimulating demand for them and bolstering the ability of local firms to engage in regional and global trade.
Since assuming office we have promoted cost-cutting and competitiveness-boosting measures. These include the removal of VAT on water and electricity, exports, building and construction materials and hinterland travel. We have also reduced the Duty on industrial grade cement and outlawed Capital Gains Tax on the sale of assets owned for more than 25 years. The liberalization of the telecommunication sector has led to reduced cost for some services; this will translate to competitive gains for businesses. Businesses are expected to use these benefits to enhance their competitive standing.
As we boost local competitiveness we are also seeking expanded and new markets for local goods and services. Your Government is unlocking increased market access. We are crafting a National Trade Policy to support competitiveness and diversification through the dismantling of barriers to trade and competition.
Small businesses play a vital role in our economy because they are indispensable to economic development. They generate significant self-employment and help to sustain growth and foster the effective distribution of goods and services. As such, small businesses represent the arms and legs, propelling our economy forward, sustaining employment and acting as a vital cog in the distribution, marketing and consumption of goods and services of large businesses.
I know that the membership of the Chamber comprises a large number of small entrepreneurs. Your Government is committed to supporting small businesses development.
A Small Business (Amendment) Bill 2020 has been passed. The 'Act' expands the range of procurement opportunities for small businesses. We have already granted small businesses a 5% advantage in bidding for state contracts. Also, the maximum threshold for grants disbursed by the Small Business Bureau through the Small Business Development Fund has been increased by 100%. We have committed to working with stakeholders to improve small businesses' access to finance. In addition, our plans for small business development include the development of business incubators nationwide.
The consumer is at the heart of business; without consumers business would flop. We, the Government, will implement a raft of measures aimed at protecting consumers from unscrupulous practices, including unfair dispossession by Hire Purchasers.
As we do these things, we are also increasing opportunities for businesses through the Public Sector Investment Programme. We have designed an ambitious infrastructural programme which will unlock untold opportunities for businesses, big and small. I am sure that you are fully aware of the transformative infrastructural plans which are already on stream or are in the pipeline. I therefore need not recount these, but these must be added the numerous opportunities in the oil and gas sector and those which will result from the modernisation of the traditional sectors – agriculture, fisheries, forestry and mining – and the catalysing of new sectors such as ICT, tourism and aquaculture.
Rise to the occasion
Your government is playing its part in ensuring a stable, enabling, conducive environment for a more competitive business sector. Government will support private sector development but it will not babysit the private sector. Government will work to set the framework for fair competition but it will not deploy overtly protectionist measures to shield the private sector from competition.
The time has come therefore for the business community to rise to the challenges which lie ahead. Government will take steps to strengthen local competitiveness but in the final analysis and as Dr. Debbie Mohamed of the University of the West Indies once observed, countries do not compete; it is firms that do.
Now, it is up to you in the business class to prepare for the bold new challenging times ahead. A tsunami of opportunities is coming your way and how you respond to it will determine your success.
I know that 2020 was a difficult year but I assure you that better is ahead. This is the time of recovery, rebounding and a booming economy.
The Georgetown Chamber of Commerce and Industry must be congratulated for the work it has been doing in advocating for encouraging business development. The Chamber must take the lead in instilling in its membership the need to think bigger and to act bolder and braver so as to make the best of the unfolding opportunities.
Before closing, I wish to say that the Government will also be supporting local investment in shore-based facilities. We will be supporting initiatives at the regional level to boost regional economies.
For a matter of fact, when we talk about food security – we are already working on a project in aquaculture to almost triple our production of what is commonly known as 'swamp shrimp', a shrimp that is loved in the diaspora, and has a big market opportunity.
We have to start thinking outside of the box. In five years', time, before five years, we will have the most competitive energy cost in the region, we'll have one of the most highly skilled and educated workforce, we'll have great healthcare services, we'll have great educational services, we will have better infrastructure, we will have one of the most aggressive housing programmes regionally. Already we have thousands of persons employed in the housing development that is taking place. We will have one of the largest infrastructure portfolios, ongoing portfolio, in the region. These are things that will be happening just before our eyes. We have to prepare for it.

As a country and as a people we have to support each other. We cannot always be suspicious of each other. We cannot always be negative about each other. Yes, we must question investment. Yes, it is important for us to understand the whole context in which development is taking place. But sometimes we spend so much time pulling each other down. This is not confined only to the political arena.

When we talk about local content, local content is action, not only by government to ensure more opportunities are given to local businesses, but by local businesses encouraging and supporting each other wherever opportunities are. It is about local businesses and local private sector coming together to create opportunities, to make use of opportunities, to help each other, to grow each other, and to make each other more competitive. That is the only way, Guyana will win. That is the only way we can build true local content. When the private sector become a supportive mechanism for each other.

So today, I also ask you to rethink our local strategy. I asked the media and the private sector to sit down and to have a frank conversation. We cannot destroy each other with suspicion. Where questions are necessary, the questions should be asked, and the answers should be provided.

We are a top producer of gold. Where is our goal industry going? Are we forever going to be an exporter of the raw product? That is not the vision. We have the capacity to build the largest gold industry here. How is it we can bring all the players at the same table? The refinery, the skilled personnel, the miners to build the largest gold market in the region that can be a major attraction for travellers, become a major wholesale market.

These are the types of different innovative bold thinking that we have to embrace. But we can only do so if we build an atmosphere in which we can disagree with each other, but we must agree that the future of our country rests equally in all our hands.

And, maybe 10 small businesses cannot do it alone. But 400 small businesses coming together, looking at the bigger picture – bigger market, and big opportunities can create the environment in which we can build industries that are second to none.

So once again, I wish the chamber, every success in the year ahead. I congratulated on the hosting of this 131st Annual General Meeting. And I wish it in 'terrific' 2021.
I thank you and God bless all of you.