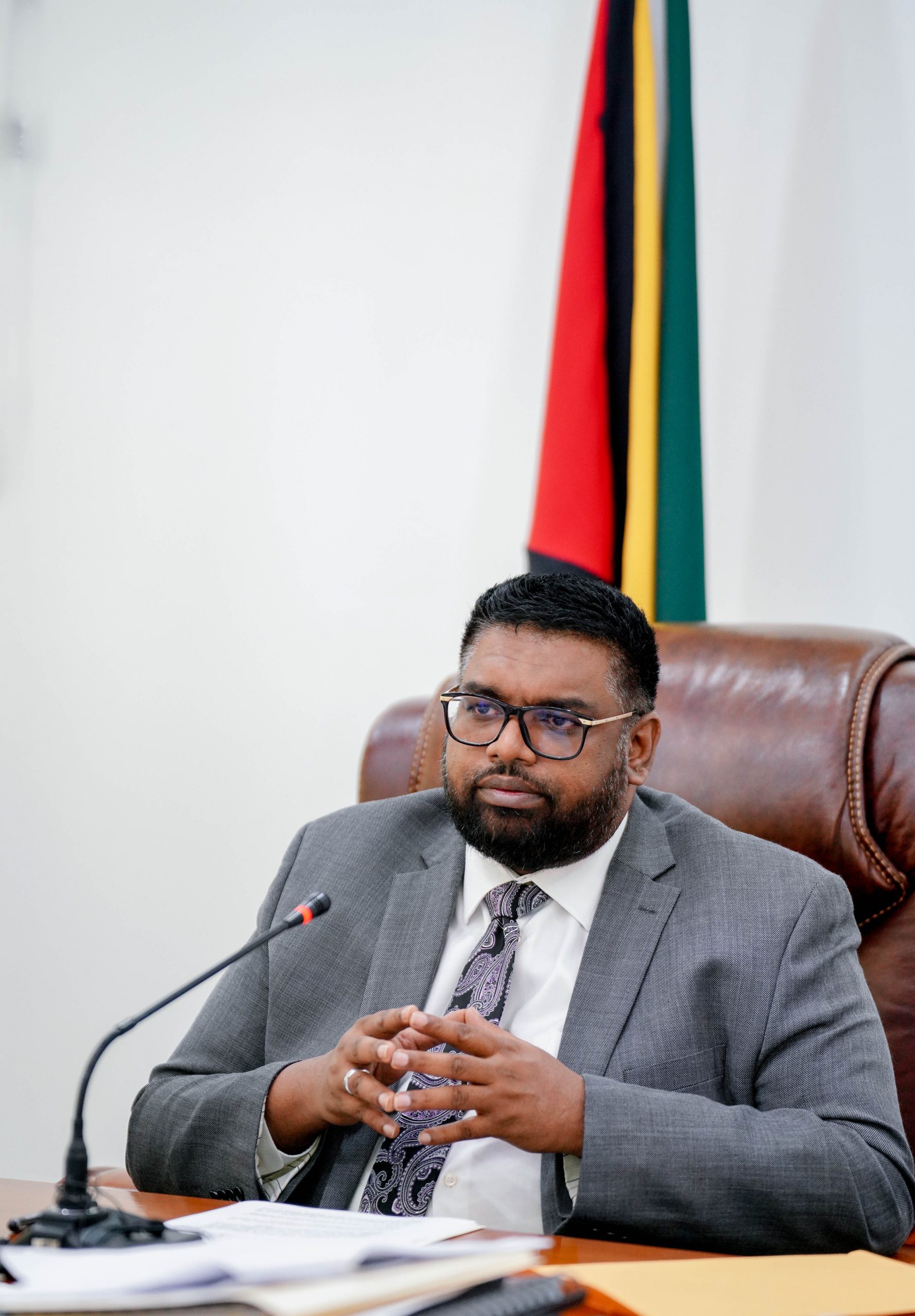 –Says Government spending US$4M to procure 200,000 additional doses
His Excellency Dr Irfaan Ali said that the Government's foremost priority is to ensure that every citizen is vaccinated against COVID-19, since it is paramount to help Guyana return to some level of normalcy.
The Head of State was at the time responding to questions from the media on the additional doses of the vaccine expected, following the swearing-in ceremony of new land surveyors at Baridi Benab, State House.
"…As you know, we have been exploring all avenues, the goal here is to have all of our population fully vaccinated; this is the utmost priority. For me personally, I am taking this on as a task, and ensuring that: one—our population is vaccinated: two—as quickly as possible we can return our country to some level of normalcy and get out of this pandemic…. We are not sparing any expense on this. We are working on making the resources available to ensure every single Guyanese is vaccinated."
Guyana is set to receive an additional 200,000 doses of the Russian-made vaccine—Sputnik. President Ali said that the vaccines will cost US$20 per dose which will be equivalent to over US$4M for the 200,000 doses.
The Head of State stressed that while it is costly, it is an expense that the Government "cannot spare" as the health of the population is paramount.
"…As I said, we are not sparing any expense on this. We are working on making the resources available to ensure every single Guyanese is vaccinated."
The President reminded the media that the Government has explored various avenues, including reaching out to private companies to secure vaccines. He expressed gratitude to India's Prime Minister Narendra Modi—who ensured that Guyana received a portion of the Indian-made vaccine—AstraZeneca.
He explained that discussions are also ongoing with Qatar and the Organisation of Islamic Conference (OIC) and other countries to secure funding to procure more doses of the vaccines.
"We have also contacted the Russian Government directly. Those discussions and negotiations are ongoing, up to maybe at 2am this morning… And we are hoping that we have very positive feedback from the OIC and from Qatar. I'm hoping that too can add in if we get hopefully another 100,000 vaccines from those discussions."
If the discussions are successful, the Head of State said Guyana will be well on its way to achieving the goal of herd immunity.
The President added that an additional 24,000 doses of AstraZeneca should arrive on Monday from the COVAX (COVID-19 Vaccines Global Access) mechanism.
He assured that local authorities have already established the supply chain and storage facilities for these vaccines.
While outlining Government's aggressive efforts to sourcing vaccines, President Ali acknowledged that acquiring vaccines is a global challenge due to high levels of demand.
The President also expressed disappointment over the announcement of a delay in the provision of the Pfizer, Moderna vaccines until 2022.
"We have explored the Pfizer vaccine; we had great discussions with a company directly. And then, we were told that this can only be available in 2022, same with the Moderna."
VACCINATION ROLL OUT
With regards to the vaccination rollout, he explained that the Guyana Defence Force (GDF) has agreed to make some 400 ranks available to help with expediting the registration of citizens, while persons from local government bodies, civil society, medical and nursing students and the medical brigade of the GDF will be trained to assist in the process.
"And we are targeting 10,000 vaccines per day, but to achieve this you know the documentation process is very long, because they have to full the form. So, what we're trying to do is to start at the pre-vaccination stage, to have the forms available in the community and online so that people can fill it up, and then we can call people in, in batches, at the different centres we will set up all across the country."
President Ali stated that even with an expanded vaccination programme accompanied by stricter enforcement of the current COVID-19 guidelines and protocols, it is important for the population to understand that persons still need to be safe and follow the necessary guidelines.
"You have my personal commitment and the commitment of the Government in doing what we can do, scientifically, and medically, but you have individual responsibilities too. And I am asking you, in the interest of your families, your neighbours, your community, to exercise that individual responsibility in a disciplined manner."