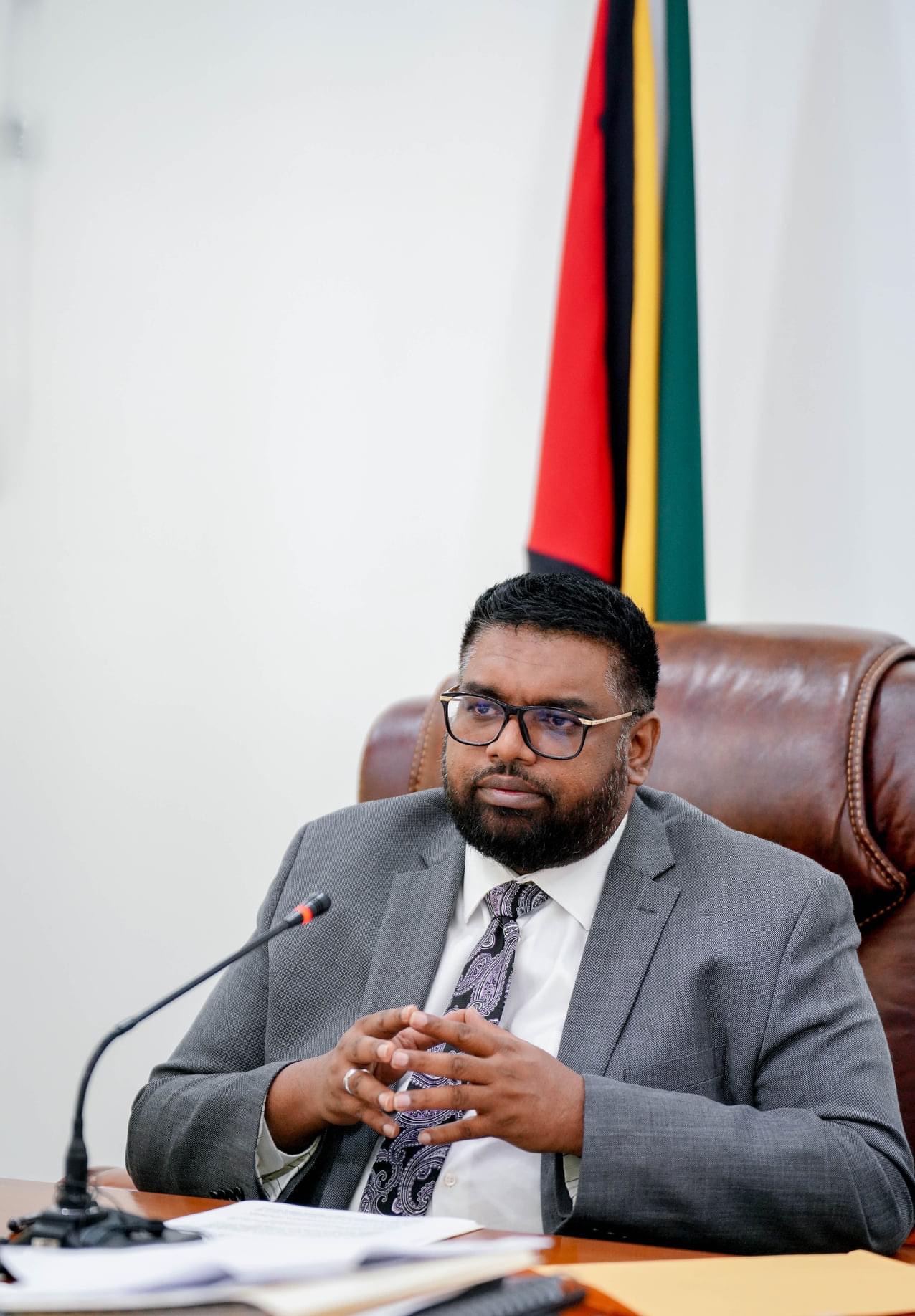 A NEW PARTNERSHIP WITH EUROPE
Thank you very much Ambassador Fernando…
Distinguished ladies and gentlemen
I welcome this important Guyana-European Union Investment Conference and I am deeply honoured that I was asked to address this event.
Welcome to this virtual experience of Guyana. I assure you the reality is much better, but for now, we are excited by the continued and growing interest being demonstrated in Guyana.
Thank you for your participation. I would like to express my appreciation for all the hard work which has gone into the organisation of this event. I am particularly grateful to the Delegation of the European Union in Guyana, the Caribbean Export Development Agency, the Caribbean Association of Investment Promotion Agencies, and the Guyana Office for Investment for combining their efforts to make this virtual event a reality.
The timing of this Conference could not have been more favourable. Both the European Union (EU) and the Co-operative Republic of Guyana are undergoing change. Guyana is pursuing a transformative agenda which will require significant investment. The European Union, in turn, is charting its post-pandemic reopening and recovery, and this will drive the bloc to explore new trade and economic opportunities for enhancing its global reach and influence.
More importantly, this Conference is taking place against the prospects of a renewed long-term partnership between Europe and the African, Caribbean and Pacific Group (ACP). The 'Conference' provides the opportunity to reposition Guyana-EU relations.
Guyana-EU relations have historically been anchored by trade and economic cooperation and shared values. The Lomé Conventions, signed between Europe and the ACP, emphasised trade, industrial and technical cooperation. They took account of the differences in economic development between Europe and the ACP and incorporated the principle of non-reciprocity. The early 'Conventions' catered for export market stability and compensation for declines in export earnings.
Successive Lomé Conventions continued to emphasise trade and economic cooperation while underscoring the importance of good governance, gender equality, protection of the environment and respect for human rights and democracy.
The European Union has been a bastion for promoting prospect for human rights and democracy. This month, Guyana is observing one year since the eventful elections of March 2nd, 2020. Allow me in this regard, to express, yet again, the appreciation for the principled role played by the European Union and particularly the Head of the EU Delegation in Guyana, in insisting on respect for the democratic will of the people.
Guyana's relations with the European Union and its member states are based upon respect for human rights and democratic norms. Democracy remains indispensable to ensuring a favourable environment for attracting investment, stimulating trade, and fostering economic development.
Guyana is grateful for the EU's support, over the years, for private sector development in Guyana and for its role in supporting climate adaptation and mitigation. Through the European Development Fund and its support for Guyana's National Indicative Programme, the EU has made a significant contribution to the country's efforts to reduce poverty and build greater climate resilience.
The EU's support has laid the groundwork for up-scaling European investment in Guyana. It is now timely for Guyana and the EU to reposition its relations within the context of the post-Cotonou Agreement.
Trade and economic development have been central pivots of Guyana-EU relations.
This relation continues to evolve.
The European Union and the ACP are about to embark on a renewed partnership for the next 20 years. Guyana looks forward to an agreement which will continue to place emphasis on the traditional pivots – trade, development cooperation and shared values – but which must, of necessity, also prioritise investment, including foreign direct investment flows.
Indeed, the CARIFORUM Economic Partnership Agreement of 2008 had listed as one of its key objectives the implementation of "…an effective, predictable and transparent framework for trade and investment…." The Parties to the 'Agreement' further agreed to the "promotion of private investment and public-private partnerships in potentially viable production."
This Conference must add impetus to this intent by becoming a pacesetter in encouraging greater investment flows from the European Union to Guyana. In doing so, it will serve to reposition Guyana's long-standing ties with the EU.
Guyana is unfurling a national transformative agenda. The next ten years will witness unprecedented levels of growth and development. The country's Gross Domestic Product will more than double. The traditional sectors will be retooled, recapitalised and reorganised.
Mega-infrastructure – agricultural, digital, energy, tourism, and transport – will radically transform the country's connectivity. In my address in January to the country's National Assembly, I outlined some of the major infrastructure projects which will commence, and these include:
· A deep-water harbour,
· Shore base facilities,
· Internationally branded hotels,
· Mega farms for large-scale agriculture,
· Farm to market access roads,
· The Linden to Lethem Road, Brazil link
· A four-lane highway from Georgetown to Timehri
· The Parika to Rockstone Road link
· All terrain road links from Timehri to Bartica
· Upgrading of regional airports
· Building of new ferries
· And a four lane link between Mandela and Diamond with interconnection to the existing East Bank Public Road.
· A new bridge across the Demerara River; and
· A new super-highway from Schoonard to Parika
All of these investments in infrastructure will open up new lands, new opportunities, and indeed, grow the traditional sector, and create opportunities for new sectors to emerge. This of course will also support our massive housing programme that we have embarked upon.
Guyana will also become part of an energy corridor within the Guiana Shield – linking Guyana, Suriname, and French Guiana – and will invest in a mix of renewable energy sources. A gas-to-shore plant will be constructed and will guarantee, for the first time, the country's energy security.
Manufacturing will be boosted by the development of energy. The availability of reliable and cheaper energy will unlock industrialisation and manufacturing will be up-scaled and will be facilitated through the establishment of industrial parks.
Information communication technology services will expand across the country's ten administrative regions. Bandwidth will be improved, and more services will be offered online. The country's transformative agenda encompasses all sectors of our economy and will require significant levels of investment including foreign direct investment and public private partnerships.
The opportunities will be boundless. While oil and gas will spawn innumerable business opportunities, investment openings will also abound in all of the country's sectors of growth. This Conference allows for our investors to gain insights into the economic opportunities which will become available.
Investors doing business with Guyana can be assured of an ever-improving enabling environment for business. They can be sure of a growing economy which will support business expansion. They can anticipate a macro-economic framework that guarantees stability and protects their assets. They can expect fiscal incentives to attract their investments and ensure greater competitiveness. They can look forward to improvements in ease-of-doing business and respect for property rights and the rule of law.
Guyana offers a number of advantages for European firms. For the past 45 years, it has been engaged in an economic partnership with Europe and is therefore not an unknown destination to European investors. Guyana is strategically located and offers access to key markets, including the Caribbean.
Guyana welcomes investors from Europe. We look forward particularly to European foreign direct investment in Guyana, and for Euro-based firms to partner with local companies in seizing the unfolding economic opportunities.
As I have done before, I urge you to come and see for yourselves the investment opportunities which exist for building and boosting your firm's brand and to have the satisfaction of contributing to the economic transformation of my country.
Guyana is on an upward trajectory. We will soar to greater heights. This is a time of great change in Guyana. It is also an opportune moment for us to reset our relations with Europe. Investment must be a key element of that process. And, you are the trigger to ensuring it happens!
As I close, I wish at this time to introduce to you our Minister of Finance, Dr Ashni Kumar Singh. Dr Singh has a wealth of international experience, and also, great experience in various stages of Guyana's economic transformation. I therefore, leave with you this great resource we have in Dr Ashni Singh, our Minister of Finance. So that he can be the bridge between what you seek to do and what we want to accomplish here in Guyana. Dr Ashni Singh, the Minister of Finance and Go-INVEST will work together in ensuring all your interest can be managed, your questions can be answered and that we can satisfy your investment needs.
I wish this conference well.
I thank you.