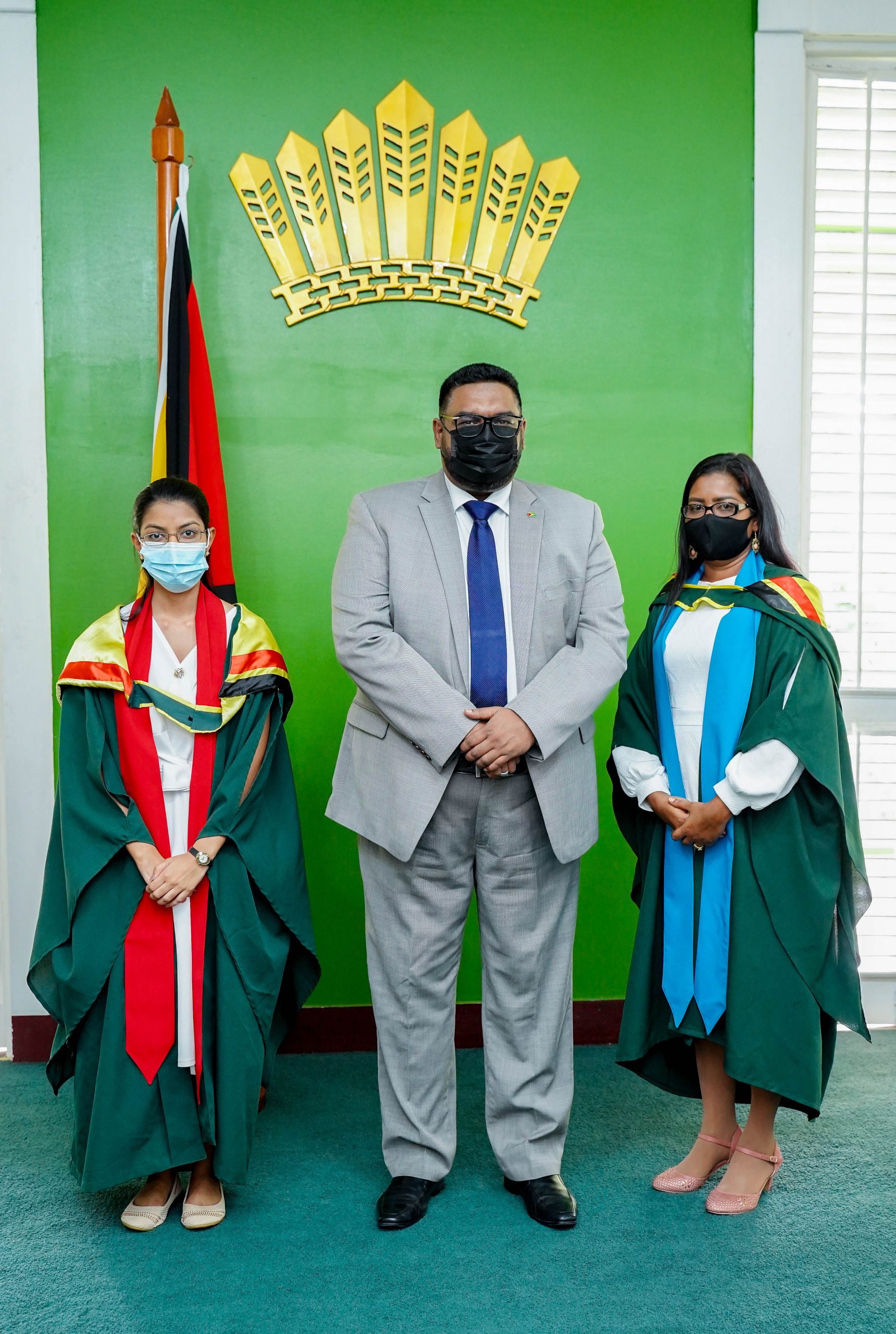 Pro- Chancellor,
Vice Chancellor,
Members of the University Council,
Members of the University of Guyana Student's Society,
Graduands,
Family,
Distinguished Ladies and Gentlemen,
This must be one of the most notable convocation ceremonies within the history of this institution, given the prevailing national and global realities. The effects of the pandemic may have forced this virtual ceremony,but it has not detracted from or diminished its significance.
Today's Convocation is a testament to our people's perseverance in the face of challenges. Throughout our history, our people have demonstrated the tenacity and desire to overcome seemingly insurmountable odds. This courage and determination are best exemplified by one of your own, Rajni Persaud, a physically-challenged student who is graduating today with a Diploma in Accountancy. Her grit and determination inspire us all; and reminds us of that famous quotation by Napoleon Hill, who said, "Whatever the mind of man can conceive and believe it can achieve."
I ask you today to believe in your abilities, to be seized by that conviction that no matter what life throws at you henceforth that you will prevail.
It has been a most challenging year for our country, and you students have faced a great deal of setbacks. But you have made it to the finish line. To the University of Guyana's class of 2020, I applaud you and extend my heartfelt congratulations on your long-awaited and well-deserved graduation.
I have no doubt that sitting beside you are family members and loved ones who have supported you throughout this journey. The joy and pride they must feel today are quite fitting since you are now exiting at various stages in the tertiary cycle of education – an opportunity too few of our citizens are afforded.
Despite the disruptive effects of the pandemic over the past year, you are graduating from the University of Guyana at a time when our country is on its most significant developmental trajectory. As such, it is imperative that ideally you position yourselves to take full advantage of the unprecedented growth being realized across various sectors.
Guyana needs you, all of you. You will be expected to become key players in our efforts to advance our national development. Education has long been universally acknowledged as a cornerstone of development. The quality of human capital has a strong association with higher national output and increased efficiency.
The World Bank forewarned us years ago that "countries with low levels of education remain in a trap of technological stagnation, low growth and low demand for education."
Guyana looks to you to be on the forefront of promoting innovation and propelling our country to higher levels of output and attainment. It is vital that we utilize our collective skills and knowledge to improve our quality of life.
Guyana is embarking not only on a process which will yield higher levels of growth and human development but which will also require higher levels of education and learning. A key element of the national development agenda is the entrenchment of a knowledge-based economy. And as you are aware, such an economy depends on and demands highly skilled human capital and emphasizes the importance of lifelong learning.
As such, I urge those of you who have completed your first degrees and will clearly celebrate this milestone, as you consider your entry into the world of work or contemplate embarking on that new business venture, to do so with the sure resolve of improving your qualifications. I urge you to constantly challenge yourself to become smarter and better.
Let lifelong learning also become an engrained personal habit. The rate of change in the world is so rapid that skills and knowledge quickly become obsolete. Today's graduation is therefore, just the end of one leg of your journey of continuous learning, for if you do not continuously upgrade and acquire fresh and relevant skills and knowledge, you will be left behind in the new economy.
The new economy involves a paradigm shift in the way things are done. Knowledge is combined with capital and entrepreneurship in ways which are different fromin the past. The new economy will be geared not simply at producing raw materials but by applying technology to transform commodities into wealth. To compete in the modern world will not be about constraining labour costs but about catalyzing innovation.
Tertiary education
It is in the context that tertiary education must become a vital life force of national development. Tertiary education must add to the demands of the 'new economy' which requires higher levels of skills, particularly technical skills.
The Government of Guyana is here to support tertiary education, especially through investments and through collaboration with our varied education stakeholders to improve the range of educational options available to our citizenry. As Professor Kassim Bacchus noted, if a nation such as ours is to attain its developmental objectives, it must adopt a significant degree of flexibility into its approaches to education and enable its citizens to acquire the skills and knowledge they need within an environment that values creativity and fosters innovation.
My Government has made some commitments to boosting tertiary education. We will honour those obligations. My Government has pledged to refashion the University of Guyana to better respond to the needs of a modern Guyana. We have promised to improve the technological advancement of the University and, in so doing to ensure greater access to higher education by making more courses and programmes available online.
My Government has committed to guaranteeing free university education before the end of its term. We will do so.
My Government promised to provide 20,000 scholarships to Guyanese to improve their educational standing. We are well on our way to achieving this.
My Government has expressed its intention to expand tertiary educational access. With the creation of the Guyana Online Academy of Learning, we have already established partnerships with various Universities and Applied Sciences Institutions, some of these include; the Indira Gandhi Open University, the University of Applied Science in Germany, the Open University in the UK and the University of the West Indies Open Campus,to provide over 4,500 scholarships to Guyanese students commencing in July, this year.
It was very heartening to learn that Guyana has surpassed many countries across the Commonwealth by taking full advantage of the workforce recovery programme. We entered into a partnership with the Commonwealth of Learning and Coursera to buffer the displacing impact of the Covid-19 pandemic. Since September, over 53,000 Guyanese have registered, with almost 36,000 taking courses to upgrade or re-skill themselves in various fields of study. In addition, the transition of the Cyril Potter College of Education and the University of Guyana to online learning is taking place, and we are committed to working with these institutions in attaining their key strategic objectives as they continue to serve our populace.
University of Guyana
In 1963 when the University of Guyana opened its doors for the first time, things were drastically different from the realities of today. We were then involved in a struggle for our Independence and, concomitantly, our right to shape and define our own destiny. The University's mission at the time, "To discover, generate, disseminate, and apply knowledge of the highest standard for the service of the community, the nation, and of all mankind within an atmosphere of academic freedom that allows for free and critical enquiry", resonates even today.
The University of Guyana has played a critical role in preparing our citizens to better craft, participate in, and advance national development. The University of Guyana continues to be a primary driver in this regard. We must work on enhancing its capacity and role within the national fabric. As such, I strongly support the University's efforts to position itself as noted in your Blueprint as, I quote, "a transcendent institution working across all divides and across time to create the best Guyanese graduate, fit for purpose and focused on a positive cohesive future" end quote. The University, therefore, has a key role to play in advancing our efforts to transition to a low carbon economy to maximize the opportunities emerging from our geo-strategic position and towards improved governance, accountability, equity and social cohesion.
One Guyana
To the graduands, I must stress the point that there exists a plethora of empirical evidence showing a direct correlation between the level of education you have attained and your capacity for civic engagement. This has substantial relevance currently as we embark on a national initiative to foster greater levels of tolerance and inclusion.
I urge you to be at the forefront of our efforts to eliminate the practice of defining ourselves by race and by politics and usher in a new era where we are defined more by our nationality and by our common love for each other , for our country. This is a critical prerequisite to us improving our collective fortunes and leaving a legacy of unity and prosperity for our progeny.
Therefore, my sincere hope is that you will play an integral role in our efforts to attain the full realization of our motto: "One people, one nation, one destiny". Let us join together to move our country forward.
My best wishes to you, and again, my heartfelt congratulations!
I thank you and God Bless you.