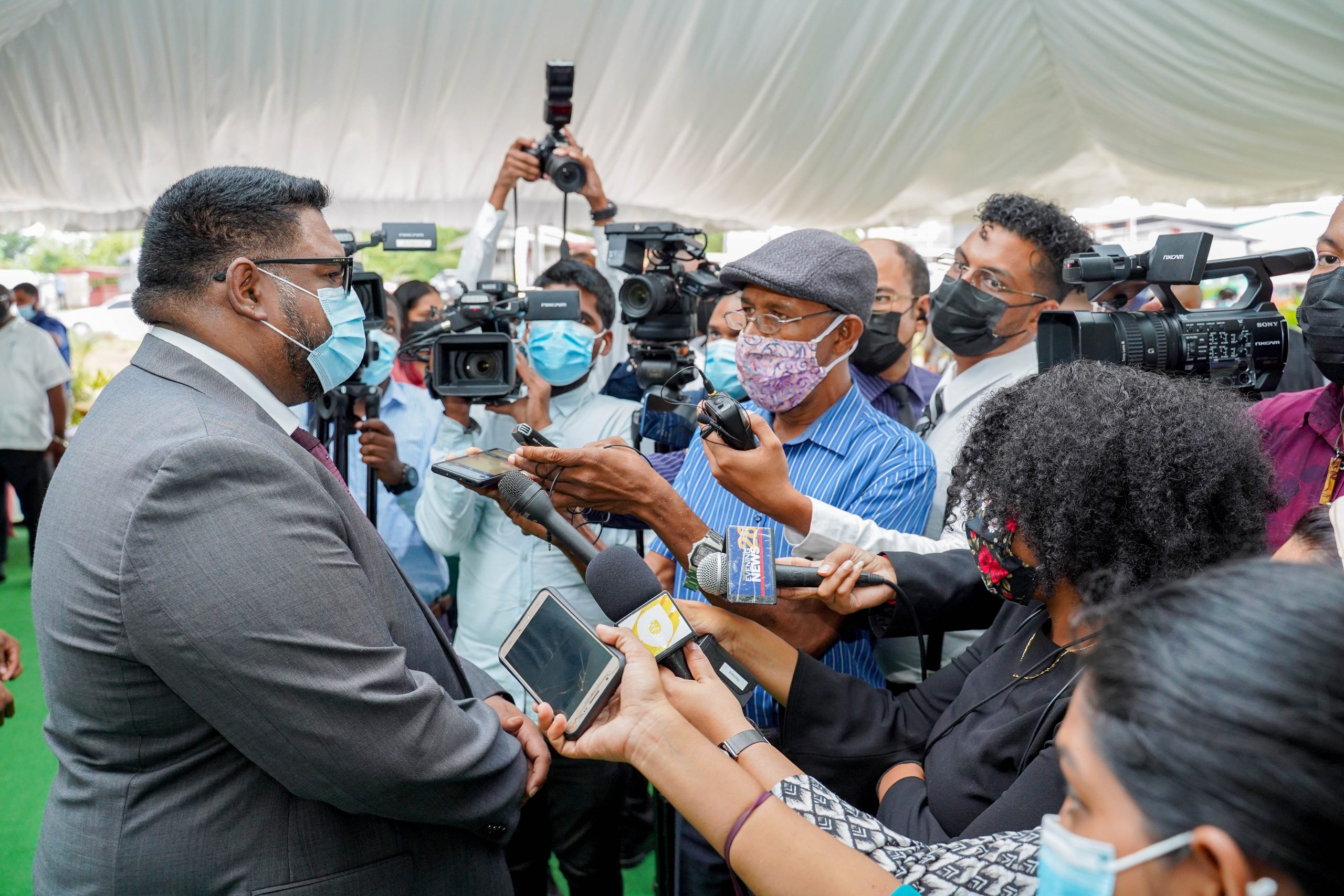 Georgetown, Guyana (February 3, 2021) His Excellency Dr Irfaan Ali, this afternoon, extended his gratitude to the International Community for adding their voices in a "very strong manner" against the detainment of the Guyanese fishermen and vessels which were released today by Venezuela.
The Head of State, who worked tirelessly to rally the International Community against the unlawful detainment of the 12 Guyanese, held for almost two weeks, said that he was very grateful for the support.
President Ali was at the time responding to questions from the media at the sod-turning ceremony of the West Central Mall set to be constructed at Leonora.
According to the Head of State, he was informed that the fishermen should reach home by the end of the week.
"I want to take this opportunity to thank all our international partners, CARICOM Heads of Government, and all of our other international partners for adding their voices in a very strong manner on this very important issue."
The President added that he is "very grateful" for the support. He said that CARICOM was unanimous in its solidary for Guyana and its statement against the detainment was strong and direct.
"That CARICOM statement must have had an impact, so too for all the statements from our bilateral partners and our international partners."
President Ali explained that it was communicated by Venezuelan Foreign Minister Jorge Arreaza to his Guyanese counterpart that the charges and case would be discontinued at the intervention of Venezuelan President, Nicholas Maduro.
He added that he is looking forward to Venezuela acting responsibly and hope that they desist from interfering with fishermen or anyone conducting business within Guyana's Exclusive Economic Zone (EEZ), which will continue to facilitate economic activities.
The Head of State reiterated that once there is a need to speak on any issue, excluding the border matter before the International Court of Justice (ICJ), Guyana, as a good neighbour, is ready to communicate.