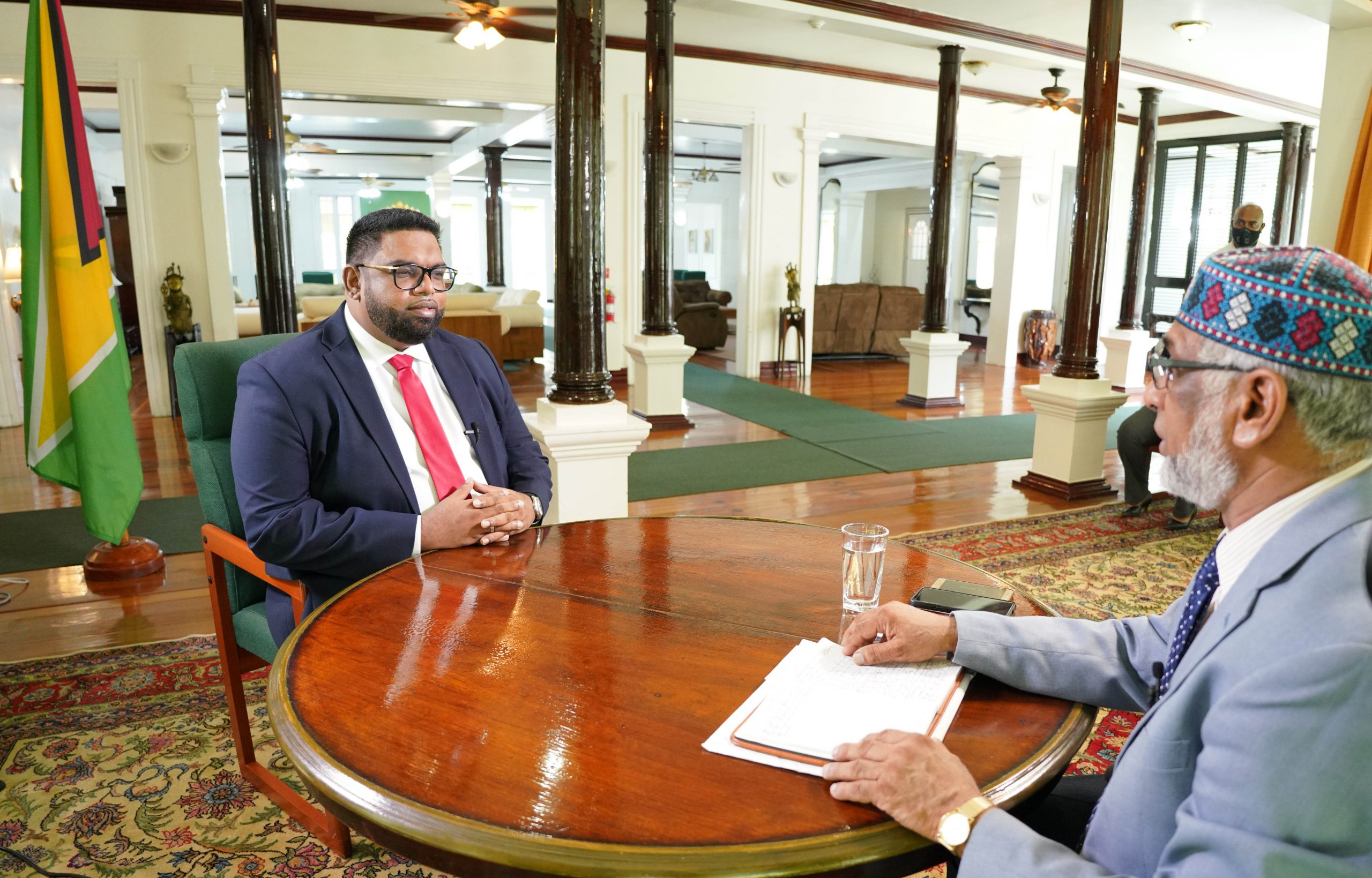 His Excellency Dr Irfaan Ali is confident that the creation of opportunities within the country will be spread across all regions and will touch all communities.
The Head of State gave this assurance during an online programme earlier today with US-based Guyanese Broadcaster, Farook Juman, where he outlined his Government's development agenda. 
"This is just to say to the diaspora that in every region there will be creation of opportunities…it will not be centralised in Georgetown or Region Four."
President Ali explained that the development will first be concentrated at the community level, to ensure that citizens have improved access to basic services, this will then be connected to a wider regional and national plan—a three tier system.
"We have to understand, first of all, that at the community level there is great transformation that will take place; this is the improvement of health care systems, improvement of road networks, educational facilities and sports facilities."
The Head of State said that his Government will place special emphasis on community needs and ensure that it creates "growth opportunities, or growth hubs within a cluster of communities that can generate employment, create sustainable development at tier one".
Tier two the President explained, will then take into account regional developmental plans which will focus on key investment opportunities.
"Let's take for example Region Three, you will see massive investment on the shore side of the Demerara River in Region Three that will create massive opportunities and a trickledown effect. You will see development of agro facilities, agro processing facilities. You will see greater use of the Essequibo River in terms of investment hubs. This, of course, will create various growth poles."
He said too that regional developmental infrastructure will be linked to national transformative infrastructure. This includes the new four-lane highway from the Harbour Bridge stretching all the way to Parika, the opening up of the Wales Development Authority as well as the landing of the gas to shore pipeline at Wales.
President Ali noted that this development will not only be linked to power generation, but other avenues of growth, including the production of liquefied petroleum gas (LPG) as well as the introduction of a Protein Plant in the region. He emphasised that this massive transformation will have other spinoffs including 'population push' which will then be supported by the Government's robust housing programme.
According to the President, Many other developmental programmes have been earmarked for different communities; these include the introduction of solar power on the islands of Leguan and Wakenaam which will be tied into the national grid.
With regards to Region Five, the Head of State said that plans are underway for the development of a national aquaculture master plan.
"The national aquaculture master plan will see major investment in aquaculture along Region Five. And this is another one of the plans that you will see soon taking shape."
President Ali reminded Mr Juman of the bridging of the Corentyne River in Region Six which falls into third tier of the National Development Agenda. This initiative he emphasised will create a new logistics hub linked to private sector development on the Berbice River which includes the plans for a deepwater port.
President Ali then turned his attention to the plans for Region 10 which he said will be multidimensional and will place emphasis on job creation.
"Then we move to Region 10. How do we catalyse the bauxite industry? How do we make Region 10 the hub to service the mining sector? You come all the way sometimes to Georgetown for machining services, for engineering services, for welding services. How do we create that hub and that network in Region Ten? And then how do we aid household income, increasing household income? And that is new income I'm talking about."
The Head of State also reassured the diaspora that opportunities are plenty in Guyana and that they should return home to invest.
He also thanked them for their many calls and letters in the months after the election and noted that he was grateful for the part they played in ensuring that democracy prevailed.