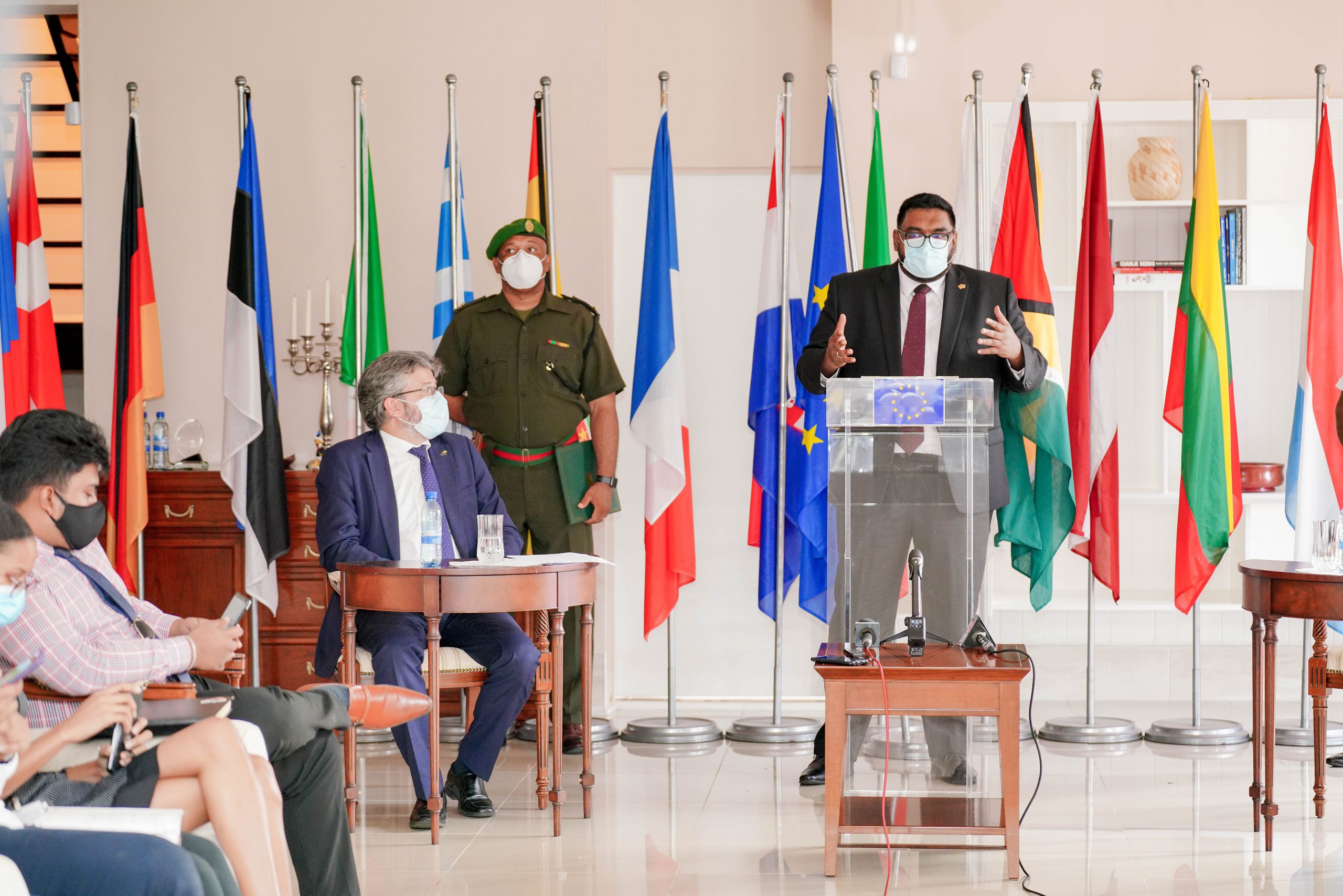 -Confident that all former leaders will act responsibly by attending
Georgetown, Guyana (December 10, 2020) His Excellency Dr Irfaan Ali said he remains optimistic that the engagement with past Presidents set for next week will be fruitful and will see the participation of all invitees.
The Head of State made this statement today during the joint EU- Guyana Press briefing for the disbursement of two Billion Guyana Dollars under the Budget Support Programme. He was at the time fielding questions from the media.
"In the interest of inclusiveness and keeping with what I committed to in my inauguration speech, I have extended the invitation to all the former presidents. And I'm anticipating, and I'm hoping for a fruitful meeting, and the attendance of all the presidents…."
The Head of State said that he was very confident that the meeting would be productive, which will see the former leaders sharing knowledge, perspectives and discussing ideas to help move Guyana forward.
"…All of Guyana will see all the former presidents acting responsibly and being part of that engagement."
Formal invitations for Tuesday's meeting (December 15) were sent to the four former presidents – Mr Samuel Hinds, Dr Bharrat Jagdeo, Mr Donald Ramotar, and Mr David Granger.
OPPOSITION LEADER AND PARLIAMENTARY INCLUSIVITY
Meanwhile, in fielding questions from the media, President Ali stated that with regards to the relationship and cooperation between his office and that of the Leader of the Opposition Joseph Harmon, "Mr Harmon has not yet changed his position."
Notwithstanding this, the Head of State reiterated his government's commitment to inclusivity and said that "If we are to grow as a people, this has to be a two-way street."