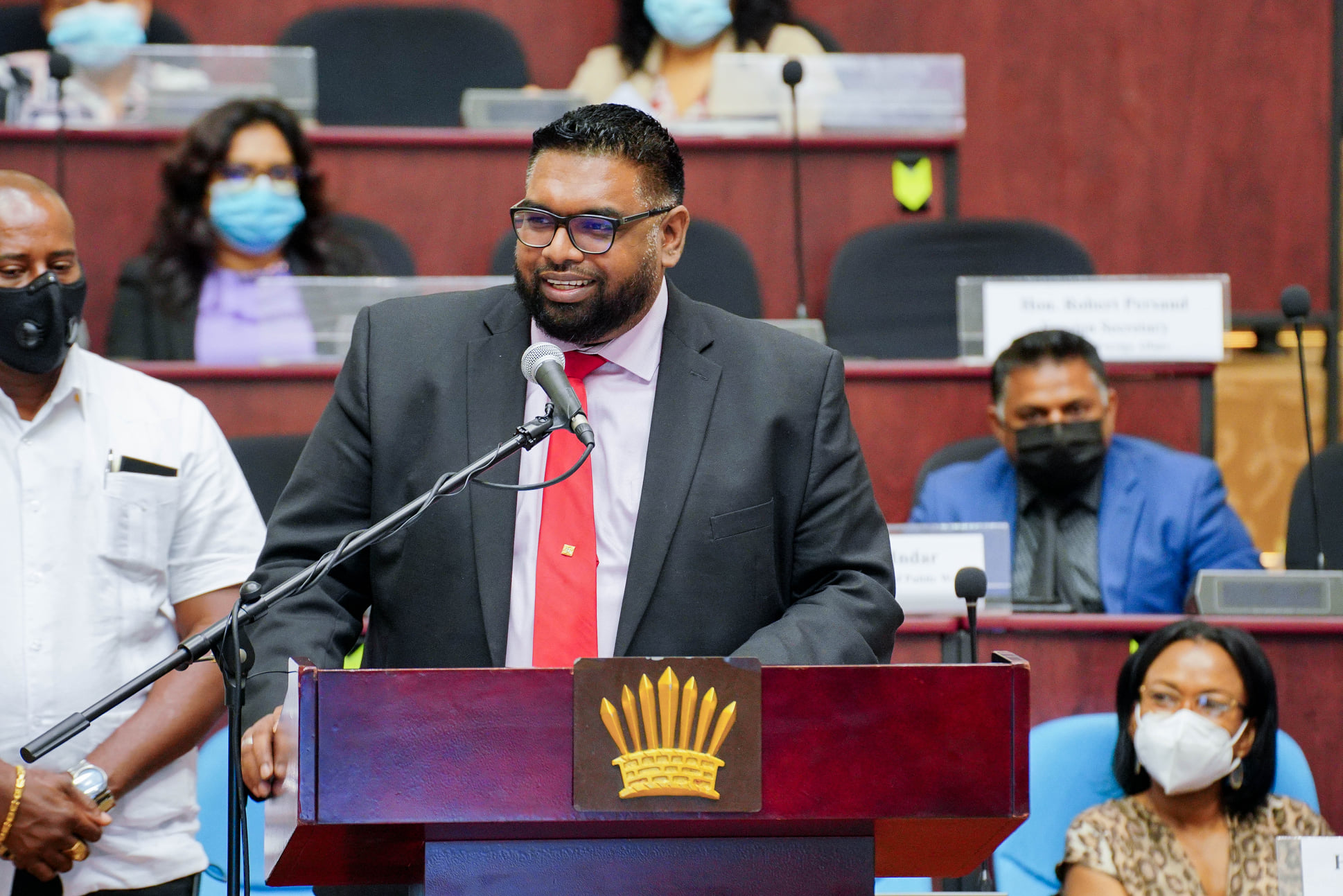 Joint high-level team to examine existing trade barriers in CARICOM
Georgetown, Guyana (December 4, 2020) His Excellency Dr Irfaan Ali has announced the formulation of a joint high-level team comprising of Government and Private Sector representatives to examine the existing hurdles and barriers to trade.
The Head of State made this assertion during his address at the launch of the Canada- Guyana Chambers of Commerce earlier today, which was held at the Arthur Chung Conference Centre in Liliendaal.
"I have asked the Foreign Ministry today to bring a list of all the hurdles we have in every single market in CARICOM and we are going to put together a joint team of the private sector and the Government to break down those hurdles, to get our products in."
In his address to the gathering, the President noted that while many new growth areas and opportunities for investment are on the horizon, the country will only realise its potential and reap the benefits if it places itself first.
"Key to this, is for us as Guyanese to learn to put Guyana first. We are a strong knitted country that will realise its true potential in a united way. But we have always been negotiating from behind, for the first time we are negotiating from the front and with greater strength."
In citing examples, President Ali pointed to the obstacles of getting Guyana's produce into markets within CARICOM, which to date is still a challenge.
"This has to change. We have facilitated investment from other CARICOM countries; from other partners without any hurdles…It took years to get our ice cream into some markets. What I am saying to the Guyanese Private Sector, this is the time for us to come together."
He acknowledged that even with the difficulties, the Private Sector never "scaled back" but opted instead to persevere.
The Head of State emphasised that while the Government will make the investments and create the opportunities, there must be an even playing field.
He reminded them that it is the Government's mandate to not only facilitate investment but to ensure that there are no hurdles to doing business. "This is what we have to work on."
In his key note address during the Guyana Manufacturing and Services Association's (GMSA) 25th annual Awards Ceremony on Wednesday, President Ali had called on the Private Sector to be bold and to "push hard" on the existing trade barriers.
"I want to say today to the President of the Manufacturing and Services Association, that your engagement with CARICOM must be bold. It is time we break down the barriers to trade. It is time we stake our place. And whilst we have the capacity to invest in food security, the private sector needs to push hard on all the barriers that prevent our goods and services from entering a free market, an open market, a unified CARICOM."