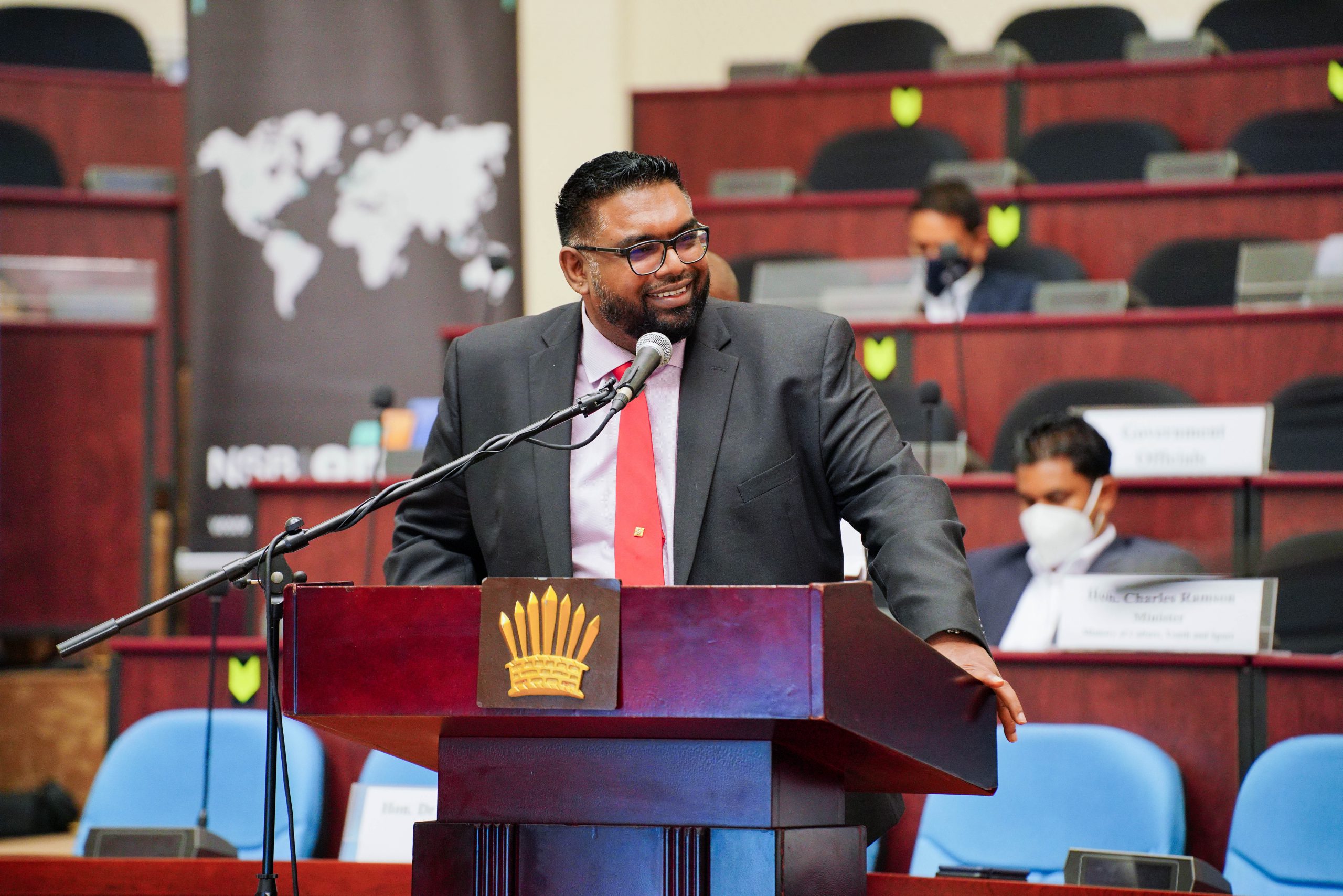 Relationship must benefit both parties and countries
Georgetown, Guyana (December 4, 2020) His Excellency Dr Irfaan Ali today affirmed his Government's commitment to a partnership with the Canadian Chamber of Commerce to ensure success at all levels.
The Head of State made this pledge, while lauding the longstanding economic relations between Guyana and Canada, during the feature address at the Canada-Guyana Chambers launching ceremony held at the Arthur Chung Conference Centre in Liliendaal.
"Guyana-Canada economic relations have undoubtedly been a success story…. Today, we are building and collaborating between Guyana and Canada. This collaboration must be to the mutual benefit of investors, but more importantly to the benefit of the country."
FUTURE ECONOMY
President Ali noted that the future of Guyana's economy is not reliant on oil and gas but rather it is about agriculture, value added, industrial development, human resource advancement, health as a foreign currency earner, education as a foreign currency earner, knowledge transfer and technology.
"This is the economy we are talking about, an economy that will be shaped and driven by highly skilled human resource base. That has more potential than any single oil and gas economy and that is the economy we are targeting."
In an effort to support this trajectory, the President pointed to the important role of the Diaspora, particularly in Canada. He called on them to be "ready and willing to engage".
INVESTOR CONFIDENCE
The Head of State said the establishment of the Chambers represents an overwhelming vote of confidence in our country's future, further solidifying the important partnership between the two countries.
"It signals the high expectations of Guyana's economic prospects. The world is expressing confidence in Guyana's economy. Today, the Canadian private sector joining with the Guyanese private sector is expressing confidence in the economy. The government has to ensure we work closely with Private Sector in realising that confidence."
SUCCESS STORY
President Ali noted that Guyana and Canada have signed mutually beneficial agreements including the Convention for the Avoidance of Double Taxation and the Prevention of Fiscal Evasion with Respect to Taxes on Income and for the Encouragement of International Trade and Investment. Guyana is also a beneficiary of the Caribbean-Canada Trade Agreement (CARIBCAN).
He also expressed confidence that Guyana will continue to benefit from duty-free access to the Canadian market, under this or any future agreement.
"Guyana- Canada we can ensure that we will work together to continue this and expand it…We are looking forward for that role to expand partnership with Guyanese businesses into other sectors, the creation of new businesses, health care and education."
 FOSTERING INVESTOR CONFIDENCE
On this note he guaranteed that Guyana-Canada economic relations will take place in an environment characterised by greater political freedom, including respect for democracy and the rule of law. These shared values, he added, are "absolutely essential for ensuring investor confidence and comfort".
"If democracy, human rights and the rule of law are jeopardised, it increases the political risk of doing business and, by extension, the cost of investment. Investors generally prefer stable democracies where respect for the rule of law exists. Such an environment enables economic freedom and is thus supportive of trade and investment."
The President said that Canadian investments have helped to propel Guyana's development with companies establishing a substantial presence in the country's mining industry.
IN DEFENCE OF DEMOCRACY
President Ali reminded all of Canada's exemplary stance in defence of Guyana's democracy following this year's National Elections, where "democracy was sorely tested".
Canada was among the ABCE countries which stood up and called for the democratic will of the Guyanese people to be respected.
The President reiterated his profound gratitude to the outgoing Canadian High Commissioner, Her Excellency Lilian Chatterjee, her staff and Canada as a whole. He said she "courageously represented the values for which her country stood" thereby preventing the "derailing of democracy" and was able to back that up with financial resources in the difficult five months post elections.
"I thank the High Commissioner, once again, for standing up for Guyana. Last night on the news she said that she wants this Chamber to be her legacy. I want to let her know that her legacy is intact. With these respectable and honourable people who form the board of this chamber I can say that your legacy is intact."
DIVERSIFIED ECONOMY
President Ali charged the Board to "think outside of the box" and to look beyond the narrow news headline of oil and gas.
On this note, he pointed to the potential of the country's tourism product and highlighted the need for investment, including investments in air transport, to make the industry competitive. He also urged them to see the importance of reciprocal skills transfer and capacity building.
"There is no better time than now to have this interest in Guyana, there is no better opportunity than to make use of all that is ahead in our economy, but at the end of it the greatest transfer we can make is the transfer to better the human resource base of Guyana, through transfer of skills training."
In closing, President Ali assured the Chambers of Government's support moving forward.
The Canada-Guyana Chamber of Commerce was launched in an effort to strengthen trading and investment between the two countries and to provide support to Canadian and Guyanese business interests in the two countries.
A statement from the body added that the Chamber will have offices in both Toronto, Canada, and Georgetown, Guyana.
It was explained that the Chamber has 24 founding members, including Banks DIH Ltd, Caribbean Surgery Inc, CGX Energy Inc., Demerara Distillers Limited, Edward Beharry and Company Limited, Empire Plus Home and Commercial Inspection Services Inc., Gafsons Industries Limited, Go Logistics Incorporated, Royal Bank of Canada, Scotia Bank Guyana Inc., Sterling Products Limited, Gold Source Mines Incorporated, N&S Mattai and Company, Nalico/Nafico, NSBOmega Guyana Inc., Panthera Solutions Incorporated, The Government of Newfoundland and Labrador, Guyana Bank for Trade and Industry Limited, Guyana Goldfields Inc, Guysons Oil and Gas, High Commission of Canada to Guyana, International Development and Relief Foundation and JHI Associates Inc.
Also in attendance were outgoing Canadian High Commissioner to Guyana, Her Excellency Lilian Chatterjee , Chamber Chairman Anand Beharry, Government Officials and Chamber members.
In her remarks, the outgoing Canadian High Commissioner emphasised that the Chambers is a natural extension of the long partnership between Guyana and Canada. She pointed to the fact that the Body should not be seen as competitors but as allies.
"Canada is not a super power, Canada is a super partner," she said.
She also encouraged the Guyanese government not to resist investment, but to use their judgement in determining who to trust.