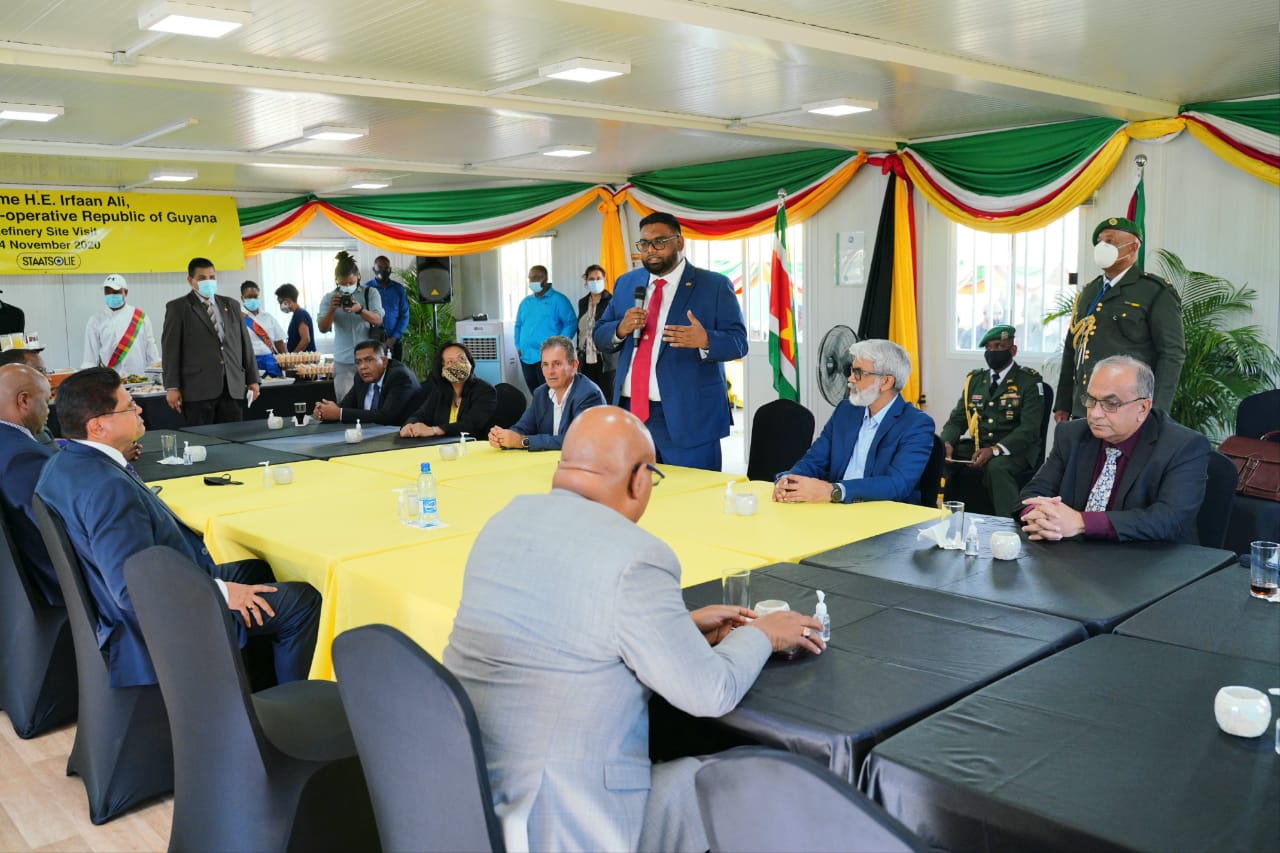 – Work of Border Commission will not hinder progress
Paramaribo, Suriname (November 24, 2020) His Excellency Dr Irfaan Ali said that both Guyana and Suriname are focusing on strengthening bilateral relations and solidifying plans to create new opportunities, while the established Border Commission is working assiduously to resolve "outstanding issues".
The Head of State gave this assurance during a joint press briefing today in Paramaribo, while fielding questions from the Surinamese press on the Guyana/Suriname border issue and the impact this will have on existing bilateral relations.
"We are focused on moving ahead with the relationship, moving ahead and solidifying our plans, moving ahead and bringing the two countries and people closer together. We are moving ahead in creating new opportunities, in creating new infrastructure, in creating a framework for trade and ensuring that we are ready and equipped to face the challenges that will come."
President Ali further explained that while the Commission is doing its work, both countries will continue to focus on development, advancement, integration as well as placing focus on sustainable relations for the benefit of all. He noted too that "one issue is not dependent on the other".
"As you rightfully pointed out, we had a maritime issue which has been resolved. And I'm sure you're aware too that we have a Border Commission that is working assiduously on outstanding issues. We have to allow them, just like we allowed the other process to bring a resolution, and both countries are benefiting."
Meanwhile, in his response, Surinamese President, His Excellency Chandrikapersad Santokhi noted that the border issue is very important and requires high level dialogue which the Commission is focusing on.
He said that while this is ongoing, the two countries will concentrate on issues that are binding and will create opportunities which require joint strategies. On the agenda are the Corentyne River Bridge, the Offshore Base and other joint investments.
President Santokhi added that the two countries will move forward in tandem.
"It is our experience in Suriname and I have noticed the similar experience in what Guyana is facing; when you have investors who want to invest. Then they are looking for an investment opportunity not only in Suriname, but also in Guyana, not only in Guyana, but also Suriname. Here we have the opportunity as two leaders to have established a Joint Investment Committee to invite investors who want to invest in both nations—which will be beneficial for both countries."