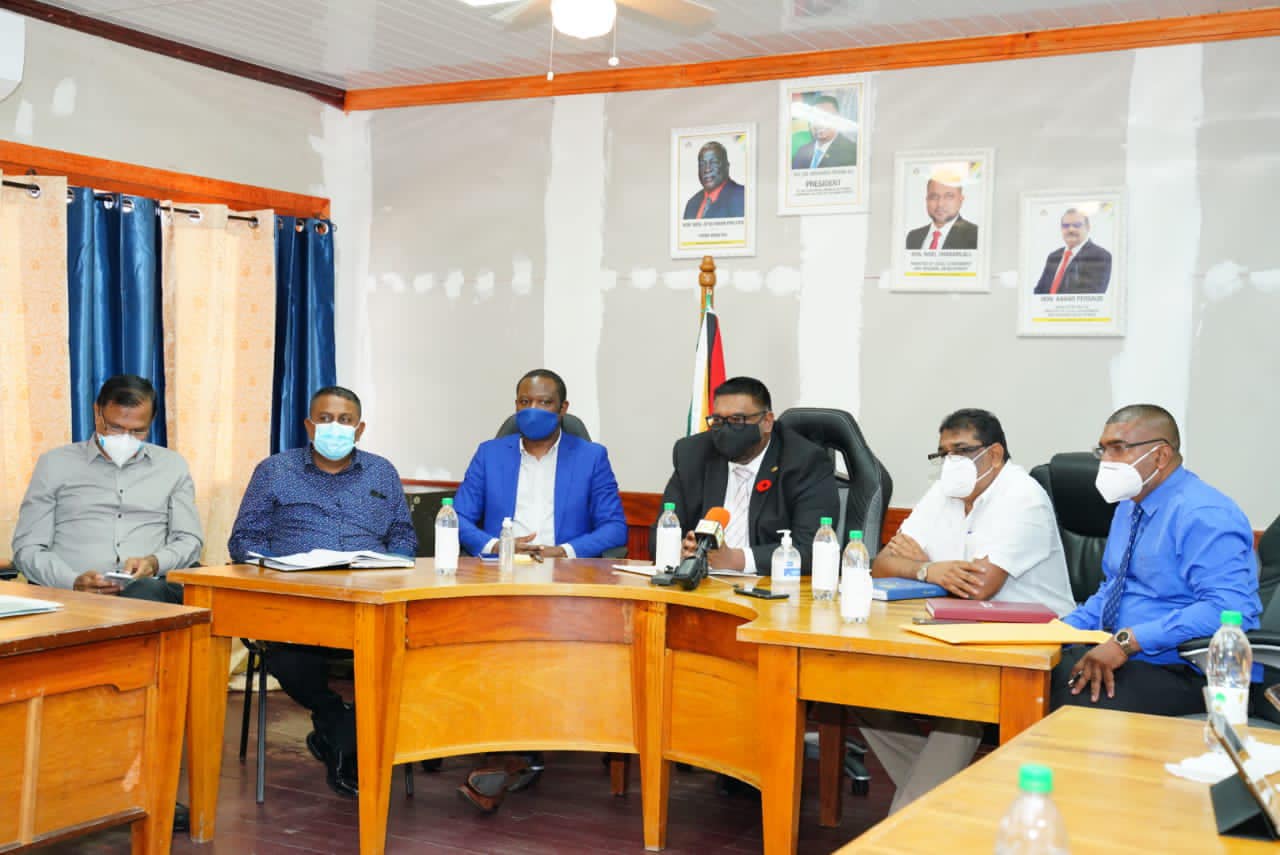 Berbice, Guyana (November 13, 2020) His Excellency Dr Mohamed Irfaan Ali was highly praised this afternoon for organising an outreach in Region Six (East Berbice/Corentyne) which addressed numerous issues faced by residents.
The President, along with the Regional Chairman David Armogan, a number of government officials and heads of various government agencies were a part of the outreach in New Amsterdam, Berbice.
The Berbicians were elated with the way in which the President promptly attempted to solve their problems.
Wendy Adams, 63, who has been without electricity for a number of years was one of the first persons that was able to sit in the boardroom of the Regional Democratic Council, mere metres from President Ali and his team.
"I was so happy and glad that I will be getting through after so many years without current. I have a house and everything and finished it couple years ago, but I have been without light for decades. Right now, I am so happy that I was able to speak to President Ali in person. I couldn't sleep last night because I was so anxious and I even woke up this morning excited," the visibly ecstatic woman explained.
She said that this is the first time that she was able to speak to someone in authority concerning her woes, after being given the "royal runaround" for years.
"I can't explain to you how much I am happy right now. Never in my life have I ever been able to do that. I am just so glad," the woman said while praising President Ali for organising the outreach, which she dubbed as "one of a kind."
Gladwyn Abdulla, 67, from Fyrish, also echoed similar sentiments. The man related that he was very happy to have been afforded the opportunity to lay out his issues before the President and other officials.
"I feel honoured. It is not something I was scared of doing, but I am so happy right now, and I know that [President Ali] will take care of these issues. Nothing like this has ever happened before and what I am seeing today and what this President has done in his first 100 days makes me really happy. What he did in the 100 days was more than the previous Government did in five years," Abdulla said.
Chandramattie Drepaul, who has had a land issued since President Ali was the Minister of Housing, explained that the land that she had bought was used to build a school by the State and she had requested that the money she paid to be returned to her. However, since then, she has not been refunded.
Though she was asked by the Central Housing and Planning Authority (CH&PA) CEO Sherwyn Greaves if she wanted to be relocated, Drepaul refused. She insisted again that she only wanted her money returned.
President Ali listened closely and instructed that the CH&PA deal with the issue.
"They said Friday they will call me, and I felt good being able to sit and talk to the President. I am 58 years old and I have been waiting for a long time to get back my money". The woman said that she felt as if a heavy weight had been lifted off of her shoulders.
Bertley Crawford, 52, from Number 9 Village, also related that he feels better after having sat face-to-face with President Ali and the large team this afternoon. Crawford explained that he had applied for a physical therapist position at the National Psychiatric Hospital in New Amsterdam, but had not received any response despite being qualified for the position.
"I felt a release because this is my first time being able to speak with a president in such a casual way. I feel excited and happy that at least my views and issues were heard and I feel relieved by the way he talked to me and how he instructed the team."
Crawford said that he has received contact information for two persons and was promised that they "will take it from there". He added that he was going home happy – a feeling he has not experienced in a long time.
Anand Persaud, a re-migrant who lived in the US for 31 years, also heaped praises on President Ali.
"It was an honour for me to have met with the President. It was very humble of him to come here and meet the people and listen to their concerns. My issue was addressed by him, and I am hoping they find a solution to it soon."
Persaud emphasised that from his interaction, President Ali is a "nice and energetic man" and that he is looking forward to similar events in the future.
Citizens were let in one at a time to sit with President Ali and his team. Pregnant women and women with children were given priority.
President Ali emphasised that the outreach would be taken all over the country for citizens of all regions to be afforded the same opportunities.
The team comprised of representatives from the Office of the President, the Ministry of Health, the Ministry of Foreign Affairs and International Cooperation, the Ministry of House and Water, the Guyana Power and Light (GPL), Guyana Water Inc. (GWI), the National Insurance Scheme (NIS), the National Drainage and Irrigation Authority (NDIA), the Guyana Police Force (GPF) and the Guyana Lands and Survey Corporation (GLSC) among others.