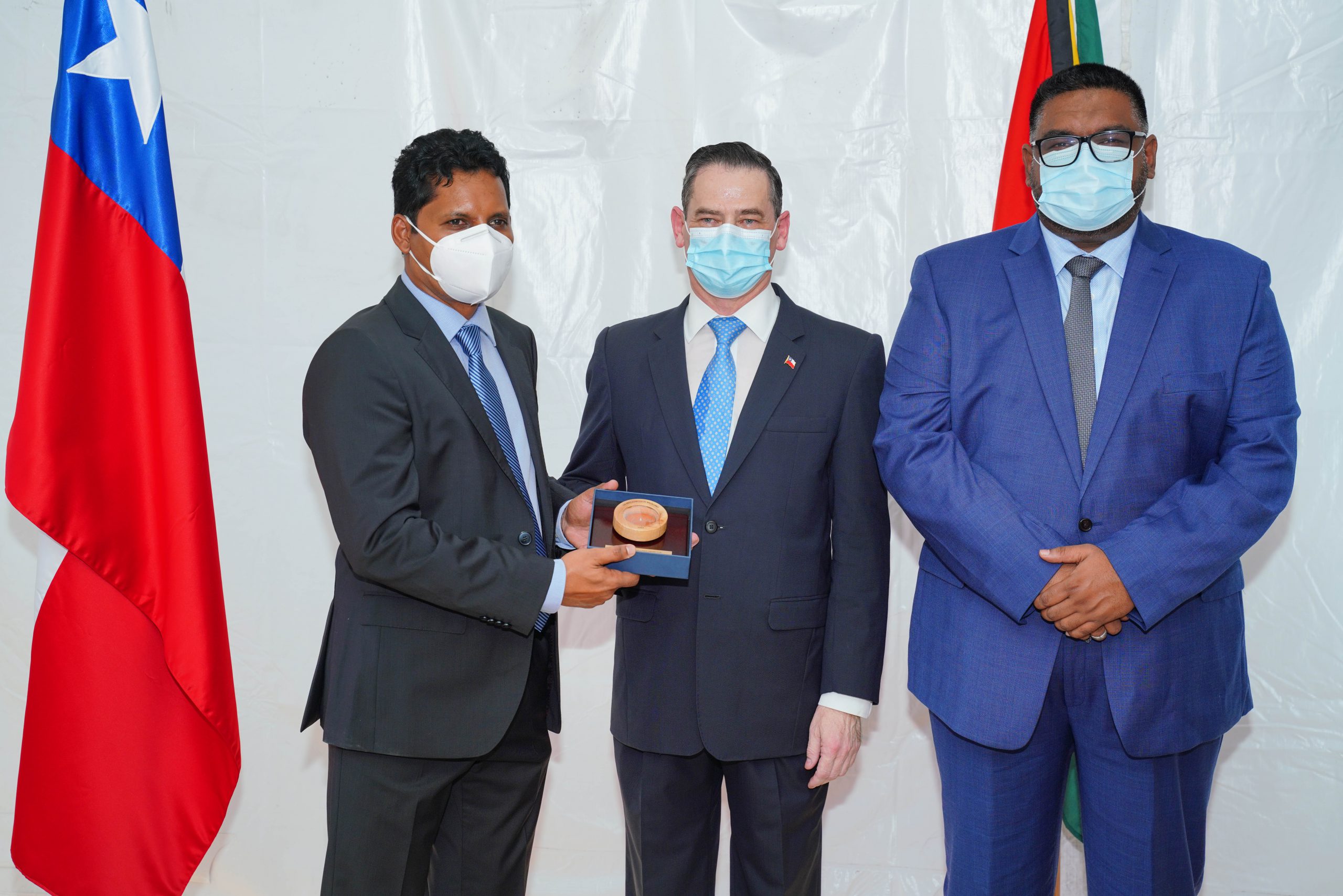 President Ali lauds Guyanese as pioneer in the field of environmental science
Georgetown, Guyana – (November 10, 2020) His Excellency Dr Irfaan Ali joined in honouring Mr Shyam Nokta today as he received the '500th Discovery of the Strait of Megallan' Award at a special presentation ceremony.
The award was conferred on behalf of the Chilean Government by the Ambassador of Chile, Patricio Becker at his East Coast Residence.
To celebrate the 500th anniversary, the prestigious award is being bestowed upon modern-day innovators in each country, whose work represents the spirit of exploration.
In his remarks, President Irfaan Ali extended congratulations on behalf of the Government of Guyana and lauded Mr Nokta as a pioneer in the area of Environmental Science.
"Allow me to officially congratulate you on behalf of the Government and the people of Guyana on this accomplishment. Of course, this comes as no surprise to us. We are aware of your selfless talent. We are aware of your significant contribution. And we are aware of your technical capacity to achieve. So for us, this is not a surprise. Perhaps it is just the opening of many more moments like these in your life."
The Head of State pointed to the important role that critical thinkers, ground breakers and innovators play in shifting the narrative on key issues like climate change.
"Shyam had separated himself from a very early stage in his career…. I remember that at one point it [environmental science] was not a highly sought after career. But today we see in every single aspect of our life, every single project, every single programme, and every single development pathway, environmental Science comes into play. And for him at such a young age to understand the importance that this field will play in global development, also tells you about this young man."
The Head of State added that Mr Nokta has excelled in private enterprises, public work and at the international level and he hopes that he can continue to lend his expertise and provide leadership in the areas of climate change and the environment.
The President also recognised the important role of Mr Nokta's family in support of his career over the years. He credited his parents, the former Minister of Local Government and Regional Development, Mr Harripersaud Nokta and his wife Mrs Melissa Nokta.
Meanwhile, Ambassador Becker pointed out that in all of his jobs in the public and private sectors, Mr Nokta has demonstrated entrepreneurial spirit, innovation and has been a trailblazer in the field of environmental management, climate change and ecological development.
More importantly, the Chilean Ambassador said that Mr Nokta has also used his knowledge and talent to create a better future for Guyanese.
"I have the honour of presenting you this symbolic recognition from my country, for your brilliant professional career, thereby wanting to reward the spirit of exploration, associating it with innovation with a global reach. Today we want to celebrate globality, the inventions that the new straits represent and that makes it possible to reduce gaps, distances and problems."
In accepting the award, Mr Nokta extended best wishes to the Government of Chile and noted that he was "humbled".
He also said that he is very pleased that President Ali and the Government of Guyana have recommitted to the Low Carbon Development Strategy (LCDS) and to the partnership with Norway, as this presents a very good opportunity for Guyana to continue to show leadership and innovation on this very important global issue.
Mr Nokta currently serves as the President of the Guyana Manufacturing and Services Association (GMSA) and Chairman of the Local Content Advisory Panel. Prior to that he served as an Adviser to the President and as Head of the Office of Climate Change where he coordinated Guyana's response to climate change, the development and implementation of the LCDS and REDD+Partnership with the Kingdom of Norway.
He was also involved in key conservation initiatives such as the establishment of Guyana's National Protected Areas System and has chaired several national boards and committees in the areas of tourism, conservation, climate change and green growth.
Among the attendees at the Award ceremony were former President and Prime Minister, Samuel Hinds, Minister of Natural Resources, the Hon Vickram Bharrat, Minister within the Ministry of Local Government and Regional Development, Hon Anand Persaud, former Minister Harripersaud Nokta and Conservationist Ms Annette Arjoon- Martins.
The Strait of Magellan, a corridor of icy cliffs across untouched Patagonia linking the Atlantic and Pacific oceans, was first crossed by Ferdinand Magellan in 1520. It opened up trade routes between east and west and also proved that the world was round.