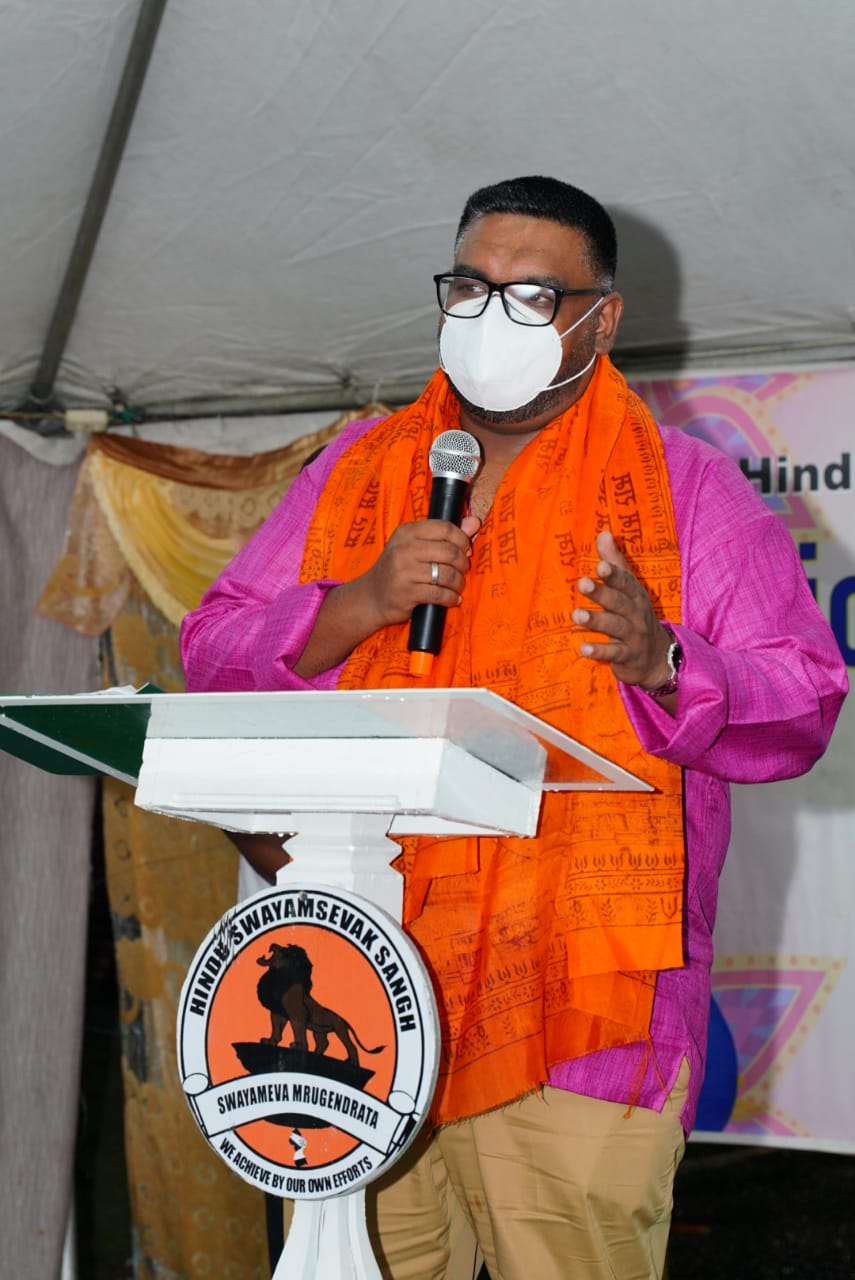 Joins in pre-Diwali celebration at Sixth National Diya Light-Up
Georgetown, Guyana – (November 8, 2020) His Excellency Dr Irfaan Ali this evening urged Guyanese to introspect on their lives to find their inner light—which can promote harmony, selflessness and lead to a sense of consciousness.
The Head of State made this call during the Sixth Annual National Diya Light-Up at Rahaman's Park, which was organised by the Hindu Swayamsevak Sangh-Guyana (Hindus for Selfless Service-HSS).
"My brothers and sisters as a country, and as a people, we must contemplate on this inner light. Each one of us must contemplate individually on that inner light and ask ourselves some very searching questions. Is my inner light contributing positively to the people of society, to the people of my community? Is my inner light selfish or selfless? Is my inner light in the cause of my country or in the cause of something individualistic?"
President Ali pointed to the importance of reflecting on the best pathway for personal development, community development and the development of Guyana. Towards this end, he said that the first step is in acknowledging that our actions may be harmful to our society and our nation.
"Unless you bring yourself to the position of acknowledging that you did something that caused harm to society and country then you cannot go on this road to reconciliation because that light within you is kept in darkness."
The President assured that his Government is willing to embrace all Guyanese and push forward with the achievement of a singular vision where all are connected and united.
He emphasised too that leading a country and being part of a country requires all to collectively manoeuvre beyond obstacles in order to achieve true potential.
"I believe that we have it in us to take this country to the next level in a dignified manner where respect for laws, respect for rules and respect for democracy becomes unquestionable in the eyes of the world. It is only then that the light of Guyana can shine as brightly as we want it to shine. It is only then that the light of Guyana can create a path for others to follow. It is only then that the light of Guyana can brighten those who will come after us. Tonight it is not just about lighting this National Diya, tonight is a night of reflection and I ask all Guyanese to reflect."
In his remarks, the High Commissioner of India to Guyana, Dr K.J Srinivasa noted that the lighting of the Diya serves as a reminder that light will always prevail.
President of the HSS, Sri Ravindra Dev regaled the gathering with the story of the National Diya.
President Ali was joined by the First Lady, Arya Ali, Senior Minister within the Office of the President, Dr. Ashni Singh, government officials, members of the diplomatic corps and members of the HSS for the lighting of the ceremonial Diya following the official programme.
This year's lighting up ceremony was held under the theme: "Fighting COVID-19 under the light of knowledge."