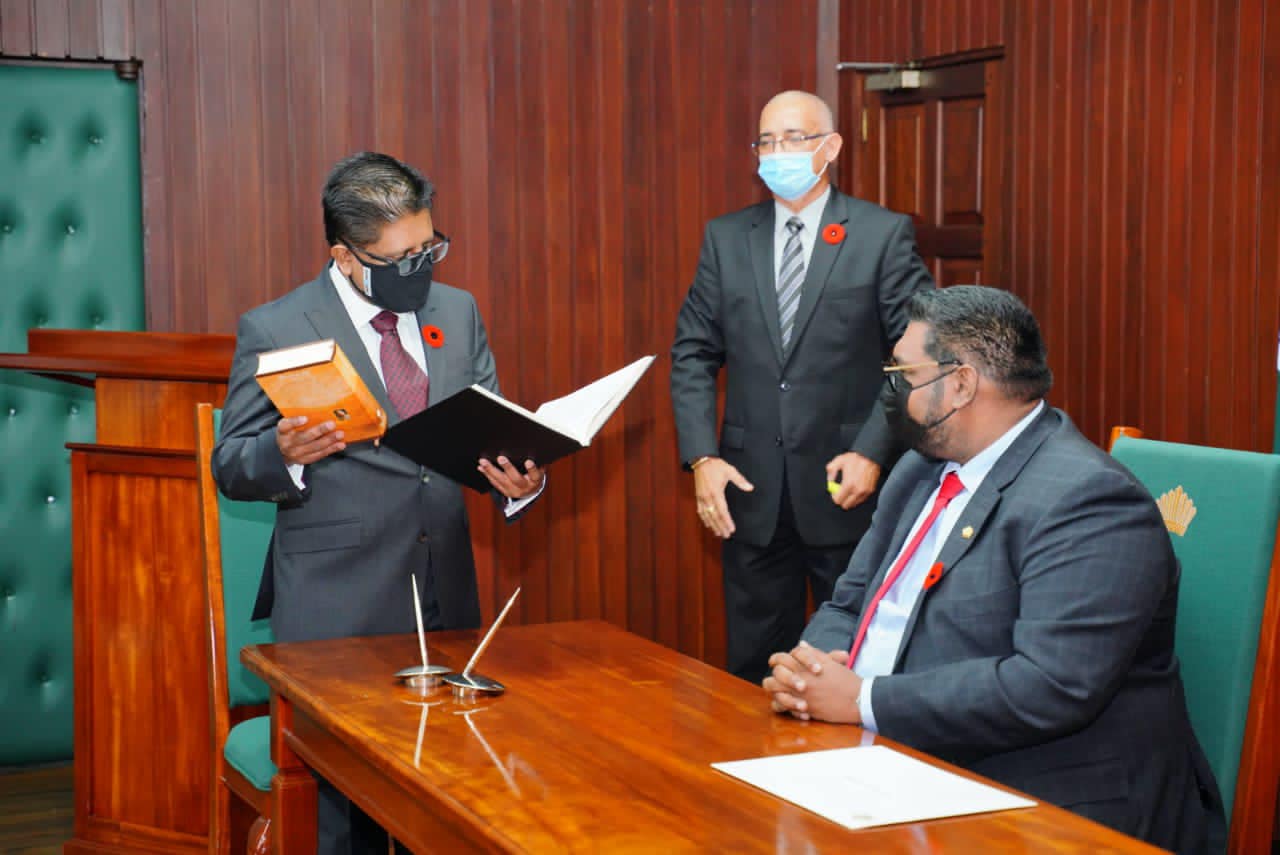 President says will add experience, dynamism to Government
His Excellency Dr Irfaan Ali today swore in Dr Ashni Singh as a Senior Minister with responsibility for finance within the Office of the President.
Dr Singh took his oath in the presence of Cabinet Ministers and other Government officials at a ceremony at the Office of the President.
President Ali explained that while the Office of the President will retain its oversight role, Dr Singh would be responsible for finance.
"Dr Singh will have the responsibility for finance and will ensure that we have the full complement of skills that will advance the agenda of the Government."
The Head of State added that Dr Singh would be part of the team to oversee the transformative agenda of Government which includes: projects, programmes and policies to stimulate growth, expand the country's economic base and strengthen existing sectors.
"We are on a road of transformation and that transformation requires a multifaceted team. I believe in every aspect of Government, at the level of Cabinet and Permanent Secretaries we have been able to match youth, experience and dynamism in a very special way to ensure that we build capacity that is needed to manage the fortunes of the future and create an environment in which all of our people will be successful."
Dr Singh previously served as Minister of Finance, Director of Budget in the Auditor General's Office and also held international portfolios.
President Ali noted too that Dr Singh will bring with him those values, attributes and experiences to add to the Government's already dynamic team.
In his remarks, Dr Singh thanked President Ali, Vice President Dr Bharrat Jagdeo and Prime Minister Brigadier (ret'd) Mark Phillips for making the appointment possible.
"I have spent almost all of my life in public service in Guyana. And it's something that I consider a great honour. So having been invited by the President to join his Cabinet is a tremendous honour. I consider myself greatly honoured, greatly privileged. And perhaps most importantly, deeply humbled by the fact that he [President Ali] considered me for this appointment and extended the invitation to me."
The President congratulated Dr Singh and wished him well in his new role.