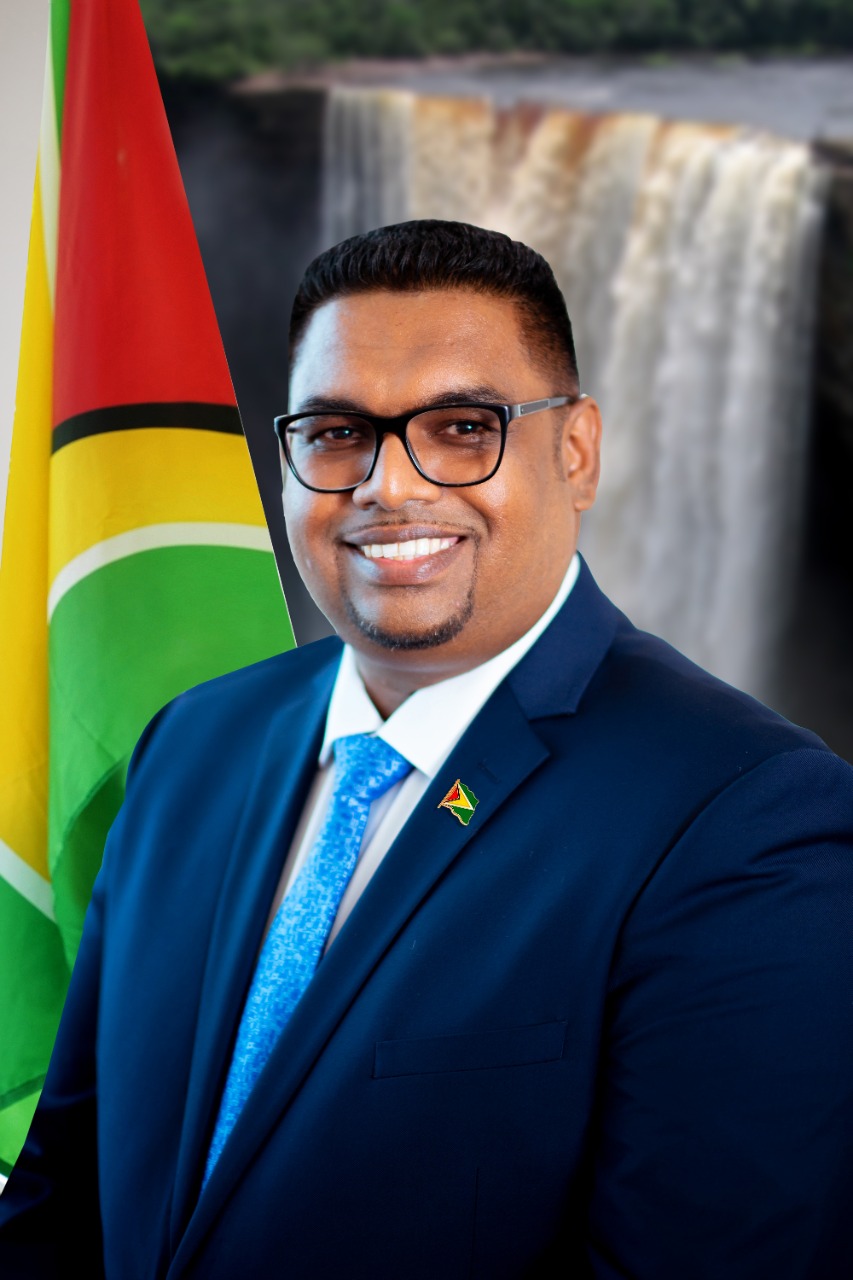 My fellow Guyanese, first of all, let me apologise for the delay in this broadcast, but be assured it was out of our control.
Staying true to our promise of transparency and co-operation, I am coming to you this evening with an update of your Government's COVID19 response agenda and plans.
The impact of the total shutdown on our economy continues to be severe. According to reports conducted by both the Small Business Bureau and the Private Sector Commission, businesses across all sectors saw various responses to the COVID-19 Pandemic shutdown. I have been consulting with various stakeholders including the Private Sector, trades unions, youths, communities, healthcare professionals, all aimed at coming up with a national holistic plan that integrates every aspect of response in relation to the COVID-19 pandemic. What we have seen is the
• closure of small business enterprises;
• our economy declined by more than four per cent at midyear;
• contraction in business by as much as 20-70 per cent in some sectors.
• the loss of jobs or in some cases reduced workforce significantly;
• reduced operations and output due to the implementation of rotation work schedules and other COVID-19 prevention measures
Importantly, the loss of income has led to starvation in communities.
I want to say to these communities that your Government is not unaware of the difficulties you are facing. That is why in this holistic plan, we are not only looking at the health aspect of the COVID-19 pandemic, but we are targeting measures that would re-create jobs, ensure income goes back to the people, improve spending in the economy whilst at the same time, securing our population with the implementation of good health scenarios.
We all know that the last five months were spent on matters other than implementing a comprehensive and proactive COVID response. This Government is focused on delivering an all-encompassing plan that will hold your health and safety paramount while balancing the need to fortify our economic standing.
I assure you that your concerns will be dealt with, that the concerns of the business community, parents, teachers and healthcare personnel will be dealt with. We will find the balance and we will take all of these concerns into consideration and find the balance in addressing this issue. It is not only a public health issue but an economic, financial and social issue.
To this end, as a Government, we have been working at implementing an all-encompassing approach to dealing with COVID. The objective of our all-encompassing approach is to ensure that the multifaceted aspect of the COVID-19 pandemic is addressed by:
• delivering relief to our strained health system and workers;
• increasing testing throughout Guyana;
• maintaining and addressing public health and safety;
• delivering stimulus incentives and arrangements to encourage business stability;
• delivering relief measures for persons affected at the household level;
• delivering education to our children in non-conventional avenues as we all adopt in this new environment.
In addressing some of these issues, the Government is pursuing the following:
Mobilising Resources
Notwithstanding the present state of our economy and the unavailability of resources, I announced a $4.5B allocation to assist in our COVID-19 response. In addition, we are in the process of mobilising approximately US$60M from the World Bank, OPEC Fund for International Development (OFID), Inter-American Development Bank (IDB) and the Islamic Development Bank. This is in addition to the US $2M grant received form the Government of India. These are outside of other bi-lateral support we have received and are in the process of receiving.
Health Response
As of this morning, Guyana recorded its 26th death from COVID-19. On behalf of the Government and my family, I extend deepest condolences to the families of those who would have lost their loved ones. Our prayers are with you all.
To tackle the ongoing challenges, the Minister of Health has advised that a number of interventions have been made to improve test turnaround time, testing capability, human resource capacity, infrastructure and equipment.
To this effect, the Government has been able to move from a situation where we had less than 10,000 N-95 masks in the system two weeks ago to a current situation where we have approximately 65,000 N-95 masks available and an additional 25,000 on order.
Testing has moved from a position of 40-60 per day to 96-140 per day. Notwithstanding this significant improvement, there is a backlog of 700 tests results. This is as a result of the manual PCR machines currently used and also the lack of medical technologists.
Two weeks ago, we had one medical technologist working. By the end of this week, 30 new medical technologists will be trained in PCR testing from both the public and private sector and will be available from next week. In addition to this, two new automatic machines will be sourced to cut testing turnaround time from 9 hours to 2 hours. This will not only clear the backlog but significantly improve our capacity to do mass testing, which will become necessary in the eventual opening up of our economy and country.
Additionally, we currently have four working ventilators at the Georgetown Public Hospital Corporation (GPHC). By next week, 29 additional ventilators will be in country to be utilised not only at GPHC but in all the regions. The Ministry has also advised that additional healthcare personnel including doctors have been deployed to hotspot areas in Regions Seven and Nine.
Further, in dealing with issues of isolation, the Ministry would convert the inoperable Infectious Disease Centre to an isolation centre. To this end, arrangements are being made to have a facility that caters to at least 150 patients requiring isolation.
Education Response
I am deeply concerned and recognise that our children have not been academically engaged in the traditional way since March. We are particularly concerned about the impact of non-traditional schooling structures and also, the unavailability of resources and infrastructure on our children in the hinterland, our children with disabilities and our children who do not have access to data or internet.
I've directed Minister Manickchand to develop a plan to address the delivery of education to our children in a COVID-19 environment. After consultation with various stakeholders, it was decided that schools were not in a position from a public health, infrastructure and facilities standpoint to facilitate a re-opening in September. The Minister has been asked to implement a comprehensive plan aimed at ensuring children and teachers remain engaged in learning, whilst we will make available $500M to equip schools and provide COVID-19 support services and facilities for children and teachers. The ultimate goal is to have our schools in a state of readiness at the earliest.
In the interim, the Ministry has been tasked to put the infrastructure in place for the delivery of the curriculum via the Learning Channel, State radio broadcasting and privately-owned media houses.
BoG's Response
While being a global health risk, COVID-19 poses a serious financial threat. In our continued efforts to safeguard and strengthen the resilience of the sector, I have advised the Bank of Guyana (BoG) to examine a number of measures. The Governor has since advised me that in consultation with the Guyana Bankers' Association, the following agreement has been met.
1. The Bank of Guyana will extend the Moratorium to December 2020 to allow banks to further defer customer payments to end of December 2020 to cope with the lower revenue generation needed to meet operational needs. This accommodation will result in loans not being classified as non-performing and hence will not require loan loss provisioning.
2. The Bank of Guyana will relax Sections 14 & 15 of Supervision Guideline (SG) No. 5 to December 2020. Additionally, a waiver is being given to Section 13 of Supervision Guideline No. 5. The relaxation of stringent statutory measures is intended to result in direct benefits to customers of banks by giving the financial institutions the ability to operate with more flexibility.
3. The Bank of Guyana will reduce Liquidity Requirements in two areas:
• lowering of the Reserves Requirement from 12 per cent to 10 per cent
• lowering the Liquid Assets Requirement for:
• Demand deposits from 25 per cent to 20 per cent and
• Savings & Time deposits from 20 per cent to 15 per cent
These measures will result in overall increased liquidity in the financial sector. The reduction in reserve requirements will result in the injection of G$9.4 billion and the reduction in the Liquid Asset Requirements will immediately release an estimated G$23.3 billion.
4. Commercial Banks agreed to continue supporting businesses with short term working capital needs to meet payroll and other short-term funding requirements at concessional rates between 5-6 per cent to encourage businesses to remain open. The current average short-term financing rate ranges from 8 per cent to 11 per cent, making this reduction a significant step towards promoting businesses continuity.
5. Commercial Banks agreed to offer general concessional reductions of interest rates of 1 per cent and up to 2 per cent on consumer loans below G$10 million until December 31, 2020. The existing lending rate ranges between 6.5 per cent and 16 per cent.
6. Some Commercial Banks have agreed to apply special treatment to the interest accrued during the moratorium period including (but not limited to) no capitalisation, term extensions and forgoing of interest in special circumstances to loans with an outstanding balance of G$10M and below.
7. Commercial Banks have agreed to waive all bank charges especially ATM/local merchant charges to encourage more out of bank transactions as well as charges for transactions by senior citizens.
These measures will not affect the soundness of our banking system and financial architecture.
Conclusion
These measures outlined today are not intended to be the answer to all of the potential consequences of COVID-19. As a Government, we will work tirelessly on implementing the objectives of our all-encompassing plan. We cannot do it alone. We need your co-operation. We look to you, the citizens of Guyana to play your part.
I appeal to you all to follow and observe the COVID-19 Measures.
• Wear a face mask always in public and correctly;
• Practice physical distancing of at least six feet apart if you must be in the company of others,
• Consistently practice good handing washing hygiene;
Stay safe everyone. God bless you, your families and our great country.
Together we will overcome. Together we will build our country safer for all of us.