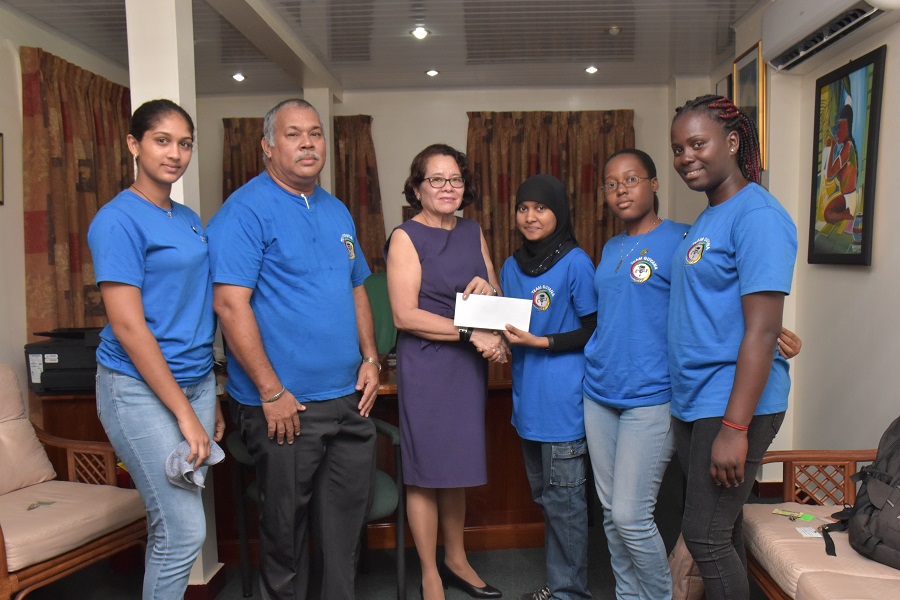 Georgetown, Guyana – (January 12, 2018) First Lady, Mrs. Sandra Granger, today, bade a warm farewell to four young women from the STEMGuyana project, who were selected to represent Guyana on a ten-day visit to the Georgia Institute of Technology (Georgia Tech) in Atlanta, Georgia, USA. Ms. Arrianna Mahase,18; Ms. Aisha Peters, 26; Ms. Farnaz Baksh, 23 and Ms. Stephanie Simon, 20, paid a courtesy call on the First Lady at her State House office. The team is preparing to travel to the USA tomorrow, January 13, 2018.
The First Lady told the young women that the strides that they have taken are vital not only to their careers, but to the development of a progressive Guyana. She also reminded them about the importance of protecting their intellectual properties by registering the patents for their ideas and inventions.
In response, the team told the First Lady that the primary purpose of the trip would be to obtain knowledge from Georgia Tech, particularly in the area of robotics engineering. They also said that on their return to Guyana, they intend to share any knowledge that they gain with the other members of the STEMGuyana team. The trip also serves as a great networking opportunity for the youths involved.
First Lady, Mrs. Sandra Granger (third from left) presents a cheque to STEMGuyana team member Ms. Farnaz Baksh, as STEMGuyana Director, Mr. Colin Sawh (second from left) and the four other team members who are travelling to Georgia, USA look on.
Meanwhile, Ms. Farnaz Baksh, who is also President of the University of Guyana Robotics Club, said that funds for the trip were raised through the collaborative efforts of STEMGuyana, whose members created a "Go-Fund Me" account [an online crowdfunding platform that allows persons to raise money for various causes or events] to raise revenue, along with donations from the University of Guyana (UG) and from the First Lady's office.
Additionally, the First Lady was also paid a courtesy call from Tambourine Innovation Ventures's Chief Technology Officer, Professor Arnoldo Ventura, representative of Zhuor Enterprises, Ms. Renata Chuck-A-Sang, and National Science Coordinator, Ministry of Education, Ms. Petal Punalalll-Jetoo. Together, the three are currently working on a Science and Technology policy to be implemented within Guyana's education system. They discussed a plethora of matters, including the benefits that could accrue for Guyana and a possible role that the Office of the First Lady could play in this endeavour.