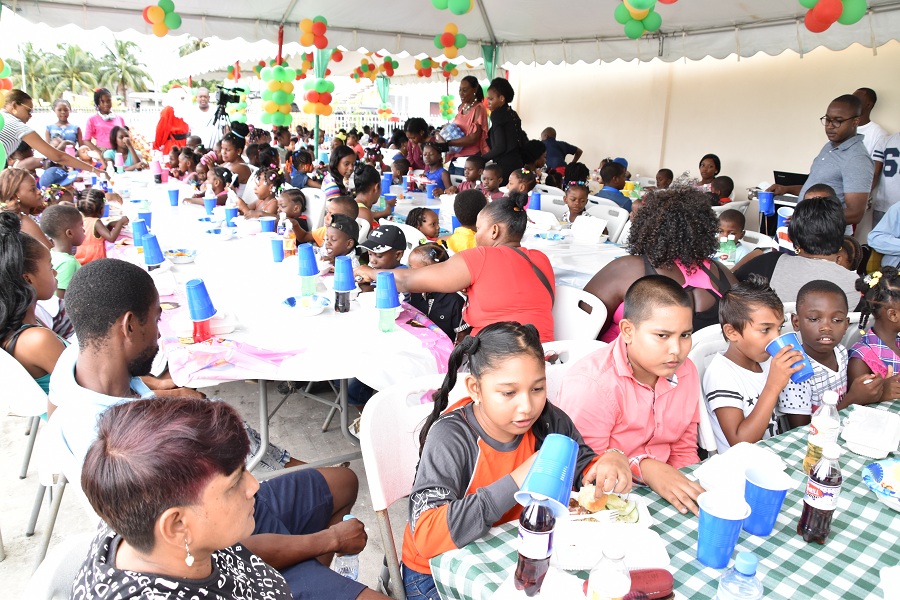 Georgetown, Guyana – (December 27, 2017) Minister of State, Mr. Joseph Harmon and his eldest daughter Ms. Daniele Harmon-Klien, yesterday afternoon, honoured nine students, who secured top marks at the National Grade Six Assessment (NGSA) at their 11th Annual Boxing Day Party for the children of Phoenix Park, West Bank Demerara. They, along with 146 other children from Phoenix Park, Vreed-en-Hoop, Best Village and other nearby communities along the West Bank Demerara attended the fete, which was held at the Minister's home.
Master Enoch Lewis, who obtained 520 marks, Miss Shanice David; 495 marks, Miss Stacianna Todd; 460 marks and Miss Shunae Stevens; 437 marks were all presented with bicycles. Master Lebron Niles, who obtained 498 marks and who will also be given a bicycle, was absent from the party, along with the four other honourees, who will be given book awards to celebrate their success. "We're going to honour those who did very well so that you can actually see that there is value, there is a benefit in studying hard and in working hard and in taking in your education," Minister Harmon told the children.
Some of the children at the party hosted by Minister of State, Mr. Joseph Harmon and his daughter Ms. Daniele Harmon-Klien at their home in Phoenix Park, West Bank Demerara.
All of the children were delighted to receive Christmas presents and treats to celebrate the festive season. Minister Harmon said that his daughter Daniele's Christmas party for the children has become a family tradition that they all look forward to. Meanwhile, Ms. Klien-Harmon said that she was looking forward to a joyous time celebrating the season with the children. "It is good to see some of the faces that we've been seeing over the years," she said.
The children were overjoyed by the appearance of two Santa Clauses who shared hugs, treats and presents throughout the party. Minister within the Ministry of Natural Resources, Ms. Simona Broomes and Ms. Susan Clement, Minister Harmon's mother, who is based in the United States, also joined in the festivities.