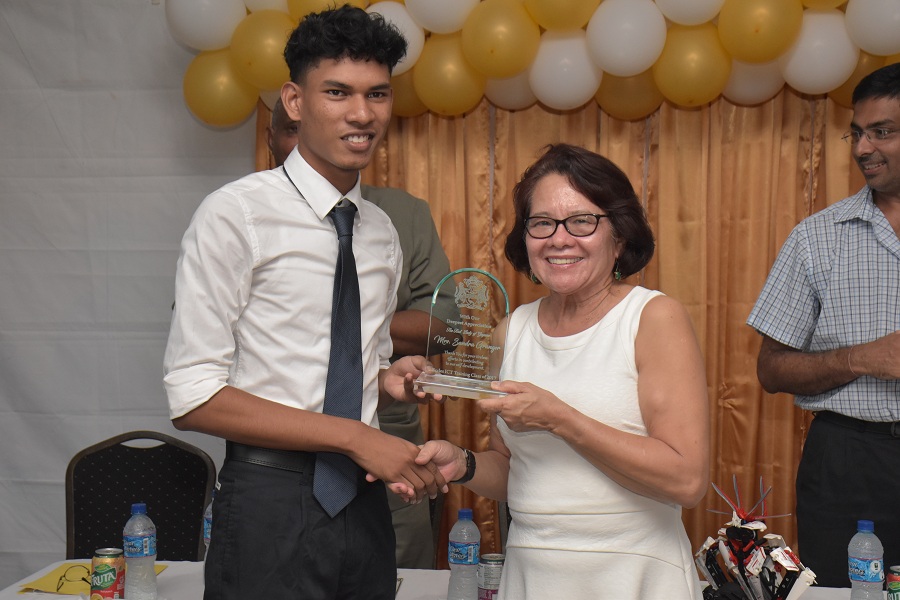 Georgetown, Guyana (November 7, 2017) First Lady, Mrs. Sandra Granger, last evening, charged the graduates of the Eccles Information Communication Technology Workshop to focus on adapting to the ever-advancing technological world through continuing education, particularly in the Information Communications Technology (ICT).
Speaking to the 33 graduates at the ceremony, which was held at the Eccles Youth Skills and Information Technology Centre, the First Lady said, "The projections are that soon 70 percent of the jobs will require knowledge of computer science… and 60 percent of our jobs will be done by robots. So, think about it and think about how you want to be relevant in this modern world".
Mrs. Granger also told the graduates that their increased knowledge is Guyana's best chance of advancement. "As you practice and you keep using your brain, you keep opening yourself to new knowledge [and] new experiences… Every single day something new is happening in our world. Every single day something new is happening in technology and we need to equip ourselves, if we are to share in the benefits of this world that we occupy, by knowing and [continuously] knowing," she said.
This graduate presents First Lady, Mrs. Sandra Granger with a token of appreciation given on behalf of the graduating class of the Eccles Information Communication Technology Workshop.
Vice Chairman of the Board of Industrial Training (BIT), Mr. Donald Ainsworth expressed similar sentiments, telling the graduates that their newfound knowledge makes them stakeholders in the global economy. "[The fact that] we can meet to honour 33 young people who have completed the ICT workshop… is testament to… the longevity of knowledge… You guys are entering a very exciting period in world development. I would like you to see yourselves as the integral part of the global economy because the world has become but a village and we interact and we relate in real time… Therefore, it is important that we expand our knowledge in ICT… so that we can be relevant and be a part of the world's progress," he said.
During his feature address, Mr. Vidyaratha Kissoon urged the graduates to pass on their knowledge. "Knowledge continues. Knowledge is like [a] candle that you light and you pass on [and] it makes the world brighter… I've found that teaching others is really a great way to strengthen the learning," he said.
Mr. Kissoon also gave the graduates five lessons to take with them as they enter the world of work. He reminded the graduates that technology is a tool that can be used for good and evil, and to make sure that they use it for good. He told the graduates to be open to learning from persons in other occupations, to pay attention to opportunities for work and learning, to teach new skills as they are learnt, and to read incessantly.
Valedictorian of the Eccles ICT graduating class, Ms. Sevika Smith, on behalf of her classmates, expressed gratitude to the First Lady for providing learning opportunities for youth. "We are very grateful. We know that our First Lady is paying… great [attention to] today's youth… We are the children of tomorrow. We are grateful for her kindness toward us and we… look forward [to] more [opportunities]," she said.
Salutatorian, Mr. Mohamed Chand said that the workshop gave him a second chance at education. "Every day [of the programme] was exhilarating. Every day I learned something new. This programme was like a second chance for me… I grasped everything I could," he said.
Mr. Chand also said that the First Lady's focus on youth is destined to be impactful. "It'll definitely make a huge difference in the lives of Guyana's youth… She is reaching and reaching out to those youth [who], like me, [are] trying to change their lives and I'm sure, given time, she will create a great improvement in Guyana," he said.
Most Improved Student, Ministry of Labour employee, mother, and aspiring social worker Ms. Carol Simmons said that the sacrifices she made for her education were well worth the effort. "It was very challenging for me because when I leave my family at seven in the morning, I don't get back until after nine at night… It was quite a challenge, but when I recognised that there were persons from [much] further than where I was coming from, it was like a walk in the park… I thank God that I stayed for [the workshop]," she said. Ms. Simmons was commended by the First Lady for finishing the workshop with perfect attendance.
The ICT workshops are conducted through a collaborative effort between the Officer of the First Lady, the Ministry of Social Protection, and the BIT. The workshops, which are part of the First Lady's larger Skills Training Initiative, teach reproductive and sexual health, STEM robotics, numeracy and literacy, and micro enterprising in addition to computer and programming skills. Chief Executive Officer (CEO) of the Board of Industrial Training, Mr. Richard Maughn also attended the ceremony, which featured dramatic and musical performances from the graduates.