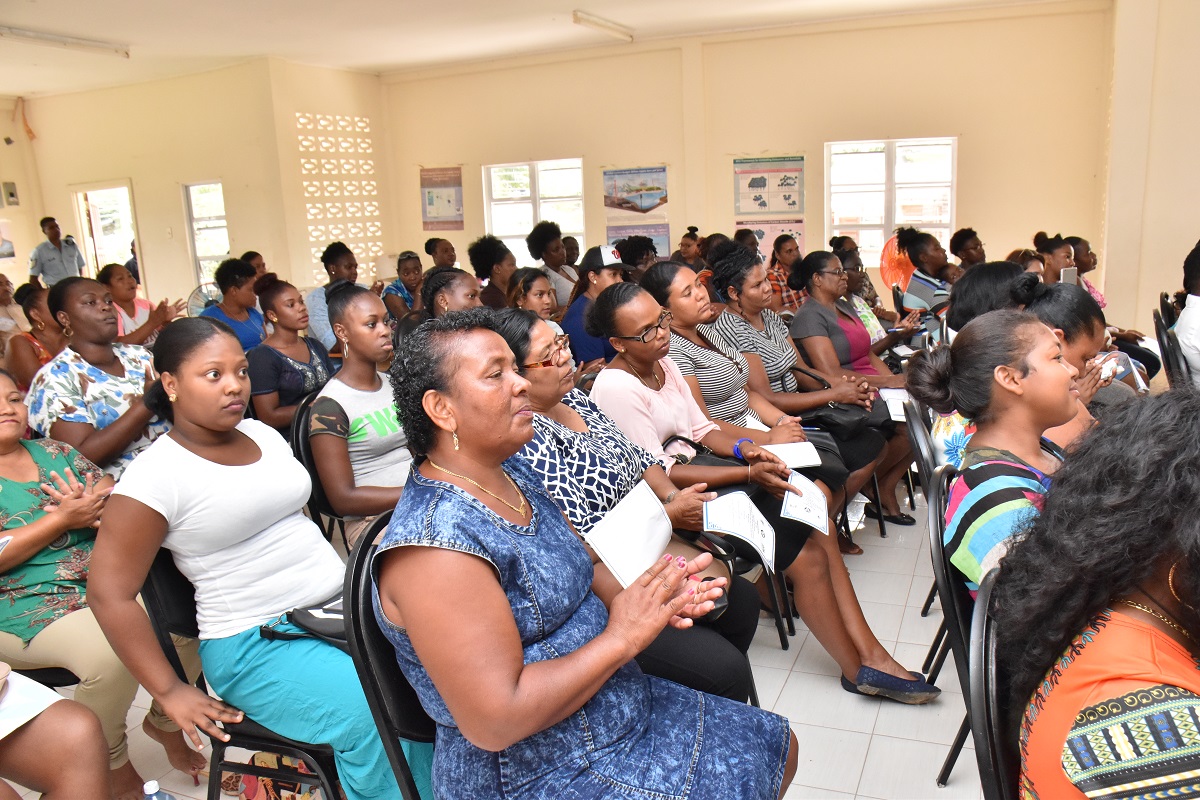 Georgetown, Guyana (October 23, 2017) Facilitator from Interweave Solutions (Guyana) Incorporated, Mr. Sanjay Pooran, described First Lady Mrs. Sandra Granger, as a champion for women's empowerment at the opening ceremony for the 22nd Self-Reliance and Success in Business Workshop, held at the Kwakwani Empowerment Centre, Upper Demerara-Berbice (Region Ten).
Mr. Pooran, on behalf of Interweave Solutions (Guyana) Incorporated, congratulated the First Lady for being named a Champion for the Food and Agricultural Organisation's (FAO) Sustainable Food Programme, a Champion of the Caribbean Community's (CARICOM) Every Caribbean Woman Every Caribbean Child Initiative and a Champion for Change for the Pan Caribbean Partnership Against HIV/AIDS (PANCAP) . "If I might be so presumptuous to add another title… I think she is a champion for [women's] empowerment… I know the women who graduate from these programmes feel truly empowered and inspired to move forward with their lives, change their lives and do well… They all look at our First Lady as the role model for such empowerment," he said.
The First Lady told the participants that the week-long workshop would teach them how to use the skills and talents they already have to become self-reliant. "This is the object of this exercise. It's not just chatting and having a nice time and [being] away from the family for a few days. It is really giving you the power to understand your own strengths and your own capabilities and your own capacity to [connect] with other women… You will understand at the end of this workshop that you are being taught… to become stronger in your own personal commercial and other capacities," she said.
Chairperson of the Kwakwani Neighbourhood Democratic Council (NDC), Ms. Merna Adrian encouraged the participants to dedicate themselves fully to mastering the material at the workshop, putting their heads and hearts into the week's proceedings.
Assistant Regional Executive Officer for Region Ten, Ms. Leola Narine gave a sentimental description of how self-reliance can transform the lives of women. "Being a woman, educated learning about business, [and] being independent, [it's a] great, great, great feeling… I'd like to encourage all the women, who will be participating… to stay focused, accept all that [will be] taught… suck it up like a sponge… It will benefit them in their future,"
The participants, some of them with their young children and babies in tow, expressed their eagerness to participate in the workshop.
Local vendor, Ms. Natasha Gibson said, "I would like to learn more about business… I want to [expand my business] to sell more [groceries]. I feel so blessed because first time I'm meeting [the First Lady]. I feel so [accepted]".
Kwakwani Park resident, Ms. Juanita Leacock said, "When I look around in my community, a lot of women are dependent on men… I do my own little business. I just wanted to be a little bit more inspired and motivated to do more in my business and I'm sure this workshop [will] assist me."
The workshop, which is the result of collaboration between the Office of the First Lady and the Ministry of Social Protection, utilises a holistic approach which helps the participants develop a business plan, a quality of life plan, and a community plan, to teach self-reliance and good business management. Upon completion, participants are awarded with a certificate recognised by the Small Business Bureau for the approval of small business registrations and loans.