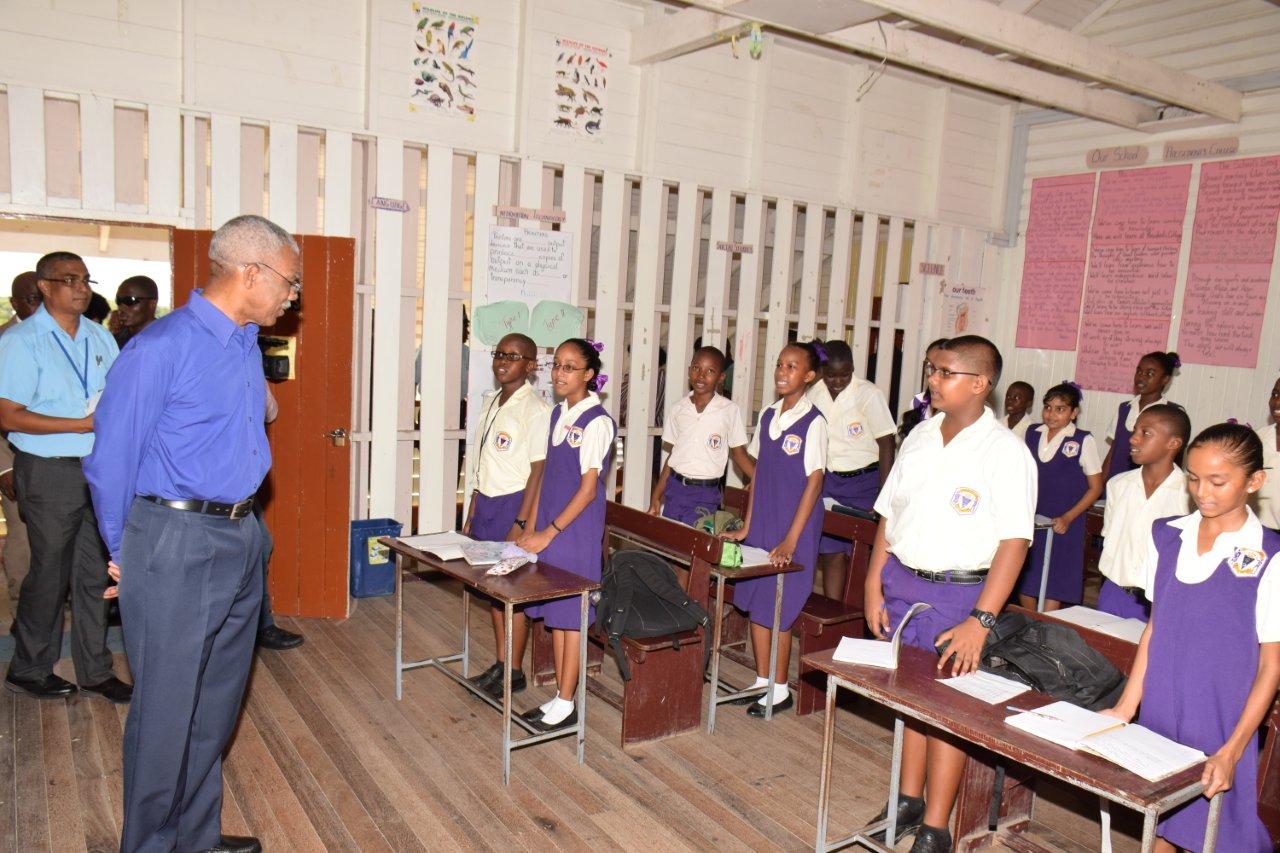 GUYANA has a long way to go in order to realise much-needed improvements in the education sector. After years of neglect, the current Government came to office to find poor examination results at both the primary and secondary levels, which has a direct impact on tertiary performance. There is no overnight fix and while there have been some improvements, there is still a long road ahead before we can call ourselves an education nation.
Every Child in School (ECIS) Policy
One of the significant areas impacting access to education has been the inability of many parents to be able to get their children to and from school. Recognising this, President David Granger in July 2015 made a call for private companies and individuals to invest in means of transportation to get children across the country to school, whether by highway, rivers or otherwise, effectively launching the Buses, Boats and Bicycles + Books and Breakfast or Five Bs programme.
During a commissioning ceremony for three more 35-seater buses to serve students in Georgetown, President Granger said his Administration sees education as the gateway to the 'good life.' "Over the last 23 years, we have been seeing what happens to Guyanese children when we campaigned and went up the creeks, rivers, highways and byways, we saw children who were not going to school because they couldn't afford transportation. We saw children dropping out because they could not afford transportation. This was what was happening to our children. They belong in school, not at home and liming, and we made a pledge that once we got into Government we would do everything possible to ensure that every child has a place in school, ECIS, Every Child in School," he said.
President David Granger meeting with some Grade Seven students in one of the classrooms at President's College
Supporting the President's vision, Minister of Social Protection, Ms. Amna Ally, who has been instrumental in coordinating the Five Bs programme, described education as a human right. "We are cognisant that education empowers people with the knowledge, skills and values they need to build an economically sustainable nation. Through our investment to access to education, we as a nation will be able to empower our boys and girls. We will be able to safeguard our children from exploitative and hazardous labour and sexual exploitation, promote human rights and democracy and protect and manage our environment via sustainable measures," she said.
Minister of Education, Ms. Nicolette Henry, further says that quelling the dropout rate is a critical component of the 'every child in school' policy. "We have and will continue to implement a series of measures to address the issue of school dropouts. These include the provision of school uniform vouchers and the school-feeding programme, which are very long-existing programmes… In addition, we have home visits and truancy campaigns that are conducted with the intention of keeping children in school. Parents are made aware of sending children to school regularly… Parents are made aware of the consequences of not sending their children to school… Special coaching and counselling sessions are also implemented," Minister Henry said.
However, getting every child to school is just one side of the coin. The other critical aspect is the equipping of the sector to provide a quality education, which matches the developmental needs of the country, such as science and mathematics. It means also that more emphasis has to be placed on churning out graduates from the secondary-school level, who are employable or who have the skills to start their own small and medium-scale enterprises. Guyana has seen an increase of 0.46 percent in its pass rate at this year's Caribbean Secondary Education Certificate (CSEC) Examinations.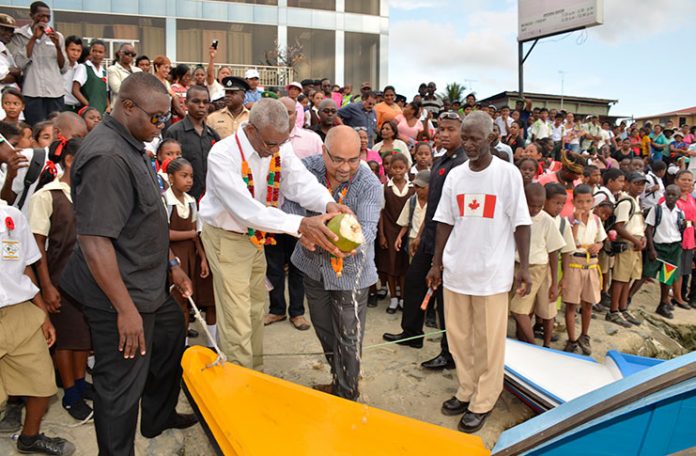 President David Granger in July 2015 made a call for private companies and individuals to invest in means of transportation to get children across the country to school, effectively launching the Buses, Boats and Bicycles + Books and Breakfast or Five Bs programme
However, Minister Henry said that Government is still concerned about students' performance, particularly in the core subjects. She said, "We have a lot of work to do. There is room for improvement in most of the subject areas and as a ministry, we recognise that and we have to work towards ensuring that it is reflected next year, the other year and many other years to come, so that we can really see an upward movement, particularly in the areas of Mathematics and English."
Chief Education Officer, Mr. Marcel Hutson, said that a National Subject Committee has been established to identify weaknesses in the education sector and how these can be effectively addressed. "In relation to Mathematics, we have noted that we have enjoyed a one percent improvement; but that by no means is where we want to go. So we have several things going for us including Subject Committee meetings. We have the Guyana Secondary Education Improvement Programme [GSIP]… We are looking currently at the appraisal of our teachers, which brings to bear a greater level of accountability at the level of the classroom," he said.
The Ministry of Education plans to put greater focus on management and supervision at underperforming schools since the Government's mandate is to ensure all students succeed. Continuous professional development sessions are being conducted at the National Centre for Educational Resource Development (NCERD) for teachers attached to those schools.
Tertiary Education
Secondary schools can prepare students for tertiary-level education, which falls in line with the infrastructural development, food security, energy generation and environmental needs of Guyana's economic growth agenda. The country's premier tertiary institution, the University of Guyana (UG), is critical to helping Guyana to fulfil its 'green' state agenda, which is being advanced by the Government. This was emphasised by the Head of State during the university's inaugural Diaspora Engagement Conference, held on July 24, 2017.
The President said, "The university, this university UG is central to fulfilling the scientific and technological objectives, which the 'green' state requires. The university must drive the intellectual processes of 'green' development by becoming the incubator of technology and the nurturer of skills and tactics. The university must establish institutions to educate students to advance our 'green' development."
Guyana's 'green' state agenda seeks to promote an increase in investment in biodiversity, coastal zone and solid waste management, ecological and environmental services, eco-education and eco-tourism and of course, Information and Communication Technology (ICT) and the generation of renewable energy. Therefore, transforming UG into an institution that has the capacity to churn out graduates, who are equipped to move Guyana faster along the 'green' development pathway, is a top priority for the Government.
Curriculum reform in the Sciences and Technology at the University of Guyana is critical to the development of the 'green' state the President envisions, since it will give students the opportunity to learn and develop new skills to harness the country's natural resources for economic development. Courses in areas such as zoology, biology, engineering, technology, geology and agriculture, some of which are now being offered by the university, the Head of State believes will lead to the achievement of this goal.
Professionals who can protect human habitation from the effects of climate change are also needed to meet the needs of the 'green' state. Additionally, President Granger has outlined a plan to improve road and bridge networks, which will link the hinterland and coastland and improve the overall physical infrastructure of the country. This means that skilled personnel, who can construct and maintain modern infrastructure such as aerodromes, deep-water ports and stellings are in high demand.
To fulfil these objectives, UG will soon be embarking on an initiative geared at integrating Science, Technology, Engineering, and Mathematics, together with the Arts (STEAM). And even as Guyana prepares for the emerging opportunities in the oil and gas sector the university, in collaboration with the Ministry of Natural Resources, will be building its capacity to offer relevant courses to better equip young professionals for employability in that sector.
The university's Vice-Chancellor, Professor Ivelaw Griffith said, "We passed a new Associate Degree in Mining and Geology. We are starting a programme in Agro-Business. We will be starting a Master's programme in Psychology. We passed a post graduate programme in Health Sciences and Radiology. We have a new Environmental Sciences Bachelor's [Degree]."
UG has also boosted its ICT connectivity on all its campuses through an agreement that was signed in April 2017 between the university and the Ministry of Public Telecommunication.
The Government's role is vital in the creation of employment for young people. President Granger has said that this role is, particularly, based on sound education systems, which is the best possible start any Government can give its young people: to ensure that they get to school and receive the type of education that can ultimately prepare them for the world of work… With regard to adult education, outside of the traditional structures, President David Granger has recognised that vocational training and other educational opportunities targeting out-of-school youth and young adults is critical if a qualified work force is to be created at all levels. The aim is to ensure that the nation's youth are employable or have the capacity to be their own bosses and in turn become job creators.
On July 20, 2017, President Granger, accompanied by Minister Henry, went on a fact-finding visit to the Kuru Kuru Training Centre (KKTC) located on the Soesdyke-Linden Highway to meet and interact with students and instructors, with the view of ensuring that the programmes being offered at the facility are adequately tailored to the developmental needs of the country and improve the employability of young apprentices.
President Granger said, "This is all what education is about, this is all what the Ministry of Education is about. We have had some disappointments, but your minister is committed to finding out where the bottlenecks are; to find out where the obstacles are; to remove those obstacles so that all Guyanese could be fully educated. We are not interested in a partially educated nation." On January 1, 2018, the Government will also be launching the Guyana National Youth Corps to offer opportunities for self-development for young people across the country.
Director of the Council for Technical and Vocational Education and Training (CTVET), Mr. Sydney Walters, during a recent interview with Government In Action, said that the Council is in the process of modernising TVET education. Institutions such as the Government Technical Institute, the Guyana Industrial Training Centre, the Carnegie School of Home Economics and the Sophia Training Centre, will benefit from the introduction of competency-based education and training to ensure that the students can perform both nationally and internationally.
"These new programmes are part of the modernisation Strategy. In addition to that, we are also looking at the 'greening' of TVET. There is a need for us to ensure that 'greening' of TVET is introduced in each and every programme in our institutions. We are looking at the introduction of entrepreneurial studies in the post-secondary institutions as part of the individual occupational programmes," the director said.
With oil and gas coming on stream, Senior TVET Officer, Mr. Jerry Simpson, said that the Council is focusing on curriculum restructuring to match the technological and practical skills needed in this field of work. He said, "In order to modernise the programmes we need to put in place both educational and training resources that are of up-to-date technology and that are being used by industry and employers so that the graduates of the system have the necessary competence in the use of the technology, so that when they are employed they are competent and ready to carry out the tasks that are assigned to them."
Notably, at this year's CSEC, the Technical and Vocational Education cluster of subjects all recorded improved performances. Industrial Technology Building, Industrial Technology Electrical and Industrial Technology Mechanical all secured pass rates of over 85 percent.