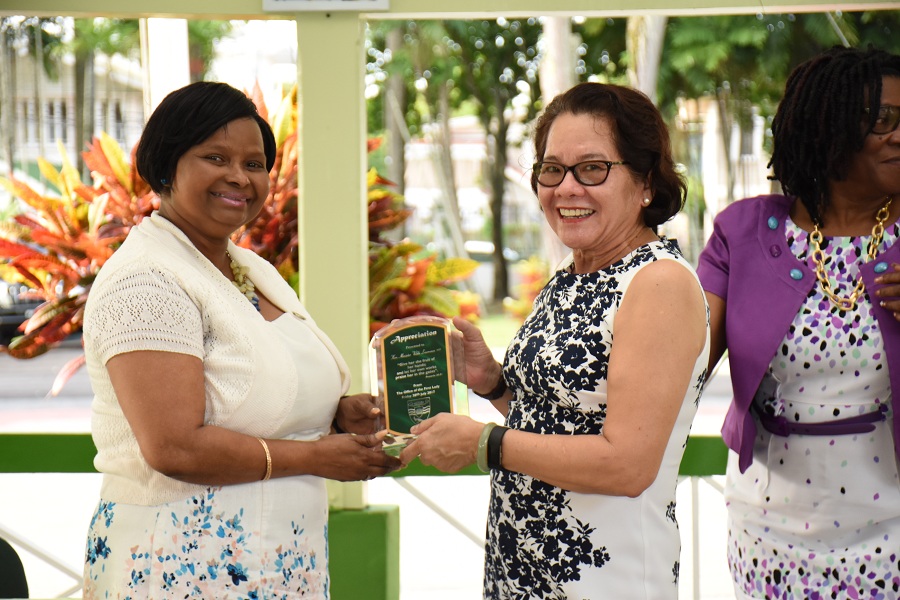 Georgetown, Guyana – (July 28, 2017) First Lady, Mrs. Sandra Granger, today, charged the 38 graduates from the Early Childhood Development Workshop to lead by example by making sound choices for their children and those in their care, which will augur well for their long-term health and wellbeing. The graduation ceremony was held in the Baridi Benab at State House.
"Child care is always something that we always assumed that people know how to do, but more and more, as we gather data, we understand that bringing up a child is much more than providing a bed, clothing and some food. A child has to grow in … a nurturing environment. How they are treated affects their growth and development and anyone who has dealt with a child will know that each child is different… so it is always heartening for me to see a child who is not afraid, who will ask you questions," Mrs. Granger said.
She expressed the hope that the graduates have grasped fully, not only the professional aspects of childcare, but that they will be able to generate some ideas about how to incorporate what they have learnt into their schools, homes and communities.
First Lady, Mrs. Sandra Granger presents Minister of Public Health, Ms. Volda Lawrence with a token of appreciation for her support of this and other workshops spearheaded by her office, all aimed at empowering vulnerable persons. Lieutenant Colonel (ret'd) Yvonne Smith of the Office of the First Lady is also partially pictured, first, right.
The First Lady also extended gratitude to the former Minister of Social Protection, now Minister of Public Health, Ms. Volda Lawrence and Minister of Social Protection, Ms. Amna Ally, who have both provided tangible support to the workshop.
Minister Lawrence, in her feature address, expressed similar sentiments as the First Lady and applauded the women for recognising how vital it is to provide children with a firm foundation. "You are in an excellent position to be the mouthpiece, to impact and produce desirable outcomes in our young children's health by counselling our parents," she said.
The objective of the workshop was to provide the stakeholders with basic information and skills in early childhood development and nurturing care practices for the healthy growth and development of the young child. It has been certified by the Board of Industrial Training, as it forms part of the First Lady's initiative to empower vulnerable persons though education.
The first and second components of the training, which were held from June 19 to 23 and from July 24 to 28 respectively, comprised a total of 32 sessions and covered 11 topics. Lead facilitator, Ms. Paulette Bollers, commended the participants' eagerness to learn and noted that they ably combined and demonstrated the key teachings from both sessions and that they "skilfully [connected] their past experiences with their current knowledge base and activities."
The graduates also participated in observation visits at the Municipality of Georgetown- Municipal Day Care Services, the Guyana Defence Force – Margaret-Rose Arthur Day Care Centre, the Cherished Lambs Day Care and Play Group and the Young Women's Christian Association.
Secretary-General of the Guyana Red Cross Society (GRCS), Ms. Dorothy Fraser also lauded the graduates' enthusiasm during the First Aid, Cardiopulmonary Resuscitation (CPR) and the use of the Automated External Defibrillator (AED) training, which was held from June 26 to 30. She also encouraged them to keep augmenting their training in these life-saving skills.
"Knowledge of First Aid benefits the individuals themselves, whether the emergency affects one directly or involves people they live with or work with and First Aid can alleviate or lessen the severity of an emergency," she said.
Meanwhile, several of the graduates expressed gratitude to the First Lady for hosting the workshop. The participants were drawn from the Buxton Day Care Centre, Women Across Differences (WAD), the Lusignan-Good Hope Learning Centre, the St. John Bosco Orphanage, Sophia and the Central Islamic Organisation of Guyana's (CIOG) Georgetown district and other groups.
Ms. Shameena Hanif Najab of the CIOG, in an invited comment, said that "It is quite an amazing workshop… A lot was learnt and … I will be putting it into practice because I deal with a lot of kids countrywide and then also the Central Islamic Organisation of Guyana, we have three schools … also as a person planning to become a mother soon, there were lots of stuff that I've learnt that I didn't know in terms of handling a child from birth to the ages of three to five that is so [important] in the development of the child," she said.
Ms. Faziela Imandin, a Nursery Year One teacher of the Alghazali Islamic Academy said that she was happy that she had completed the programme and that she was particularly pleased that she is now certified to deliver First Aid. "After the training I received at the [GRCS] I am better or more equipped or capable to handle situations that may occur with my pupils," she said.
The programme was chaired by Lieutenant Colonel (ret'd) Yvonne Smith of the Office of the First Lady. Minister of Communities, Mr. Ronald Bulkan, Minister of Education, Ms. Nicolette Henry, Minister within the Ministry of Social Protection, Mr. Keith Scott, Secretary-General of the National Commission for the United Nations Educational, Scientific and Cultural Organisation (UNESCO) Ms. Patrice La Fleur, Coordinator of WAD, Ms. Clonel Samuels-Boston, Representative of the Sisters of Mercy, Sister Julie Matthews, Early Childhood Development Facilitator, Ms. Shavon Chester, Clerical Assistant, Ms. Glenis Grenion and GRCS First Aid trainer Ms. Melisa Alstrom also attended the ceremony.