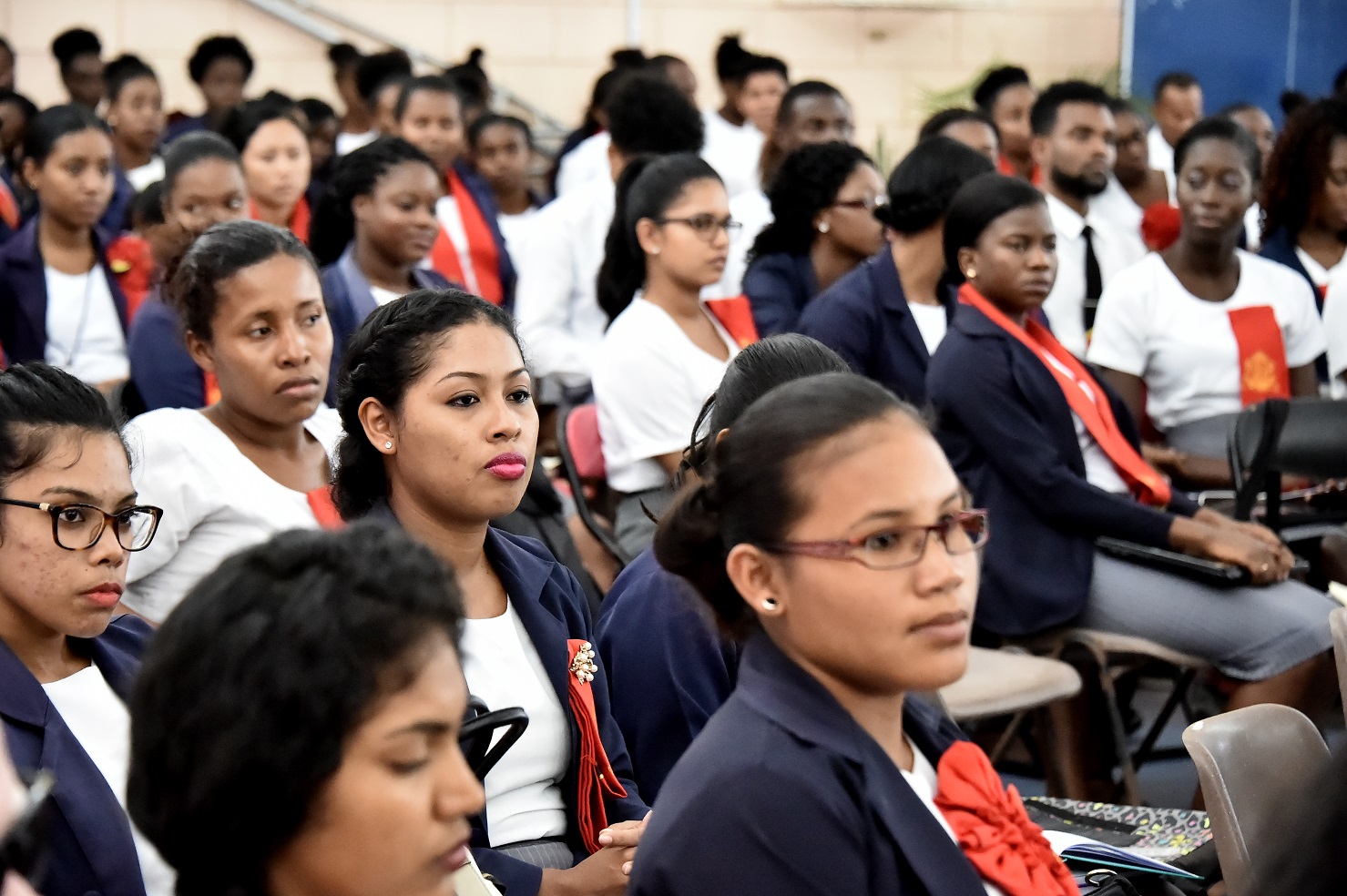 Georgetown, Guyana – (July 26, 2017) President David Granger, today, met with students and staff of the Cyril Potter College of Education (CPCE) as he continues his outreach to educational institutions in what he calls fact finding missions to hear from the administrators and beneficiaries directly even as Government zeroes in on modernising and reforming the educational sector. The Head of State explained to students and instructors at the college that his administration recognises the importance of these consultations.
Joined by the Minister of Education, Ms. Nicolette Henry, during the visit, the President said that he acknowledges that much more needs to be done to ensure that the CPCE is better equipped to effectively train the nation's teachers but the input of qualified stakeholders in the reform process is needed. "From what I can hear this afternoon, there must be more conversations; there must be more deliberations among the people, who are in the system. It is not a boardroom decision; it is not an academic decision that we can just sit in an office and make rules," he said.
President Granger also said that he will make the results of the recently completed report on the Commission of Inquiry (COI) into the education sector available to the institution so that it can study its findings and add to its content. The forum was highly interactive as it allowed for both staff and students of the institution to speak freely on issues that are affecting them. CPCE's Vice-Principal for Curriculum and Instruction, Ms. Paula Monforte said that as the Ministry of Education works to reform the sector, they should seek the knowledge, expertise and buy-in of people, who are specialists in the system.
Students and staff of the Cyril Potter College of Education seated in the auditorium during the meeting with President David Granger
"We are directed to implement and make changes with things that we know will not work and I am asking that our country gets to a place where people to listen to us as professionals. We are highly criticised for what is happening out there because we were asked to do what we were asked to do… We need people, who were trained in their field and who can bring to the table richness for improvement and success in teaching at this College," she said.
President Granger explained this is precisely why he has embarked on a process to engage with key stakeholders in the sector as he looks to improve what the state offers to the country's youth. Thus far, he has already visited the New Opportunity Corps and the Kuru Kuru Training Centre. "We cannot sit in the boardroom and make rules… I haven't come to lecture to you. I have come to listen to you and to learn about some of your problems so that we can solve those problems. This is not an ornamental visit; it is not a ceremonial visit. It is a very functional visit as far as I am concerned," he said.
He added that change is continuous and as such, all stakeholders need to remain engaged so as to swiftly address problems as they arise. Meanwhile, Regional Education Officer for East Berbice Corentyne (Region Six), Ms. Shafiran Bhajan stressed that much more work needs to be done to improve results in the English courses at the College. She noted that there have been complaints that graduate teachers are still making grammatical errors in their speech and their writing. Another member of staff, Mr. Romeo McAdam explained that students must be encouraged to do more oral work which will improve their capacity to better express themselves.
President Granger reminded that Guyanese children do not speak what is considered Standard English at home; while for others, English is a second language. He added that all of these peculiarities must be taken into account in the teaching process. "We have to understand that children are coming with different backgrounds and unless we can communicate with them effectively we will not be able to bring them up to that standard," he said.
Speaking of the challenges that teachers face on a daily basis, President pointed out that having travelled across the 10 Administrative Regions and he has seen the conditions under which teachers, particularly those stationed in the hinterland, work and live. "Eighty percent of our teachers are women and when you look at the accommodations in the hinterland, it is not fit for man or beast, much less young mothers… We want to make sure that you the teachers have a comfortable environment so that you can do what you were trained to do and that is to teach our children," he said.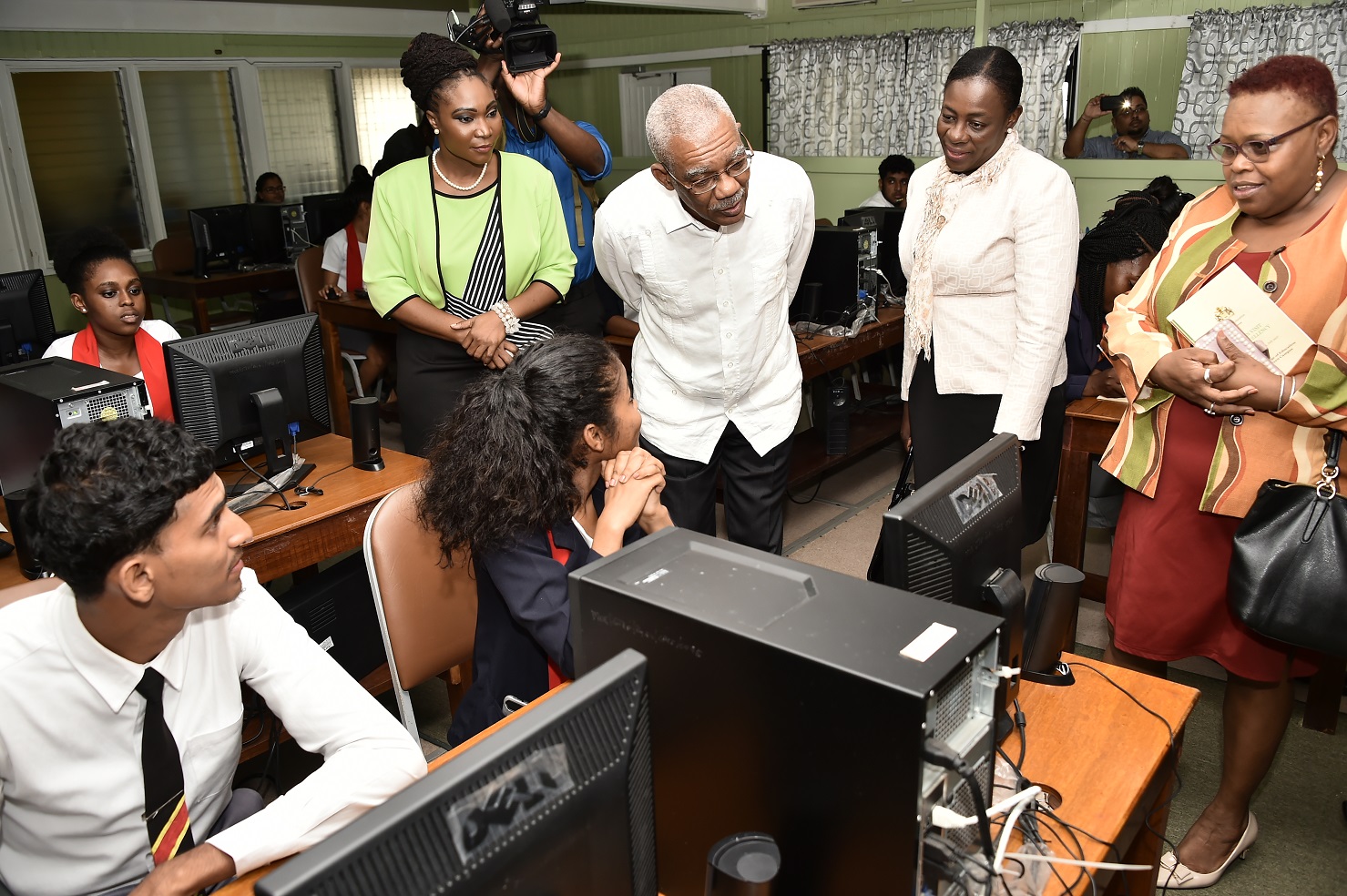 With regard to the One Laptop per Teacher (OPLT) programme, the President was informed that some students were not able to benefit from the initiative. He assured that the programme will continue with the aim of ensuring that every educator is equipped with a laptop, which is now a vital teaching tool in the classroom. Last December, CPCE received $1M from the Government to support science and technology at the institution. During his visit today, he made sure to make a spot check at the various laboratories including the computer laboratory to see look at the condition of equipment.
President Granger said that Guyana needs engineers and scientists in order to drive development and CPCE must be used as the vehicle to provide teachers, who will effectively impart these subjects in the school system. "Without a strong education system this country would collapse. We would be unable to develop what I think is the most beautiful, the most bountiful and the most blissful country in the entire Caribbean," he said.
Other issues raised by students included the need for a restructuring of the curriculum, need for additional lecturers, an increase in stipend provided to students, better infrastructure at the Turkeyen facility and improved Information Technology and science laboratories and equipment. President Granger said that he will work to ensure that some of these request are catered for in the new fiscal year, noting that the Ministry is committed to improving the College within the limits of its resources.
After the meeting, the President walked around to various sections of the College to get a better idea of the needs of the institution. He was accompanied Minister Henry, Chief Education Officer, Mr. Marcel Hutson and CPCE's Principal, Ms. Viola Rowe.