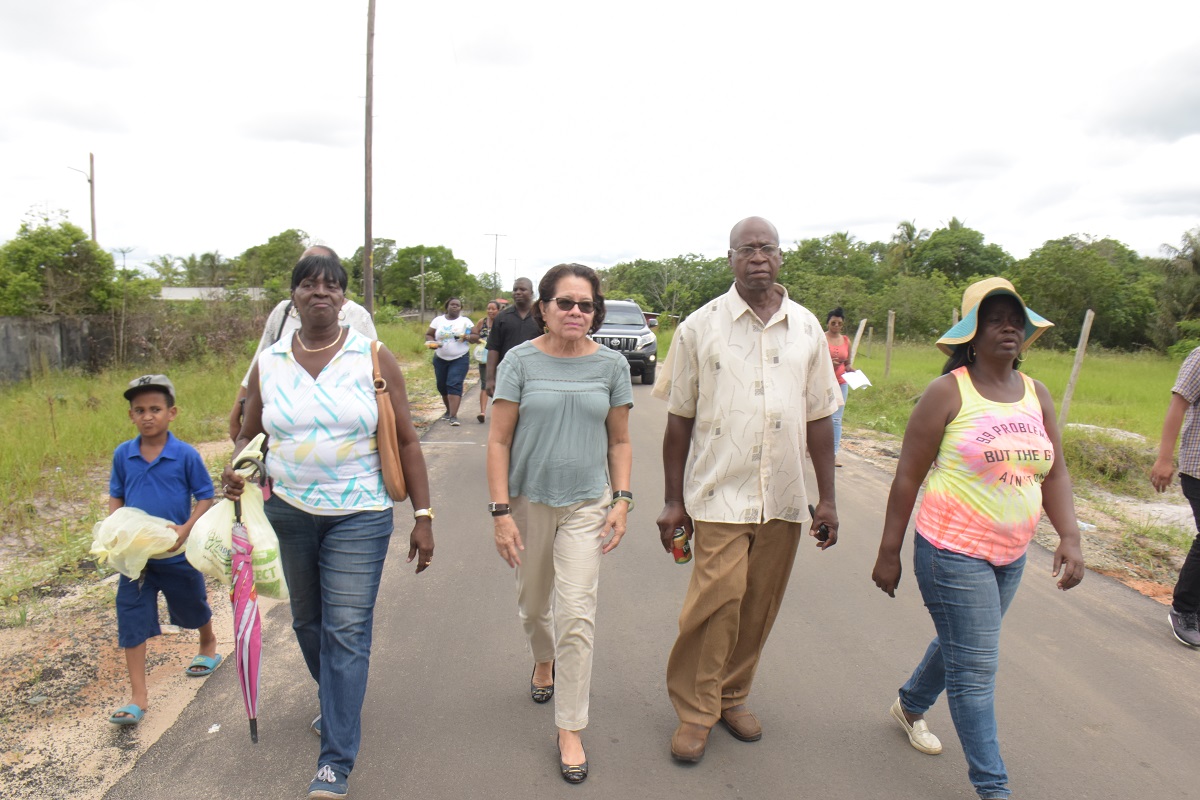 Georgetown, Guyana – (July 22, 2017) First Lady, Mrs. Sandra Granger, today, said that family planning is an important service for women and girls, which contributes to sustainable development as she urged both women and men to take advantage of the services, which are being offered by the Ministry of Public Health at its health huts and centres across the country. The First Lady was at the time speaking to residents and regional officials at the Yarrokabra Training Centre at an event to mark the observance of World Population Day 2017, which is being celebrated under the theme; "Family Planning: Empowering People, Developing Nations."
Mrs. Granger said that the theme could not be more appropriate, as it reflects the priority placed on education and empowerment by the current Government. Family planning, she said, is one of the tools, which not only empowers women and gives them the ability to choose, but it also has a larger impact on the overall quality of life.
"Family planning allows our girls and women to minimise the risk of unplanned pregnancies as well as the risks associated with unprotected sex. Our boys and men must be responsible too and become partners in family planning so that we can all be empowered and contribute to the development of our nation. The health, education, economic and social well-being of mothers is directly related to the environment in which a child is nurtured. Family planning, as you can see, will empower families and communities. Through this empowerment men, women and young people will become better equipped and capable of contributing to the sustainable development of our nation," the First Lady said.
The First Lady's remarks were supported by Ms. Patrice La Fleur, Secretary General for the Guyana National Commission for the United Nations Educational, Scientific and Cultural Organisation (UNESCO) and former Resident Representative of the United Nations Population Fund (UNFPA), who said that better sexual reproductive healthcare especially voluntary family planning can bolster economies and can contribute to sustainable development by empowering women in particular to complete their education. Ms. La Fleur said that President Granger's push to remove the barriers to education and providing equal opportunities in all areas for all Guyanese regardless of their backgrounds, race or religion and the pursuit of the achievement of the United Nations Sustainable Development Goals, is commendable and is no different from family planning.
First Lady, Mrs. Sandra Granger, embarked on a walkabout in the village at the conclusion of the World Population Day 2017 event, which was held in Yarrokabra, earlier today.
"The girls should be in school because education is the foundation of human, social and national development. We have to ensure that we link family planning to developing nations. One of the principles of the SDGs is 'no one left behind'. We are expected to take everyone forward and the President of Guyana has a mantra; 'a good life for all' and that mantra coincides with the SDGs, which says no one left behind," she said.
In this regard, she said that the Ministry of Public Health must be commended for its work to make healthcare more accessible at the community health centre levels.
"I must applaud the Ministry of Public Health for ensuring that adolescent health and adolescent sexual and reproductive health become priorities at the health centre level. Many women still do not have access to information because of where they live and because of culture and belief system. Family planning is geared at building strong families so that every child can have access to education, access to a safe home environment, to recreation and all the good things that parents can afford to give their children," Ms. La Fleur said.
Meanwhile, referencing a recent document published by the British Medical Association in its Lancet series on Early Childhood Development, which revealed the importance of nurturing environment to a child's development from birth, the First Lady said that the study noted that almost half of the children in poor and middle-income countries are at risk of not reaching their developmental potential.
"Parents who practice family planning will, therefore, be in a better position to offer their child or children from birth, the care and nurturing attention, which she or he needs to develop physically and psychologically. They will likely have more resources at their disposal to spend on their children's nutrition and education. They will be relieved of the burden of trying to care for a large family. As their children grow they may also be able to spend more time with them; to guide and protect them from the negative influences, which our young people are bombarded nowadays. They may also be able to expand their opportunities, seek training to continue their education, gain skills, which would help them to earn more," the First Lady said.
However, Mrs. Granger said that there is still more that needs to be done in Guyana as the country faces several challenges as it seeks sustainable growth and development. Some of these, she said relate to its human capital- teenage pregnancy, sexually transmitted diseases (STDs), HIV/AIDS and violence against the person.
"Over half of our population is under 24 years old and over half of them are females. Women comprise more than half of the population of Guyana. It, therefore, stands to reason that they should have access to quality health care and advice, including family planning. A World Bank Report in 2012 indicated that Guyana had the highest birth rate for girls 15 to 19 years old in Latin America and the Caribbean with a high number having at least one pregnancy before the age of 19. Guyana also has one of the highest rates of teenage pregnancy in CARICOM, with girls 15-19 years old accounting for 21-22 percent of pregnancies and girls under 15 years old just under one per cent," she said.
A section of the attendees at today's event at the Yarrokabra Training Centre
The First Lady said that more also needs to be done to ensure the protection of women and girls to ensure that they are not exploited. "Girls do not become pregnant because they are 'fast'. They are sometimes victims of rape and incest. They are exposed to HIV and sexually transmitted diseases through ignorance, early sexual debut or unprotected sex. These risks increase when they girl is a victim of rape or trafficking. Our society must, therefore, become more tolerant and supportive of teenage mothers. Girls who become pregnant drop out of school and often lack the means to complete their education. They experience a higher rate of unemployment. If and when they do seek a job, they lack the skills and can only earn low wages. They are sometimes exploited because their employers know how desperate they are for work. They remain trapped in a cycle of poverty," she said.
Nurse Debra Henry, who represented the Ministry of Public Health, said that Ministry has been embarking on a number of approaches to ensure that family planning works for those who access it. She noted that the Ministry now offers services before delivery as well as after so as to make sure that it is utilised and advice is always available on the best methods for family planning.
Ms. Clonel Samuels, Coordinator of the Women's Across Differences, a non-governmental organisation, which works with vulnerable women and girls, said that the organisation has started a programme in the Yarrokabra community, which places focus on adolescent health and pregnancy so that girls are more educated and empowered to make wise choices.