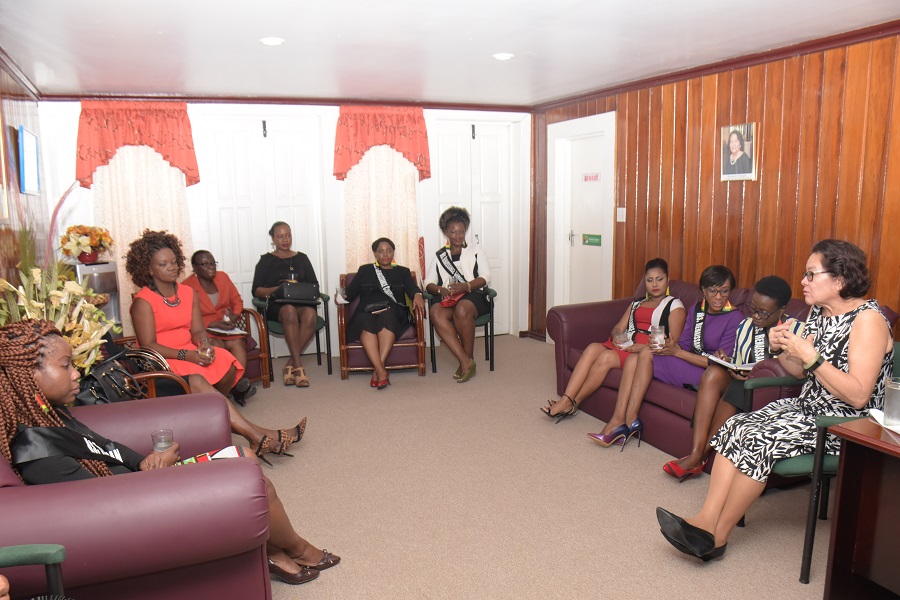 Georgetown, Guyana – (July 20, 2017) First Lady, Mrs. Sandra Granger, today, encouraged the 12 contestants vying for the Ms. Renaissance 2017 crown, to teach their children how to treat others with respect in order to foster self-confidence and healthy relationships, during a courtesy call at her State House office.
The First Lady commended the contestants for participating in the Pageant and noted that it is important that women live well-rounded lives; learning how to effectively balance professional responsibilities with their responsibilities to their homes and families. A strong advocate for persons in vulnerable situations, the First Lady, in response to a question posed by one of the contestants on domestic violence, said that many victims are not only abused physically but psychologically as well, which results in them staying in the situation longer than they should or even until the violence escalates and results in them being maimed or killed.
"That woman has to come to terms and believe in herself because you also have parents, especially in the rural areas; the woman would run away and the parents take her right back, or then there is a cover up, or when they go to the police station and the Sergeant says to them, go home and settle this thing," Mrs. Granger said. The First Lady said that education is very important if the social scourge of domestic violence is to be eradicated in any society. She then urged the contestants to focus on teaching their daughters and sons how to treat others with respect as that training will stay with them for life and impact their marital and other relationships.
First Lady, Mrs. Sandra Granger (first, right) gestures as she makes a point to contestants of the Ms. Renaissance 2017 Pageant, during a courtesy call at her State House Office
Before the close of the meeting, the delegates presented Mrs. Granger with a token of appreciation. Franchise Holder, Ms. Negla Brandis and her coordinating team expressed their gratitude to the First Lady for agreeing to the meeting and for the encouragement and advice that she provided.
The pageant will be held on August 19, 2017 at the National Cultural Centre under the theme "Visions of Our Culture".