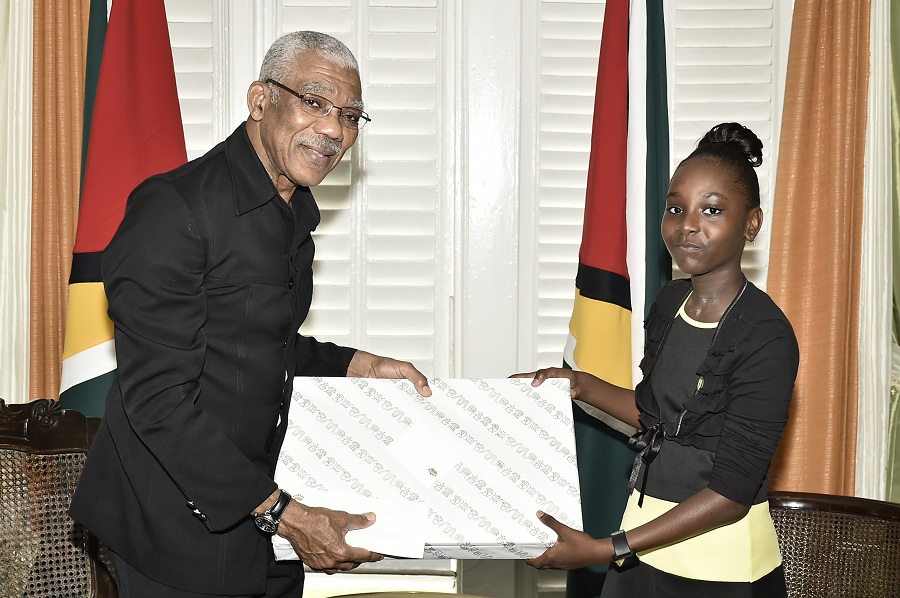 Georgetown, Guyana – (July 19, 2017) President David Granger, today, met with 11 year old Tyra Walks from Den Amstel Village, West Coast Demerara, who topped her school at the recent National Grade Six Assessment (NGSA) examination with 501 marks, securing a place at St. Rose's High School. She was accompanied to State House by her mother, Ms. Candacy Walks and sister, Ms. Capreace Walks.
The Head of State first met Ms. Walks in 2013 during one of his community meetings as Opposition Leader at Den Amstel. At that meeting, she had a conversation with the President who impressed upon her the importance of education. Ms. Walks said that engagement left her inspired and motivated to pursue her education with greater determination and her efforts paid off with her outstanding NGSA performance.
After receiving her examination results, she wrote to the President requesting a meeting, to which he readily agreed. During their conversation at State House today, President Granger asked Ms. Walks what career field she intended to pursue, to which she answered "I want to be a paediatrician and hopefully one day own my own hospital".
President David Granger presenting Ms. Ms. Tyra Walks with a laptop computer and a gift voucher for books
The President congratulated her and encouraged her to keep studying so that she can pursue her dreams of becoming a doctor. He also presented her with a laptop computer and a gift voucher redeemable at Austin's Book Store.
The President, as a matter of policy, continues to ensure that education is placed on the front burner of his development agenda. His relentless push to have 'every child in school' has seen the implementation of several programmes and considerable investment poured into the sector.