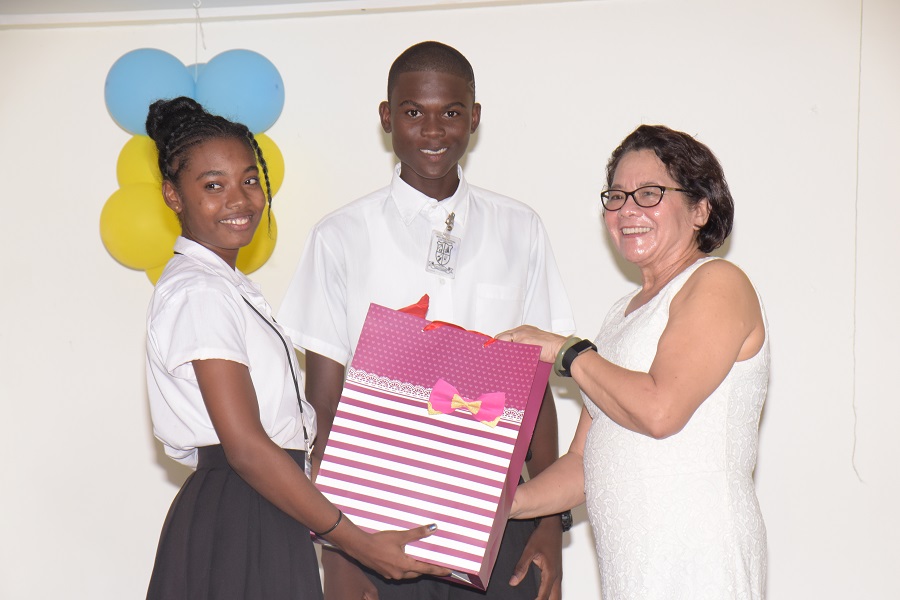 Georgetown, Guyana – (July 12, 2017) First Lady, Mrs. Sandra Granger, this afternoon, extended felicitations to the 46 graduates of the 17th Graduation and Prize Giving Ceremony of the Mercy Wings Vocational and Day Care Centre and encouraged them to continue learning. The ceremony was held in the Mercy Wings Vocational Centre Hall, Section 'E', South Sophia, Georgetown.
In her address, Mrs. Granger told the graduates that while this ceremony marks the completion of a goal that they had set for themselves, education is a lifelong process.
"I see a group of young persons, who have benefited from training in a variety of areas… The discipline you have acquired here at the Mercy Wings Vocational Centre, as you attended classes to gain the skills in your chosen field, will help you to move into the world of work," she said.
Graduates from the Mercy Wings Vocational and Day Care Centre, Ms. Madelenie Hoodith and Mr. Shemar Moore present First Lady, Mrs. Sandra Granger with a token of their appreciation, this afternoon, at their graduation ceremony.
Similar sentiments were expressed by Mr. Albert Rodrigues, a member of the Mercy Wings board, in his closing remarks. Mr. Rodrigues said that while graduation is a time of celebration and reflection it should also serve as a catalyst to the graduates to keep on working. "I will tell you that I am still in training and life is [like] that, you never stop being trained… As you go out there, I beg you to keep your eyes open, learn and keep working… I think you've all got it in you to go out and do well and make good," he said.
The graduates from the year-long programme, which was held from September 2016-July 2017 and included seven students who participated in the evening classes hosted by the Board of Industrial Training, were trained in Catering and Home Management, Child Care and Care of the Elderly, Cosmetology and General Construction. They also received instruction and guidance aimed at helping them to set goals and develop and boost their physical and intellectual capacities and self-esteem. The students also participated in a number of internships in their subject areas. Also, in fulfilment of the 'Works of Mercy' component of the training, they did practical exercises at the New Amsterdam Prison where they were encouraged to show empathy to the inmates.
Several of the graduates expressed the view that the decision to enrol in the Mercy Wings programme was the best choice that they could have made for themselves. Eighteen-year-old graduate, Ms. Aletia Simpson said that despite the challenges, she is happy that she was able to complete the programme. "Mercy Wings has taught me so many things about life, myself and the journey into the world of work. Mercy Wings has given me a chance to improve myself, my skills and to complete school," she said.
Mr. Kenroy Chance, a graduate of the evening programme expressed similar views. "When I first started the programme, it was difficult because I was also working during the day. However, with the help and support of my teachers, it became less difficult… I had never completed secondary school education and I decided to buckle down and I decided that no matter what I would complete [it]. I am very proud to be graduating today and having completed something that will benefit me in the future," he said.
In addition, Mr. Elijah Adams, father of graduate Christian Adams expressed gratitude to the staff and teachers at the school for the support that they provided to his son, who has a disability.
Mr. Adams said that the care and guidance that his son received at the Centre has seen him become more independent, even as he prepares to start a programme at the Government Technical Institute in the new school year. "Mercy Wings educational centre made a difference in an all-rounded way, in Christian's life. This institution worked on his self-confidence, understanding his body and how it works… These are some of the things that his parents and the home circle and the school that he used to attend before used to work with him in these areas, but of course Mercy Wings pounded it in and I'm very happy for that," he said.
The ceremony also saw graduates participating in dance performances, poetry recitation, and musical renditions. Certificates and awards in the different subject areas were also distributed. Mercy Wings Assistant Programme Coordinator, Mr. Terrence Fox, Programme Director, Ms. Patricia Liverpool, representatives from the Sisters of Mercy, including Sister Julie Matthews and Sister Judith Schmelz, also attended the ceremony.