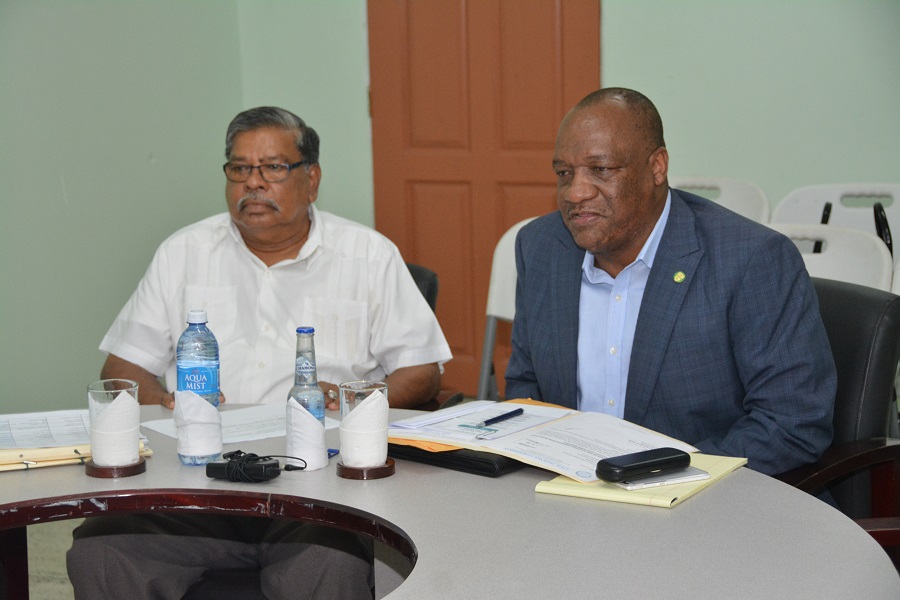 Georgetown, Guyana – (July 12, 2017) Minister of State, Mr. Joseph Harmon, today, announced during the quarterly meeting of the Disaster Risk Reduction Coordinating Committee, held at the headquarters of the Civil Defence Commission (CDC), that Major General (ret'd) Joe Singh, at the request of President David Granger will join that body, given his wealth of knowledge and experience in disaster risk management. Dr. Carl Niamatali was also introduced as a new member, who has offered his services at the disposal of the CDC.
Noting that both men bring a wealth of experience to the table, the Minister challenged the team to look at developing a strategic national drainage and irrigation plan, which will result in a more efficiently managed drainage network countrywide, since though the individual systems are interconnected, they are currently managed by separate agencies. "We are in a constant disaster preparedness situation… You really need to have a national authority to be able to say this is what we will do, having regard the concerns and the livelihood of all the persons involved," Minister Harmon said.
The Minister discussed with the committee several pertinent issues related to natural disasters, particularly the risk of flooding countrywide, which likely due to the effects of climate change, is affecting all the administrative regions. "We have to organise ourselves as a platform and all of the structures which fall beneath the platform to ensure that we can, if not prevent these things from happening, at least do some type of amelioration when they occur," Minister Harmon said.
Minister of State, Mr. Joseph Harmon and Director General of the Civil Defence Commission, Colonel (ret'd) Chabilall Ramsarup during the quarterly meeting of the Disaster Risk Reduction Coordination Committee
Minister Harmon said too that the President has mandated him to carefully look at the country's preparedness and to determine if more national resources need to be allocated to adequately address incidences of natural disasters.
Representatives from the Ministry of Social Protection, the Ministry of Communities, the University of Guyana, the Hydro meteorological Office, the United Nations, the Environmental Protection Agency and several others were present at the meeting.