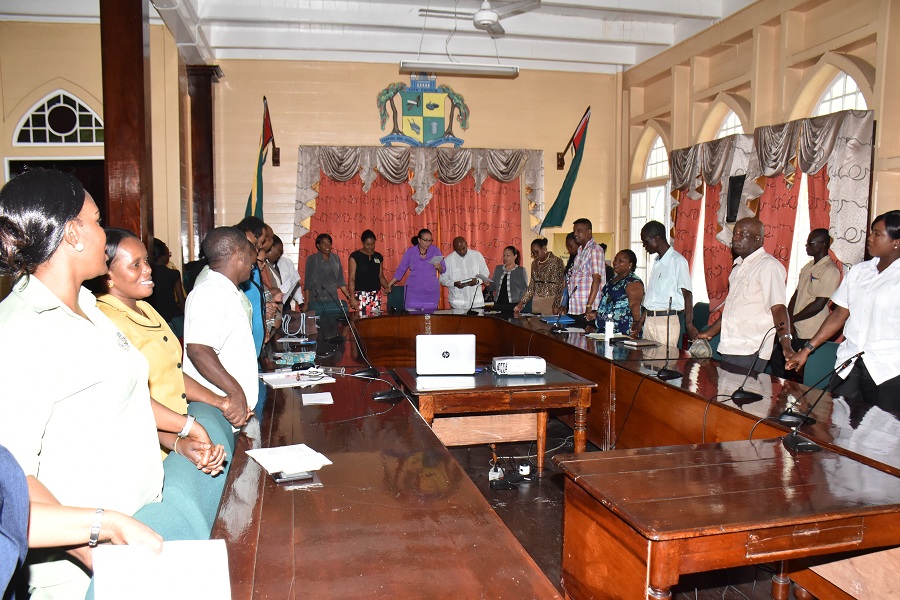 Georgetown, Guyana – (July 11, 2017) Minister of Social Cohesion, Dr. George Norton, today, said that Councillors of the Mayor and City Council (M&CC) of Georgetown are among the critical stakeholders that the Ministry has identified to partner with to foster unity at the community level. The Minister made these remarks during his address at the sensitisation meeting for Councillors at the Chambers of City Hall. Minister within the Ministry of Communities, Ms. Dawn Hastings-Williams and Mayor of Georgetown, Her Worship, Patricia Chase-Green also attended the meeting.
In delivering his address, Minister Norton said that, "We cannot overemphasise the role that you have to play in [the Ministry of] Social Cohesion attaining its vision [of] a unified Guyana, where diversities are embraced, conflicts resolved, networks and collaborations with stakeholders strengthened, equity promoted and decision-making process resulting in equal opportunities and benefits for all."
The Minister also noted that while social cohesion is enshrined in the Guyana Constitution, it can only be achieved if every individual plays a role in the process. As such, he said that the Ministry is looking forward to the M&CC's full support in fostering that solidarity.
Georgetown Mayor, Her Worship Patricia Chase-Green (centre) leads Councillors and Administrative Heads in a rousing rendition of "Let Us Cooperate" during the Ministry of Social Cohesion's sensitisation meeting.
Meanwhile, Programme Coordinator at the Ministry of Social Cohesion, Ms. Sharon Patterson provided an overview of the Ministry's mandate and said that social cohesion is "a progressive process of enhancing social integration, integration and harmony within and across the various social groups in Guyana". She noted that in its two-year history the Ministry has embarked on a number of initiatives, including hosting sensitisation sessions countrywide, implementing its National Strategic Plan on Social Cohesion 2017-2021 and has executed several projects aimed at boosting the earning potential of vulnerable and other groups, all aimed at creating an enabling environment for a wide cross-section of stakeholders to contribute to the process of building a unified Guyana.
Several Councillors expressed the view that with the Ministry's support they can take the lead in fostering solidarity in communities. Mayor Chase-Green said that she is confident that now that the Councillors and staff have a better understanding of what social cohesion is they can take action. "I think [initially] they thought of it as something that belonged to the 'higher' persons. With all the explanations given this morning, I think the staff and the Councillors are well informed and we will take full advantage of the training that will be offered to us both at the level of the staff and at the level of the councillors because we really do have a task in community to bring [people] together," she said.
Councillor of Constituency 11, Ms. Sophia Whyte said that she is thankful for the meeting as she believes that the training will enable Councillors to provide better support to families. "As a child growing up I have learnt that family is the most important thing and I can concur with the other Councillors who have spoken before me that [it is important to] reinforce strong families because as a Councillor, other persons and children …view you as a role model," she said.
Human Resources Manager from the Central Housing and Planning Authority, Ms. Lavern Benfield-Sansculotte, Councillors of Constituency 10-Albouystown/Charlestown, Mr. Elston Bostwick and Mr. Malcolm Ferreira also attended the meeting.