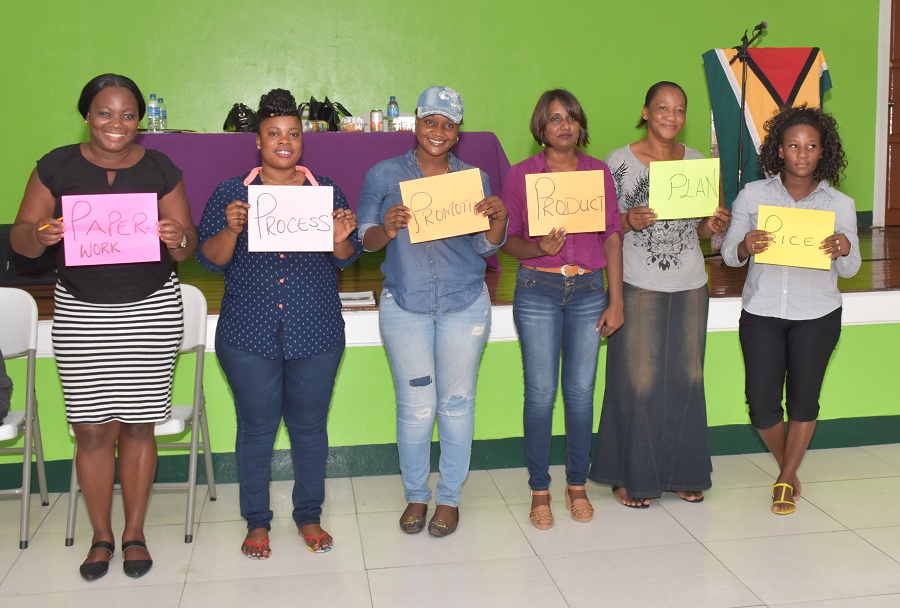 Georgetown, Guyana – (July 10, 2017) First Lady Mrs., Sandra Granger, today, declared open the 17th Self Reliance and Success in Business workshop for 37 stakeholders from Buxton and its environs, who were eager to capitalise on the opportunity to learn the necessary skills to advance their small businesses. The five-day workshop is being held at Tipperary Hall, Buxton, Demerara-Mahaica (Region Four).
The First Lady commended the group, which included one male participant, for utilising the opportunity to become empowered. "You have decided that you need to learn a bit more to make yourself successful, to make yourself self-reliant, to give yourself the power to make decisions as it relates to your business and also, as you will learn over the course of this workshop, to your personal life," she said.
Mrs. Granger then encouraged the participants to complete the workshop, noting that the principles that have been taught during the sessions have empowered persons who embraced them to enhance their lives and livelihoods. The First Lady noted that to date over 500 persons countrywide have benefited from the training since its debut in September 2015. She then extended gratitude to the Ministry of Social Protection, which provides financial support for the workshops, which are held in collaboration with Interweave Solutions (Guyana) Incorporated.
Some of the participants in the 17th Self Reliance and Success in Business Workshop hold up placards featuring the 'Six Ps' of Business, during the interactive session of the workshop.
In providing an overview of the workshop, Facilitator – Interweave Solutions (Guyana) Incorporated, Mr. Sanjay Yohan Pooran said his organisation "has been a proud partner of the First Lady empowering women and men across this country helping to teach basic business skills, but more than that, we emphasise and teach the importance of having balance in our homes, balance and happiness in our communities and also stability in our businesses. These three pillars can help any individual live a holistic life".
Several participants expressed the hope that the workshop will improve their ability to expand their businesses. In an invited comment, Ms. Erica Austin, a small business owner of Buxton, said that she is eager to learn how to better manage her business. "I would like to gather more knowledge about running the business and how I could be more successful in what I do. I have high expectations … to empower myself more and to press on with whatever I'm doing and to [better manage] my costs … and to be successful," she said.
Ms. Evelyn Estwick, also in an invited comment, expressed similar sentiments. Ms. Estwick, who owns a small food processing business, said that she wants to learn how to expand it. "Well, my expectation is to gather a lot of knowledge so it could help me with my little business… so it can grow in some way and I could manage it on my own. Ms. Asanta Gill of Haslington, who operates a retail clothing business, expressed confidence that the workshop will help to empower her. "I think it's going to educate me more about the business and give me the knowledge that I need to succeed in life," she said.
The workshop was also attended by Ms. Joycelyn Wilson and Mr. Fitzroy Younge, Trustee of Tipperary Hall, who both assisted with co-ordinating the sessions in Buxton, Pastor Terry Thomas, Mr. Victor Graham, Chairman of the Management Committee of Tipperary Hall and Facilitators – Interweave Solutions (Guyana)Incorporated, Mr. Wayne Barrow and Ms. Crystal Baptiste