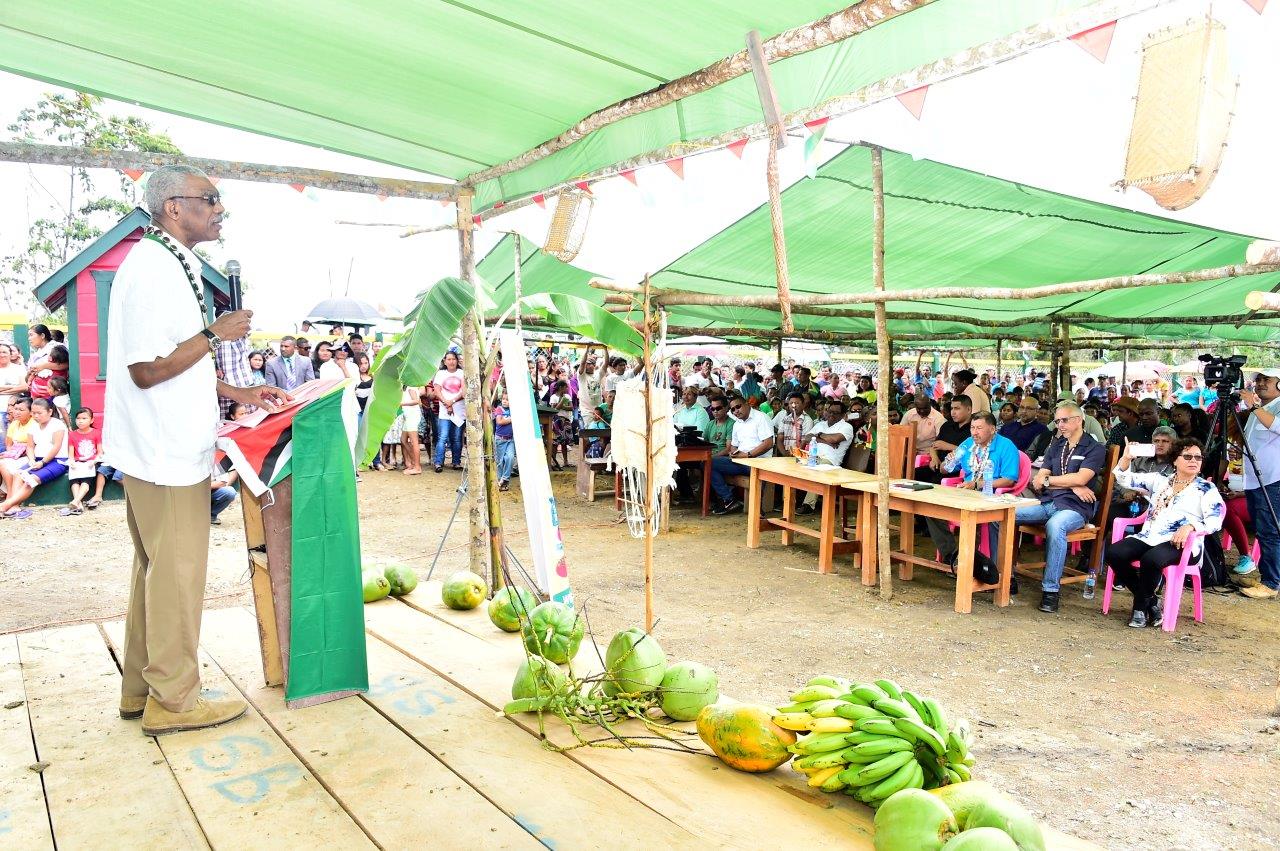 Georgetown, Guyana – (July 8, 2017) President David Granger hailed the Paramakatoi Tomato Project Facility, which will produce sun dried tomatoes, as an ambitious move towards agro-processing and value added production for the Potaro-Siparuni region (Region Eight), which is a demonstration of Government's commitment to transforming the economic landscape of hinterland regions and the country as a whole. The Head of State made these remarks when he visited the facility to officially commission the project, which is a collaborative effort between the Government of Guyana, through the Ministry of Indigenous Peoples' Affairs (MOIPA), the Institute of Applied Science and Technology (IAST) at the University of Guyana, the National Agricultural Research and Extension Institute (NAREI), the Canadian High Commission in Guyana and the people of Paramakatoi.
The President said that Government is committed to expanding agro-processing opportunities beyond this single item and noted the transformative potential of the sector for Guyana's economy. "This is the start of a revolution of producing, of bottling, of packaging, of marketing our farming, our fishing products by adding value. We are embarking on a long lasting economic trajectory for the people of this region. When the tide rises all the boats rise with the tide. When we have a rising tide of agricultural production everybody will benefit; the people with transportation would benefit, the airlines would benefit, the school children would benefit, the people, who produce the packaging material would benefit… What is taking place here will make Guyana a better place," he said.
The Project was conceptualised when Minister within the Ministry of Indigenous Peoples' Affairs, Ms. Valerie Garrido-Lowe, following the vision of the Head of State explored opportunities to exploit the fertile soil of the Pakaraimas with low volume, high value production. The Minister met with IAST Director, Professor Suresh Narine and the proposal was developed. The project, which costs $59M was funded by Government, along with a $5M grant from the Canadian High Commission. What followed were consultations in the community, which saw residents taking ownership of the project and making their own inputs into the project design.
President David Granger told the large crowd gathered at the Commissioning ceremony that they can make a good living through value added production and that the Paramakatoi Tomato Project Facility is part of a growing revolution in agro-processing in Guyana.
Minister Garrido-Lowe said, "The Mission of the Ministry of Indigenous People's Affairs is to enhance the social, economic and environmental wellbeing of our Indigenous peoples. As a new minister I thought that to achieve this mission we have to seriously address the economic conditions of our Indigenous peoples. It is not good enough to give an engine to a community or tools or foodstuff or clothing. Gifts are always appreciated, but they are not enough to sustain one's life on this earth; we need more. Our Indigenous peoples are excellent farmers and their dream of selling; of farming to bring an adequate income to support their families must not only remain a dream."
President Granger said that projects like this address the issue of food security in the face of development challenges. Government, the President said, has developed policies to meet these challenges; protection of the environment through the maintenance of a 'green' state development trajectory; development of infrastructure through the construction of road and bridge networks that link the hinterland and the coastland and improved education that focuses on the needs of the each region. The Head of State also said that innovation and expertise are needed to ensure the success of more programmes like the Paramakatoi Tomato Project.
He said, "You need the technical expertise and what we are seeing here is not just somebody, who has the knack you are seeing here people who are willing; people who are gaining, who are acquiring expertise and this expertise would be passed onto their children; would be passed onto the community, so that this project wouldn't have to stop here. It's not a flash in the pan; you have to teach this in the school, you can teach them on a farm, you can teach this to other regions, to other communities. So let us move away from just a hunch and a knack and make this into a science."
IAST Director, Professor Narine lauded the work done by Minister Garrido-Love and Minister Dominic Gaskin on their commitment to ensuring the movement of this project from vision to reality. He also used the opportunity to mention the growing success of the Rupununi Essence project, which in just 10 months has recorded $7M in sales. That project was created through a partnership with the South, North Rupununi indigenous producers, the Ministries of Social Cohesion and Indigenous Peoples' Affairs, in collaboration with the IAST and Professor Narine used the opportunity to commend the role Minister Amna Ally played in that process. He noted that projects like that one and the facility commissioned today go beyond just production and sales.
"These projects are not about tomatoes; they are about enablement, they are about collectively together showing us what we could do if we have focus they are about possibilities and vision. They are so much less about tomatoes as they are about growing into our potential as a country. One can't be socially cohesive if some of us are more equal than others. These projects seek to address those inequalities," he said.
Twelve thousand seedlings, provided by NAREI, have already been planted and weather permitting, 24000 seedlings will be planted in time for this harvest. Chief Executive Officer of NAREI, Dr. Oudho Homenauth indicated the organisation will soon be constructing a building opposite the facility to house staff, as well as offices and a laboratory to enhance agricultural production in the region as part of the President's push to improve hinterland agriculture. He also spoke of a number of other projects, which Government has embarked on.
"We want to ensure that there is continued food security and enhancement of livelihoods of all hinterland residents. We have a number of projects that are ongoing, these include in some areas rice production like in Monkey Mountain, shaded agriculture, which is gaining prominence, the production of spices especially in region one targeting turmeric, ginger and so forth and of course potato and onion cultivation in both regions seven and eight in collaboration with the Canadian High Commission and the Propel Project among others," he said.
Canadian High Commissioner to Guyana, Mr. Pierre Giroux, who also spoke at the event, said that there was no hesitation to support the project, which was funded under the Canada Fund for Local Initiatives. "We try as Canadian Government to help sustainable development, which means projects, which not only generate employment but also create a sense of progress in communities. Even more important, Canada now which is a country of 150 years, and we are going through a great transformation, a process which we call reconciliation, we recognise the value of our own First Nations as contributors to the construction of our country and the project being done with the community of first nations of Guyana for us was extremely important," he said.
The High Commissioner, who is approaching the end of his tour of duty in Guyana, indicated that supporting the exportation of the product produced by the Paramakatoi Tomato Project Facility to the Canadian market will remain a priority even after his departure.
Minister of Indigenous Peoples' Affairs, Mr. Sydney Allicock told residents that the project shows that Government has moved beyond talking about Guyana's potential under the leadership of President Granger. "Under the leadership of His Excellency President Granger it's all about action. It's all about a 'green' economy. It's all about us finding our true potential, and if I can remember well, he said that you know Guyana has been talking about the great potential that we have. We have to stop talking about that and act and that is what is happening here today," he said.