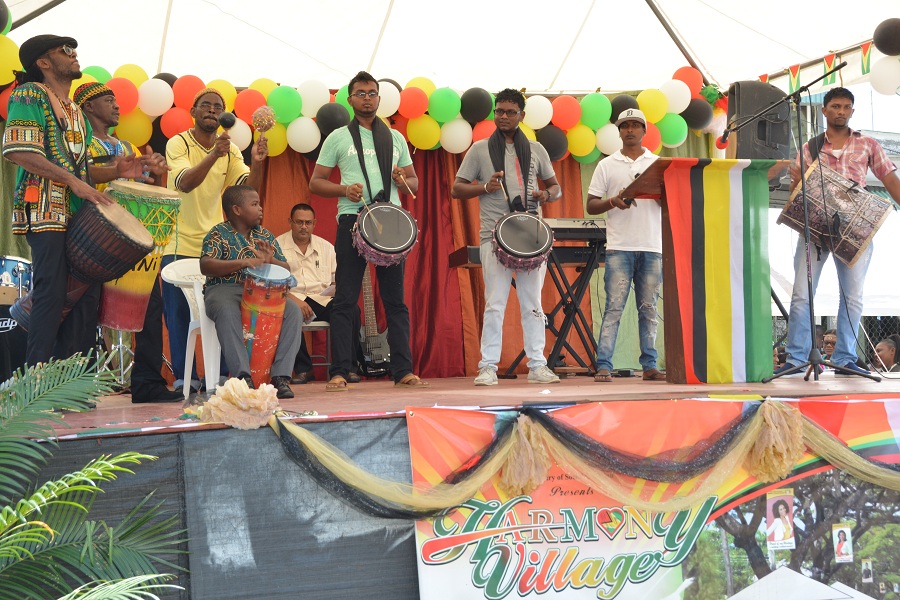 Georgetown, Guyana – (July 5, 2017) Minister of Social Cohesion, Dr. George Norton, today, called on East Berbice-Corentyne (Region Six) and the rest of the nation to emulate the example of unity for nation-building set by the New Amsterdam Harmony Group at the launch of the Harmony Village – New Amsterdam Cultural Fest. The festival was hosted by the Ministry of Social Cohesion in collaboration with the New Amsterdam Harmony Group on the Matthew Allen Road in New Amsterdam, Berbice. Acting President and Prime Minister Moses Nagamootoo and Minister of State, Mr. Joseph Harmon also attended the festival.
Minister Norton said that the concept of the New Amsterdam Harmony Village emerged from the work that his Ministry had undertaken in the region to foster social cohesion and he applauded the group for embarking on this project to the benefit of the community.
"Harmony Village- New Amsterdam Cultural Fest presents an opportunity for us to better understand and to appreciate each other. Today we are witnessing persons from various ethnic, cultural and religious backgrounds living in harmony despite their differences. We are better able to appreciate the different fabrics, which have been woven together to make the Guyanese society such a diverse one. This is, therefore, an excellent platform for uniting persons in communities by utilising their diversity," Dr. Norton said.
Tassa and bongo drumming at the Harmony Village – New Amsterdam Cultural Fest
The Minister expressed the hope that this initiative would spread to other communities as they endeavour to build stronger bonds.
"I wish to encourage persons in New Amsterdam and across the country, particularly in Region Six to make a greater effort to build a stronger community. We need to look out for each other and to help to better each other's lives. Tougher we can do so much for each other. It is my hope that there will be many more events which will foster stronger community relationships and result in improved livelihoods. We must remember that a unified country is composed of unified communities," he said.
Meanwhile, in delivering his feature address, Prime Minister Nagamootoo said that Guyanese must co-operate for the benefit of the nation. Referencing the skit "Unity Village" performed by students from the New Amsterdam Multilateral School, the Prime Minister said that while all relationships experience challenges, compromise and co-operation are essential for advancement.
"Social cohesion is about consensus building. Social cohesion is about compromise. Social Cohesion is about cooperation … Social cohesion is all about building harmony. It's all about building understandings … This Harmony Village is not just a Harmony Village Day nor is it just a Harmony Village Fest … Harmony Village in Guyana is a movement. It is a movement that is developing at the grassroots of our society among the ordinary people who want to live together, to work together and to ensure that our country develops together," he said.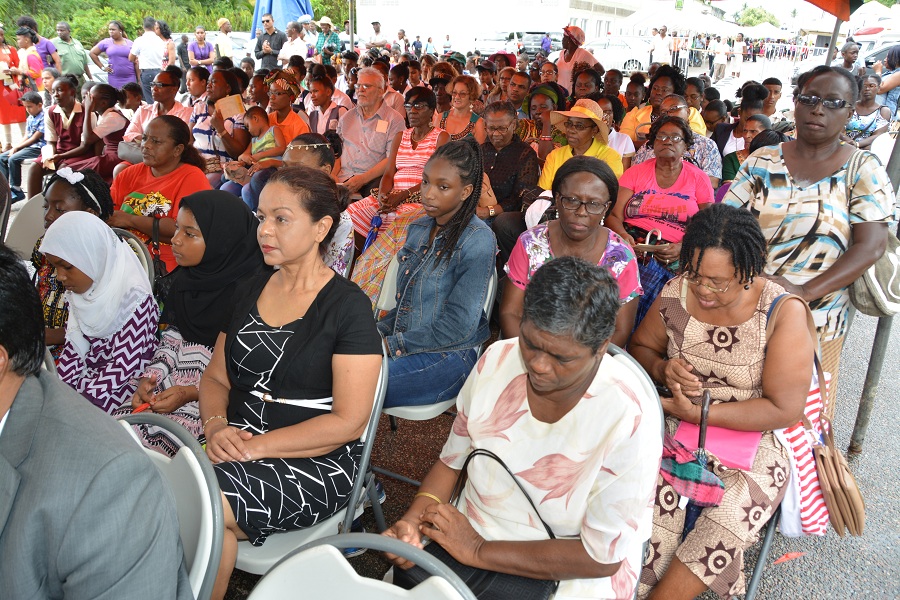 A section of the audience during the formal opening of the Harmony Village – New Amsterdam Cultural Fest
The Prime Minister said that this is particularly important at this time in our nation's history as globally there is uncertainty as to how the world is developing and how the most powerful nations treat issues such as climate change, which affect small states. As such, he said, there must be cohesion at the regional level and Guyana can lead the way in this endeavour as it is admired for its diversity across the world.
"Guyana the land of many races, the land of many waters, the land of many colours, the land of many ethnicities, the land of many religions, the land of many cultures. We are a diverse nation and we are unique … in the world [in] that we have people of every ethnicity from the various continents of the world living in Guyana, but we don't want only to live in Guyana. We want to co-exist and co-existence means not living apart. Co-existence means living peacefully together and this is the model Guyana can share with the rest of the world – that our diversity is our strength. Our diversity is our beauty," he said.
In an invited comment, Mr. Dashon Angel, a student at the New Amsterdam Multilateral School praised the initiative, and noted that it has showcased one of the most valuable principles of nation building-cooperation. "The first thing that I would like to make known is that before anything could be a success there must be group cooperation and group cooperation entails that even the smallest child has an opinion … The opinion has to be recognised by the older ones and if the older ones seem [not to be fit] to carry the load, the younger ones can, with the energy that they have, do the work and the work will be done successfully," he said.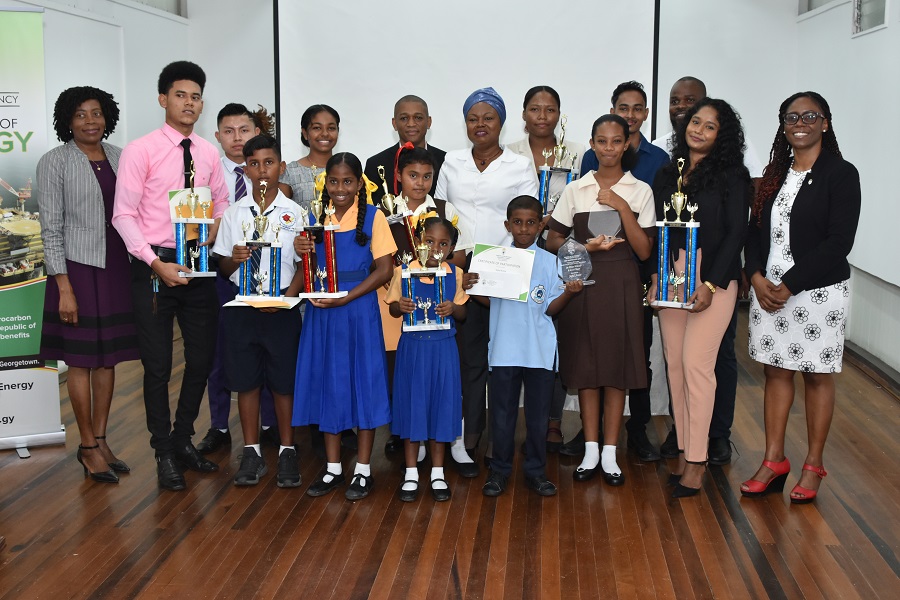 Minister of State, Mr. Joseph Harmon interacts with this vendor at the Harmony Village – New Amsterdam Cultural Fest
Ms. Sookraine Dookoo also expressed the view that everyone can contribute to nation-building. "I think being open to new ideas…that you shouldn't shut people down as they start… expressing their personal opinion. You need to be open to it and learn from others [as] everybody has something to bring to the group and that we should all be open, ready for cooperation and teamwork," she said.
Meanwhile, Ms. Vernette Devair, of the Orealla Women's Group, said that she was pleased to be invited to have a booth at the festival. She also noted that her community benefited from one of the Ministry's Diversity and Inclusion workshops earlier this year and the festival has reinforced some of the principles discussed there. "I think it is good as it helps people to socialise together and to adapt to other [cultures], collaborating with each other, understanding other people. We are very happy to be here and to come out and showcase our product," she said.
Over 20 booths, which promoted local culture and cuisine, cultural wear, religious diversity and the display of art, artefacts and literature featured at the festival. It was also attended by Minister within the Ministry of Finance, Mr. Jaipaul Sharma, representatives from the public security and public health sectors, regional officials and members of the diplomatic corps as well as heads of religious and cultural organizations.