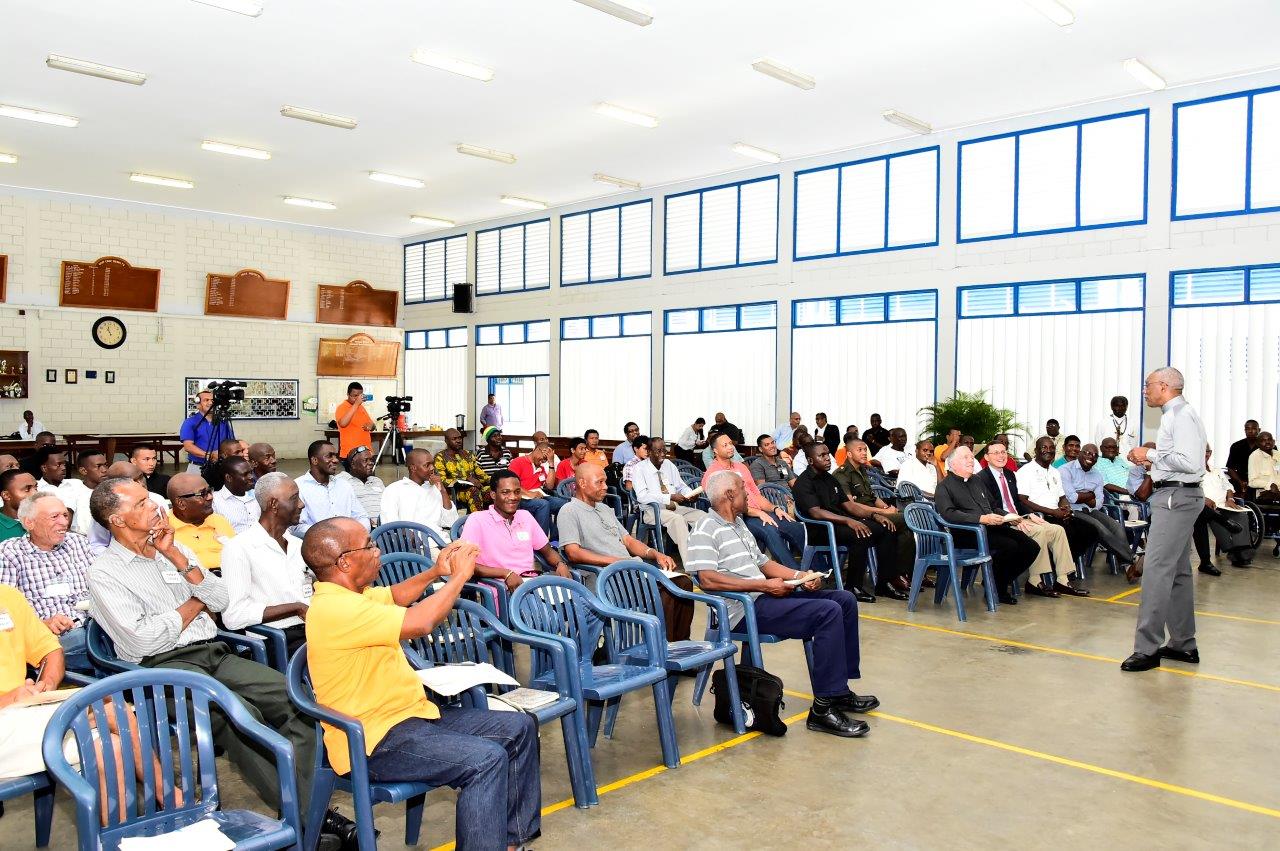 Georgetown, Guyana – (July 1, 2017) Growing up in pre-Independent Guyana, witnessing first-hand, the struggles that came with the deplorable living conditions and watching his countrymen and women marginalised and robbed of opportunities simply because they did not belong to the upper echelons of society are some of the experiences that strengthened President David Granger's resolve to develop policies that create an equal and socially cohesive society where every citizen, regardless ethnicity, geographic location and political or religious persuasion, can enjoy a good life.
Speaking at the 9th Annual Conference of the Catholic Men's Ministry today, the Head of State said, "The interaction of a historical situation in the mind of an individual generates ideas. The local situation in British Guiana at the time of by birth, childhood and adolescence, and the circumstances under which my own family lived, engendered an attitude of solidarity and sympathy for poor people… My ideas about society, by early adolescence, had started to crystallise around the vision of a good life for everyone. I had an idea of a socially cohesive community; a moral community that was safe and secure and that offered opportunities for the improvement of everyone's quality of life."
Born, baptised and raised as an Anglican, the President said that Christianity, which he described as two-fold; love of God and service to humanity, has and continues to influence his beliefs and values. He told the gathering how his faith in Christ serves as a source of strength in overcoming the challenges in his life. "My faith has been my spiritual guide especially during periods of doubt and stress," he said.
President David Granger addressing the gathering at the 9th Annual Conference of the Catholic Men's Ministry held at Marian Academy's auditorium
Looking back at his childhood, the President reflected on how growing up in Bartica in the Cuyuni-Mazaruni and later at Whim Village on the Corentyne and in Georgetown not only exposed him to the cultural and ethnic diversity of the Guyanese society, but also cultivated in him, at an early age, a deep love for the country's natural beauty. This love for the environment became even deeper during his years in military service. Today, that love and drive to protect the country's national patrimony has manifested itself in the 'green' state agenda, which is one of the major policy-decisions that the President has made.
The conference, which was held under the theme "Struggle and Victory: Climbing out of the pit", is aimed at evangelising and encouraging Catholic men to become leaders and role models to their families and in their churches and communities.