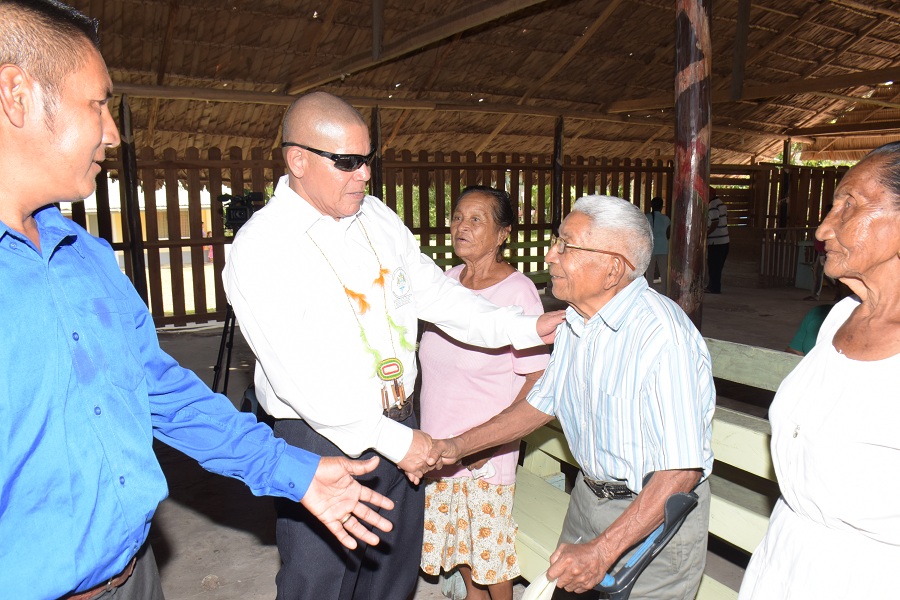 Georgetown, Guyana – (June 24, 2017) Guyana's first Science, Technology, Engineering and Mathematics (STEM) Guyana Robotics Exhibition, held today at the Cliff Anderson Sports Hall on Homestretch Avenue, was aimed at unleashing the creative potential of Guyana's youth in the use of Science and Technology for the development of their communities and the country in a global digitised era. The event, which was attended by First Lady, Mrs. Sandra Granger saw the participation of STEM Robotic clubs and several schools from across the country.
The First Lady, delivering the feature address at the opening ceremony, emphasised the importance of an advanced Information and Communications Technology (ICT) system if Guyana is to be on par with international best practices and described the exhibition as a step in the realisation of that goal. "We recognise that Computer Science and Technology are going to be where the jobs will be. As a matter of fact, it is predicted that 75 percent of jobs in the future will be in Computer Science. So if the children and young people in Guyana don't catch onto that idea, while also becoming literate and numerate, we are going to be in a society that is always catching up and not quite getting there," she said.
The First Lady also believes that students, who are being exposed to robotics training are learning to appreciate the role robots and drones are playing in the advancement of various sectors, making reference to agriculture, drainage and irrigation, weather prediction, medicine and planning.
First Lady, Mrs. Sandra Granger and members of the public observe how the robot created by the Buxton robotics team works at the first STEM Guyana Robotics Exhibition held at the Cliff Anderson Sports Hall
Information Technology (IT) Technician and Co-ordinator of STEM Guyana, Ms. Karen Abrams said the exhibition was conceptualised with a focus of educating, inspiring and motivating youths in Guyana to question and investigate the technological environment by conducting research, thereby empowering themselves to use the knowledge to create innovative solutions to the problems in their communities, the country and even the region and world.
Ms. Abrams said she recognises that "all of our students in STEM Guyana clubs aren't going to be robotics engineers." However, she is hopeful that "they are going to be young people, who are innovative and creative and learn to solve problems. So we expect that they are going to be looking around in their communities for problems to solve and this is really the goal."
Robots developed by robotic clubs from Buxton and Good Hope and other areas on the East Coast of Demerara, as well as those from within educational institutions, such as St. Roses High, President's College and the Cyril Potter College of Education were on display. They ranged from devices programmed to operate in the areas of security, agriculture, education and infrastructure. Persons were given the opportunity to learn about drone components, the science behind drones, use of drones in agriculture, mining, oil and gas, crime prevention, media and many other areas.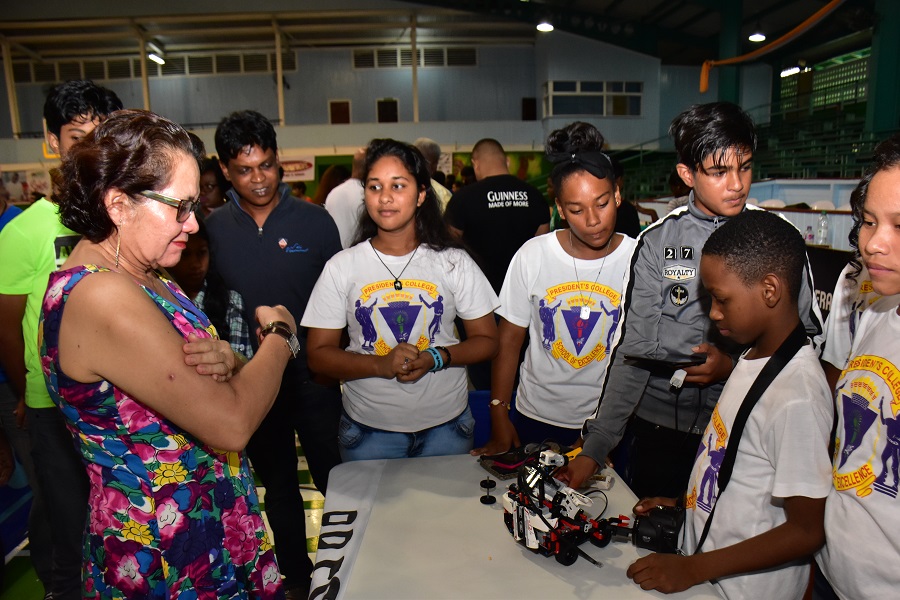 First Lady, Mrs. Sandra Granger observes keenly as members of the President's College robotics team explain how their robot works at the First STEM Guyana Robotics Exhibition held at the Cliff Anderson Sports Hall
Other features of the exhibition included Lego brick play stations for children under 10 years old and the app development booth, where persons were provided with instructions on how to create a simple android app using the Massachusetts Institute of Technology's (MIT) App Inventor. The highlight of the exhibition, the Team Guyana Robotics competition field, was on display and team members demonstrated how the robot is expected to operate at the First Global Robotic Challenge to be held July in Washington D.C, United States of America.
Guyana will be represented at that event by a seven-member team from STEM Guyana and in this regard, the First Lady called on both public and private sector agencies, as well as individuals to show their support by contributing to the cause.
Team Guyana Robotics Manager, Ms. Farnaz Baksh said work on the robot is progressing steadily with three weeks left to complete the process of converting it to an automatic system, as it currently uses a manual setting. "I am sure we are going to get there with the amount of time and effort that we are putting in, "she said. Whether the team wins or not, Ms. Baksh said their goal is to perform at their best and upon return to Guyana members aspire to become STEM ambassadors.
Team member, Mr. Sahief Poese believes that the team is 95 percent ready but given the fact that they will be competing with some of the best teams in the world, "we will not take the competition lightly. We are trying to modify the [robot], so all the parts that were sent we will try to use them wisely and efficiently." His fellow team members Mr. Ryan Benschop and Mr. Christopher Nelson, who said they would both put in their best effort forward so that the team can proudly represent Guyana at the competition, endorsed his sentiments.
The international competition was created in order to promote and share science and technology leadership while encouraging innovation through the world's youth. This year the competition is focusing on water; more specifically access to clean water.