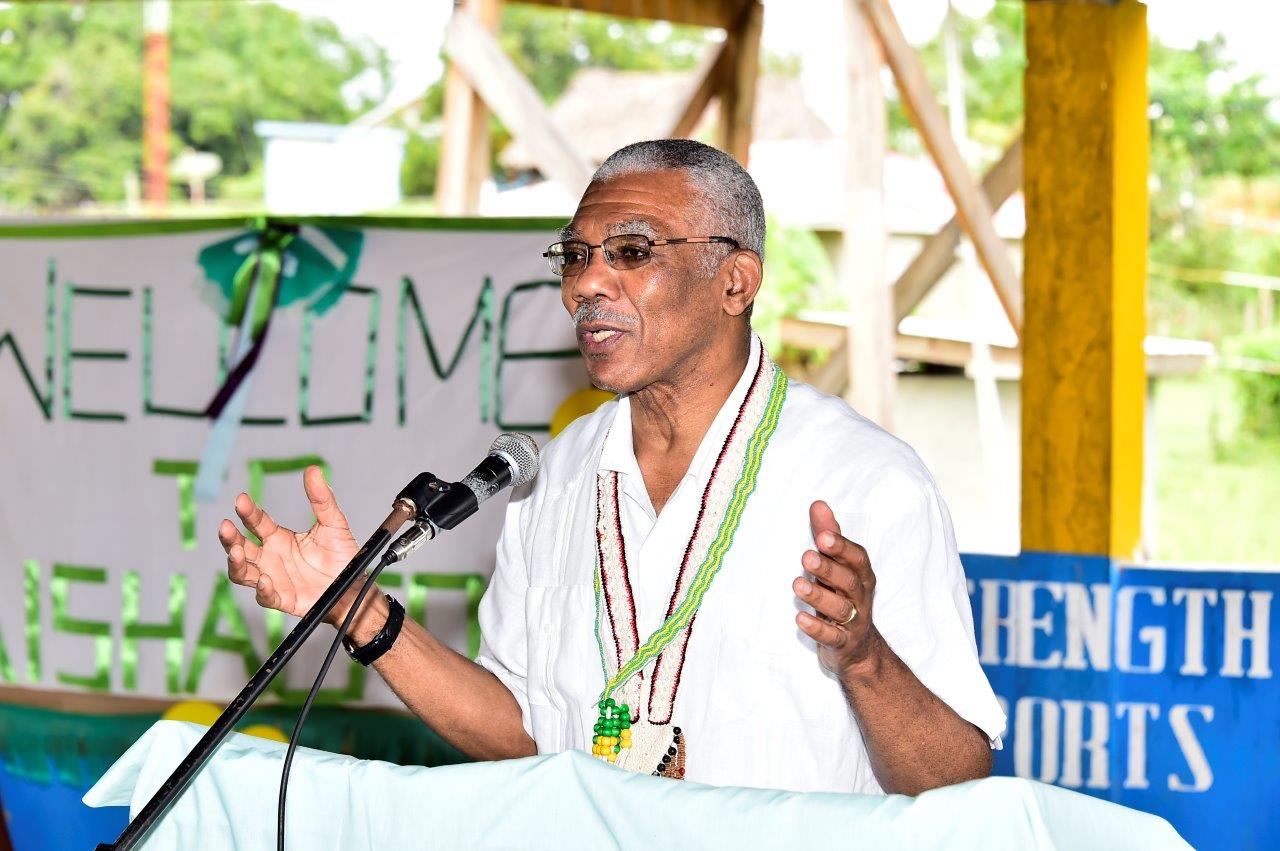 Georgetown, Guyana – (June 23, 2017) As he continues to work to fulfill his mission of ensuring that every child is able to go to and stay in school, President David Granger, today, handed over three 15-seater buses to communities of Annai and Aishalton in Upper Takutu-Upper Essequibo (Region Nine) under the Boats, Buses, Bicycles plus breakfast and books (Five Bs) programme. The one, which was handed over at Aishalton will be used to transport school children from Awaruwaunau and the surrounding communities in the South Rupununi. In the North Rupununi, one bus will be used by the students of the Bina Hill Institute and the second one will benefit the students attending Annai Secondary School.
President David Granger gestures as he made a point while delivering his remarks at the Aishalton Community Centre.
Improving school attendance
In his address to the large turnout at Annai village, the Head of State said that he is of the view that once every child completes their primary, secondary and tertiary education, Guyana's economic development will occur at a faster pace. He added that an educated population encourages innovation, which in turn, drives development. "What we need is a condition in this region where children understand the importance of education and where parents take a vow to ensure that their children stay in school and go to university and qualify as doctors, lawyers and engineers," he said.
The President had a very similar message for the residents of Aishalton, noting that too often children, particularly from rural communities are forced to drop out of school simply because their parents cannot afford the cost of transportation. There are also instances where children are forced to walk or row in canoes for long distances to get to school. These factors negatively impact their chances, of not only acquiring a proper education, but also in finding decent employment.
"This bus is very important to you because it will help you to go to school. It will help you to stay in school. It will help you to maintain your attendance. I don't want to see any drop outs; not here in Rupununi, not in Barima-Waini, not in the Pomeroon, nowhere," President Granger said.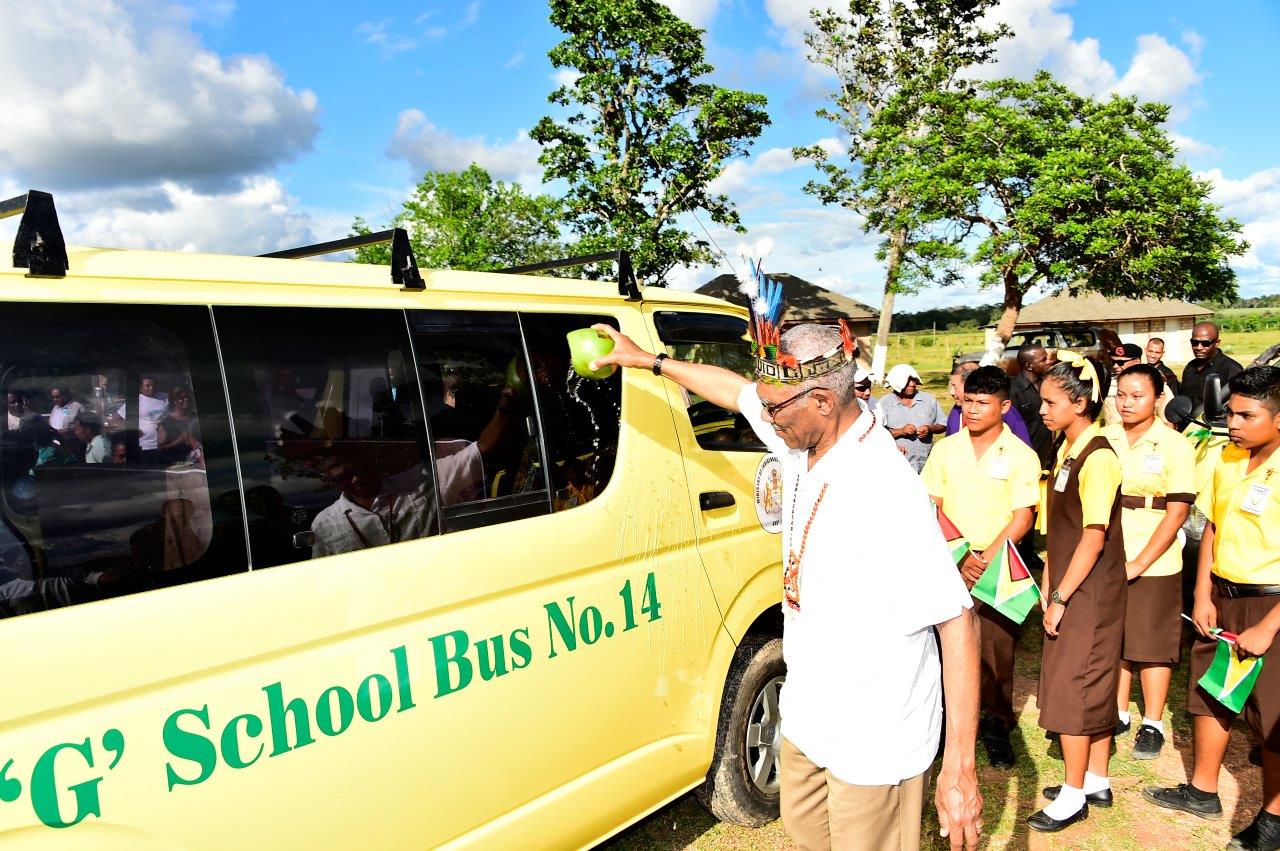 These students look on a President David Granger symbolically commissions one of two school buses, which were donated to the community to transport children to school at Annai.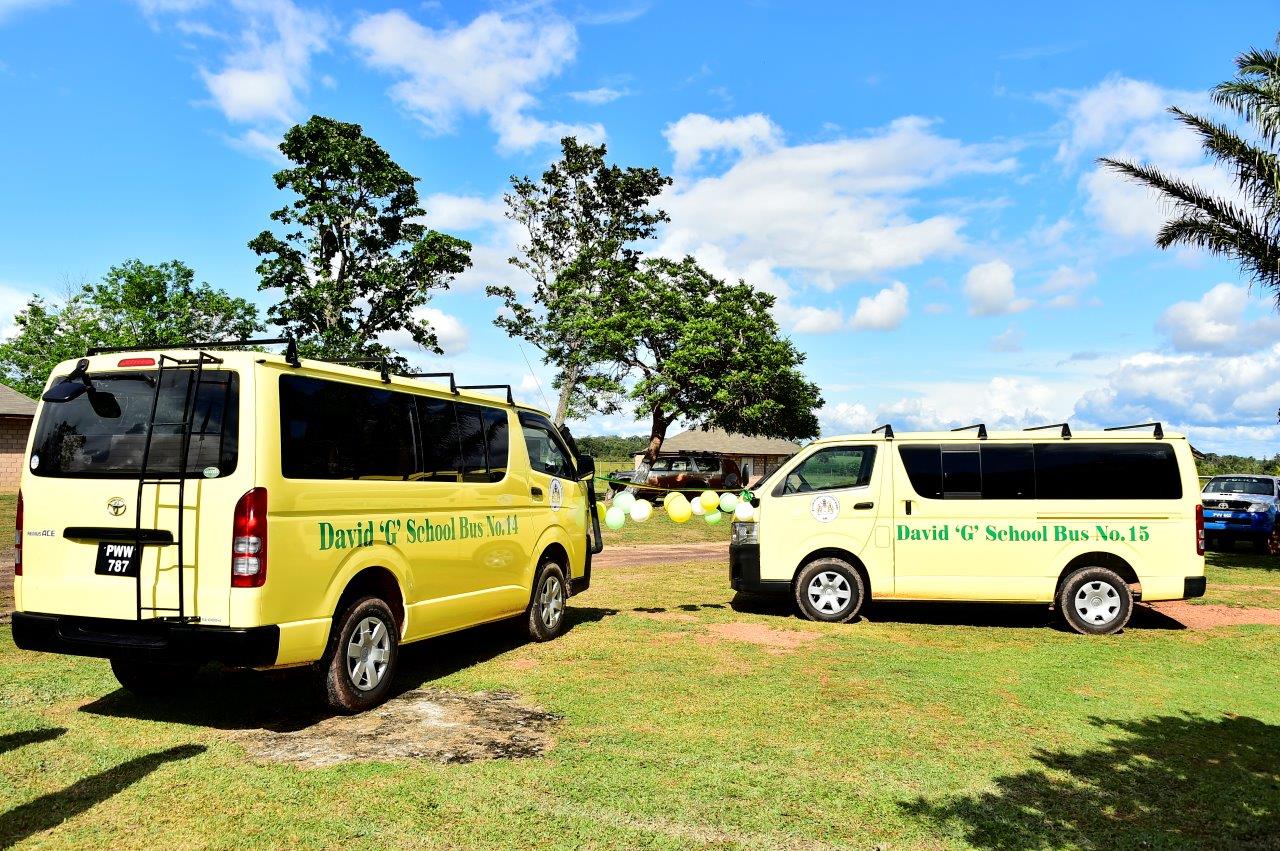 These two school buses were handed over at Annai for the Bina Hill Institute and the Annai Secondary Scho
Regional Executive Officer of Region Nine, Mr. Sherwyn Wellington described the Five Bs programme as a well thought out initiative, which recognises the fact that education is fundamental to the country's future. "By investing in the children, we are investing in Guyana's future… This initiative by the President is making Guyana an educated nation," he said.
He also informed that 50 percent of the Region's budget goes towards the education sector and added that from all indications, the Five Bs programme is significantly improving school attendance as well as easing the financial burden on families.
Meanwhile, Ms. Luana Allicock, a student of the Annai Secondary School expressed appreciation to the Government for the provision of the buses, which she described as a timely intervention. "Your gift to us could not have come at a better time, since our present Grade 10 class of my school started to raise funds to offset transportation cost for an education tour to Lethem. Today that class is smiling," she said.
The Head of State remains concerned about the poor performance at the National Grade Six Assessment (NGSA) , particularly in mathematics in the region and said that Government is doing all it can to design strategies to address the problem. He explained that this is why the Commission of Inquiry into the education sector was critically important. He also spoke of the need for better qualified teachers but said that he is pleased with the current steps, which include the 'One Laptop Per Teacher Programme'.
In order to ensure that more students from the Hinterland have an opportunity to pursue tertiary education, Government is looking at a number of measures. Minister of Indigenous Peoples' Affairs, Mr. Sydney Allicock said that his Ministry is currently in the process of constructing a facility to house hinterland scholarship students and teachers, who are attending the Cyril Potter College of Education (CPCE). The facility will accommodate some 125 students.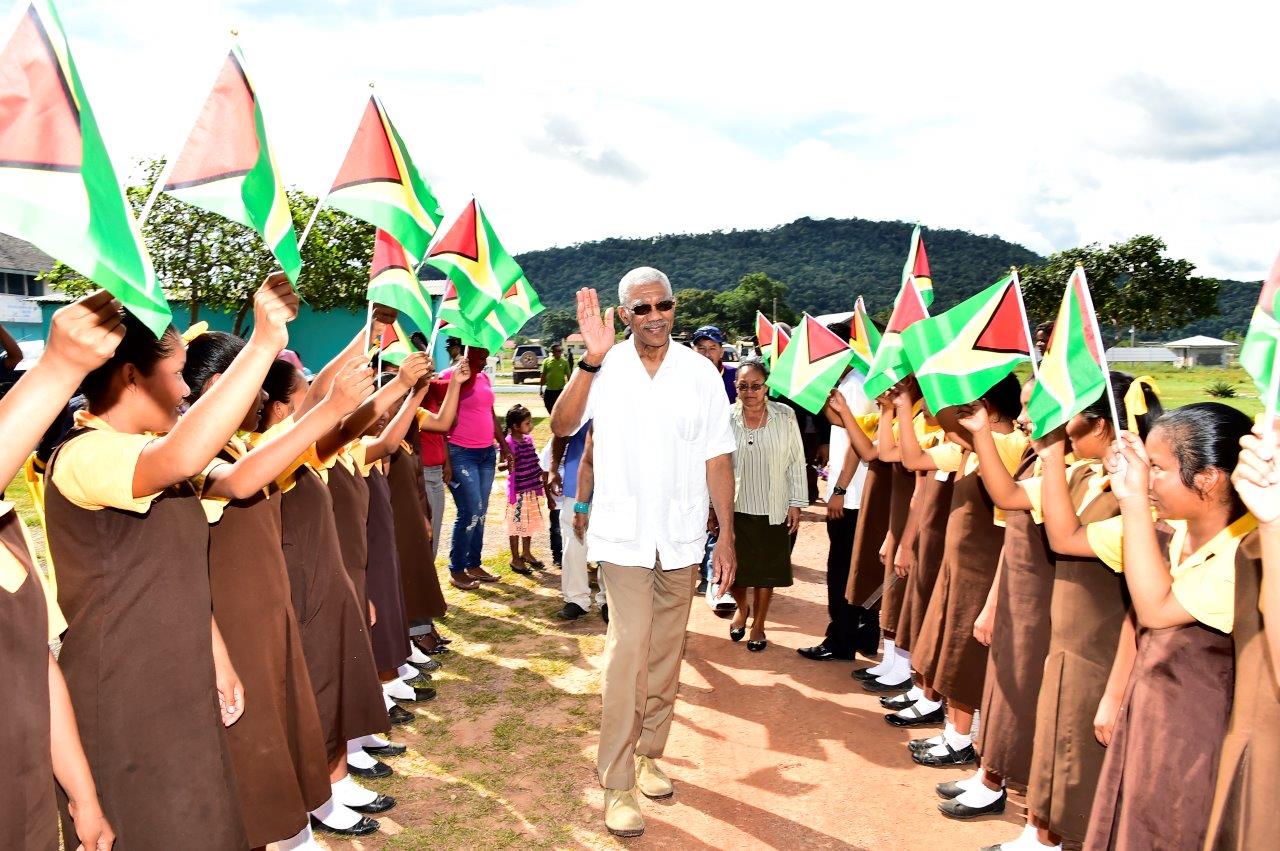 President David Granger waves as he walks along a pathway where students queued up with flags to welcome him at Annai.
Employment
President Granger said that many young people, who are school dropouts are often left with no choice but to seek menial, low-paying jobs and this, in many ways, prevents them from getting out of the cycle of poverty. He noted that each region is endowed with wealth-creating resources, but for these to be developed, education is key.
"What we want is a generation of young people, who are educated, who can use computers, who can use machines and help themselves to make a good living… Once you get an education, you would be able to use your science and your skills and your technology to use the very products that are coming out of your region in what is called agro-processing. Anything you produce can be processed and exported," he said.
Echoing this point Minister Allicock encouraged residents at Aishalton to start seeing themselves as citizens with a responsibility to use their resources to contribute to the economic development of their Region and the country as a whole. He said, "We have space, we have land, we have fertility in the land. This is something to celebrate. The very land here could give us acres upon acres of peanuts, mangoes, peppers, fish ponds, beef, sheep, chickens, tourism. You name it; it's there, but it all comes down to… education; appropriate education is what the Government is going to help to develop."
The Toshao of Aishalton Village, Mr. Douglas Casimero lauded the Government's efforts at providing training and employment opportunities for the youths of the Rupununi. He informed that nine young people have graduated from a skills training programme facilitated by the Board of Industrial Training (BIT).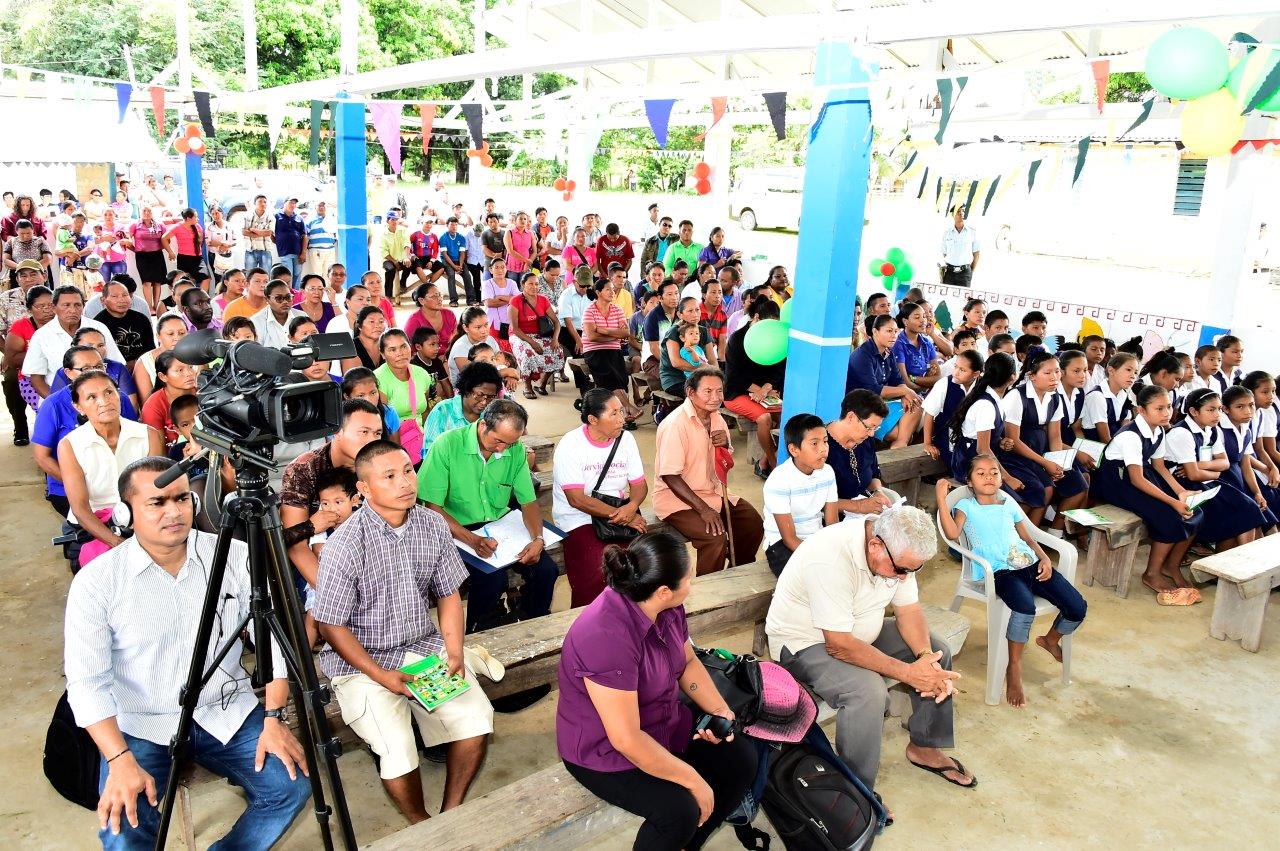 Residents of Aishalton and surrounding communities turned out in their numbers to meet President David Granger during his visit there today
Environmental Protection
At both locations the President emphasised the importance of protecting Guyana's natural patrimony. He said that the Rupununi with its rich biodiversity is not only important to Guyana but to the world. The Head of State urged the residents of Aishalton to help to preserve and protect the forest and wildlife by using the resources of their environment in a sustainable manner. "I would like us to set up enterprises because you have the energy we must try to use more sustainable energy. We are creating what we call a 'green' state, not a gasoline state, not a dieseline state, but a 'green state', which depends on energy from sustainable sources; the sun, the wind and water. We want to protect our environment because you have to live in this country. God has given us the most beautiful, the most bountiful country in the Caribbean and we should protect it," the Head of State said.
Minister of Social Protection, Ms. Amna Ally, who coordinates the Five Bs programme, was also present at today's handing over ceremony. The three buses were provided by the Ministry of Indigenous People's Affairs, who, along with the Regional Democratic Council of Region Nine, will be responsible for maintenance. The Minister said that this programme, which has received overwhelming support from corporate Guyana and the public at large, will continue until the objective of 'every child in school' is fulfilled.
At Aishalton the communities were also presented with agricultural tools, public address systems, television sets for educational purposes, while at Annai the community received agricultural items including baby chicks for rearing.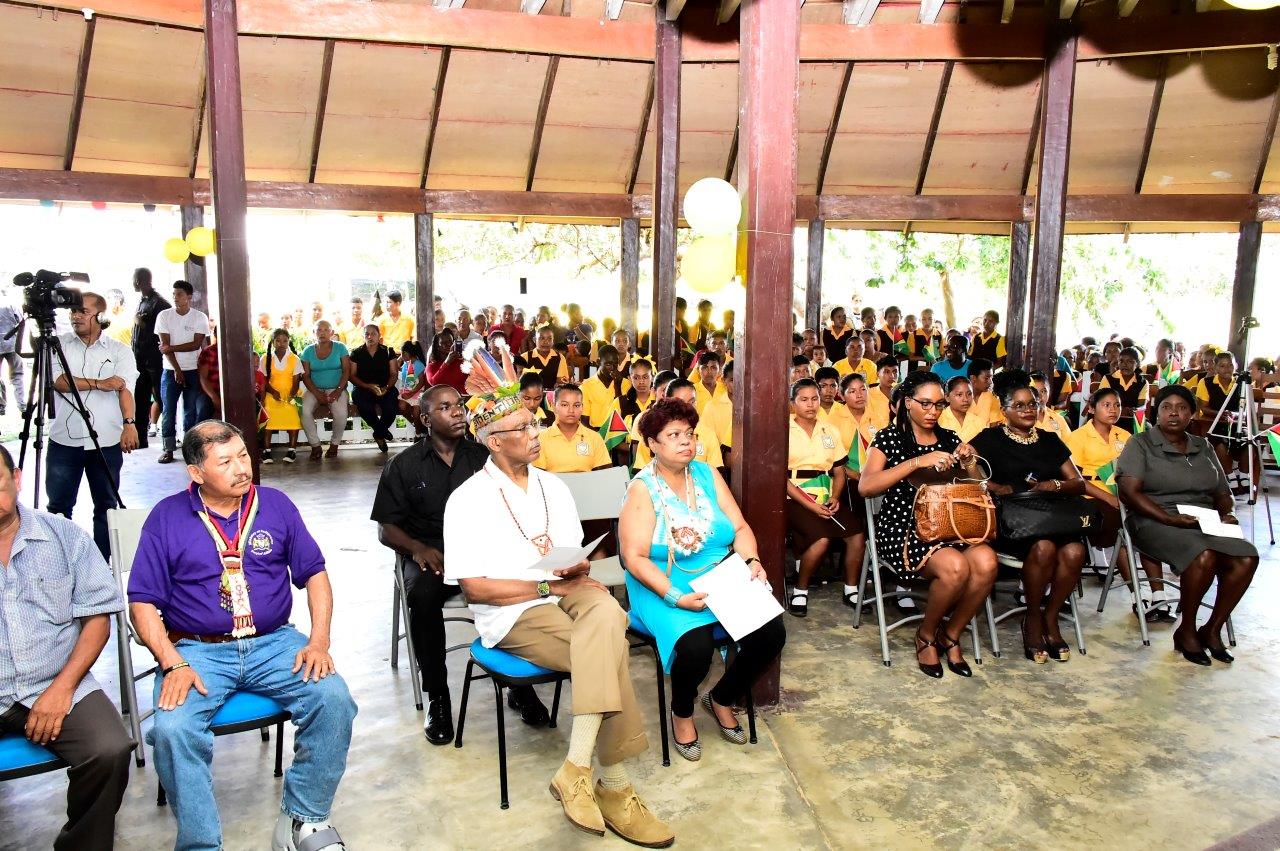 President David Granger, seated third from left, and Minister of Social Protection, Ms. Amna Ally pay keen attention to the speaker at the presentation ceremony, which was held in at Bina Hill in Annai.