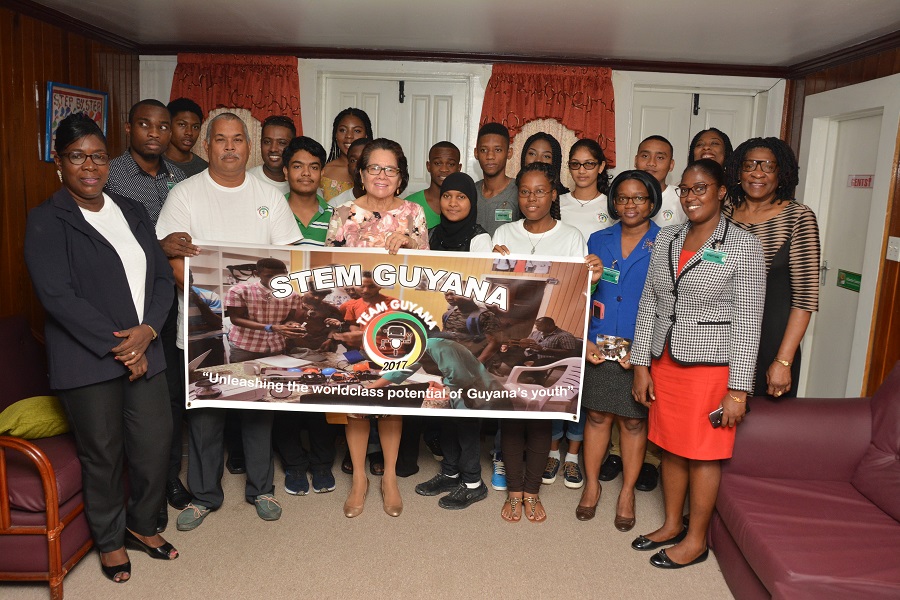 Georgetown, Guyana – (June 22, 2017) A team comprising several young people, who are part of the Science, Technology, and Engineering and Mathematics (STEM) Guyana Project will be representing Guyana in July at the First Global Robotic Challenge in Washington D.C, United States of America, with support from the Ministry of Guyana, through the office of the First lady. Minister of Education, Nicolette Henry this morning handed over a $2.5 Million cheque to STEM Guyana at the First Lady's office, State House.
Ms. Henry, in brief remarks, said that the Ministry is pleased with and supportive of what the team is doing in terms of STEM Robotics. "I trust that your stay in Washington would be a rewarding one and certainly when you get back here to Guyana you will share with your friends and colleagues some of the things you would have learnt," she said.
Information Technology (IT) Technician and Co-ordinator of STEM Guyana, Ms. Karen Abrams in expressing gratitude for the funding said it is critical to the team's travel, accommodation, meals, per diem of seven members of the STEM Guyana team participating in the event, as well as the cost of the robots being used.
First Lady, Mrs. Sandra Granger is pictured with members of the STEM Guyana team
She informed that 160 countries would in participating in the event and the various teams are expected to cooperate, as well as compete against each other to complete the challenge of solving water contamination utilising robotics. Asked about the strength of Guyana's team Ms. Abrams said, "I am very confident in the team. They are very bright young people and we've taken them from every sort of academic arena in Guyana so we have a student from GTI [Government Technical Institute], the University of Guyana, we have High school students, we have students who are not in High School… So we have drawn on the best of talent we could find. I am very confident that they're going to represent Guyana in a very strong way."
Spokesperson, Mr. Vevekeanand Ramnarace said in April, 2017 the team received a kit from the organiser of the event, First Global, which had to be used to build the robot to complete the challenge of combatting water contamination. He explained that "they did this by creating a literal arena and within the arena there are two villages on the two sides of a bank. In between the two villages there is a river that has a stream of water flowing in and they represent the water and contaminants with two different colour balls." Mr. Ramnarace said that to complete the task the STEM Guyana team had to design a robot that is capable of harvesting the balls and distributing the water into a reservoir and the contaminants into a laboratory for testing.
The robot is also capable of lifting itself unto a rail, since the competing teams have to prepare for a flood scenario. "We really put in a lot of effort into this and I do believe we can go and bring out a good name for our country," Mr. Ramnarace said.
The First Global Robotic Challenge will be held from July 16-18, 2017.