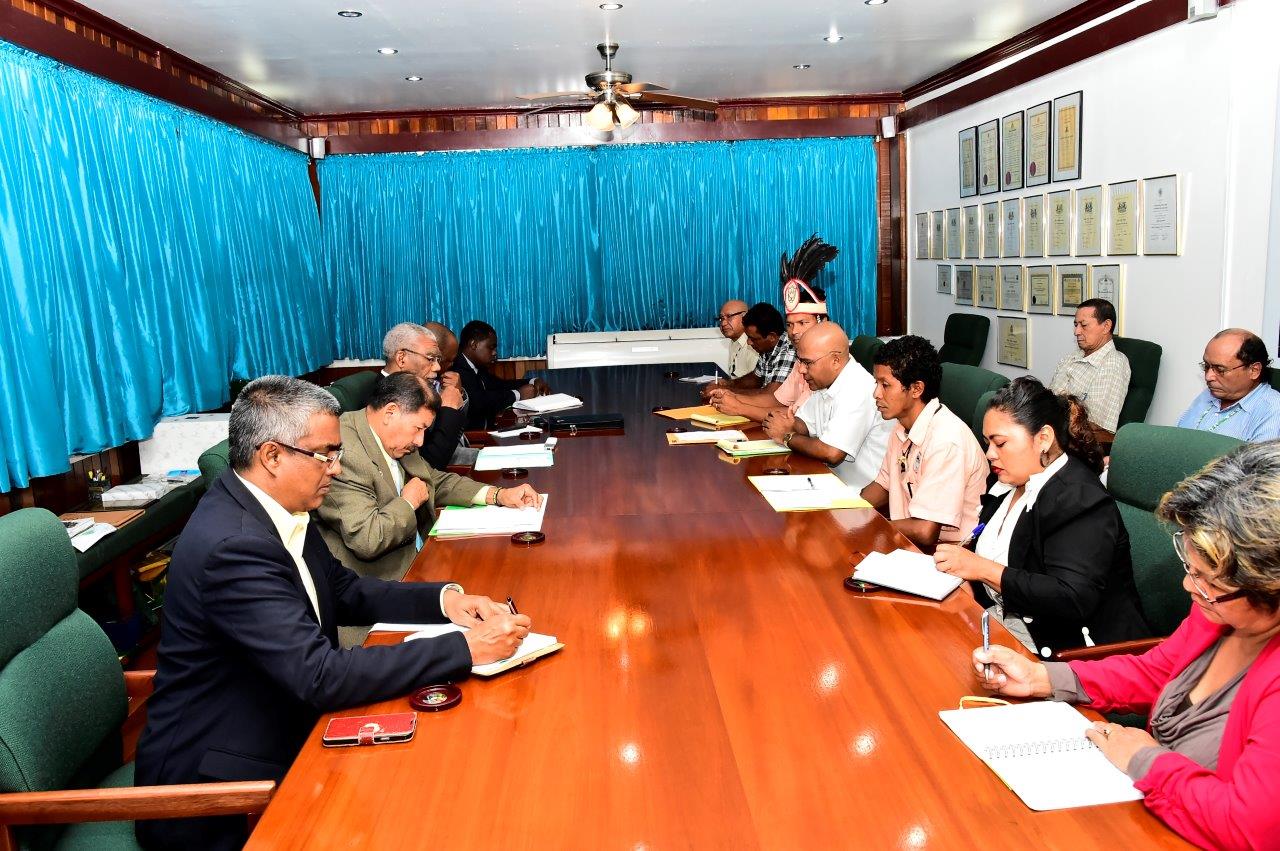 Georgetown, Guyana – (June 22, 2017) President David Granger, today, met with representatives of a number of Indigenous organisations as discussions continue with regard to the work of the Lands Commission of Inquiry (CoI).
Minister of State, Mr. Joseph Harmon and Minister of Indigenous People's Affairs, Mr. Sydney Allicock were also present at the meeting while the visiting delegation was led by Chairman of the National Toshaos Council (NTC), Mr. Joel Fredericks and included President of the National Amerindian Development Foundation, Mr. Ashton Simon, Toshao of Shulinab Village, Mr. Nicholas Fredericks, Toshao of St. Cuthbert's Mission and NTC Vice-Chairman, Mr. Lennox Shuman, Toshao of Chenapau, Mr. Edward McGarrel, Coordinator of the National Amerindian Development Foundation, Ms. Zelita Debedin, Executive Director of the Amerindian People's Association (APA), Ms. Jean La Rose, Mr. Colin Klautky from the Guyana Organisation of Indigenous Peoples (GOIP) and Mr. Peter Persaud from the Amerindian Action Movement of Guyana.
Last week, the President convened a similar meeting with the executive members of the APA including Ms. La Rose and included Mr. Ted Lucas, Mr. Ron James, Mr. Earl Thomas, Mr. Benson Thomas and Ms. Laura George. These engagements are in response to the concerns that have been raised in the public domain following the establishment of the Commission in March.
At today's meeting, President Granger explained to the delegation that contrary to the impression that is being created, the Administration never intended to set up a Commission to deal with Indigenous lands and not involve Indigenous peoples. In fact, that Commission's mandate was to engage with communities in order to examine and make recommendations to resolve issues and uncertainties surrounding the individual, joint or communal ownership of lands and Amerindian land titling issues. He also spoke of the five-point plan that he proposed to the APA last Wednesday.
President David Granger and his team during the meeting with the representatives of Indigenous organisations at State House
This plan includes: a review of all existing agreements and conventions relating to Amerindian lands, a review of the Terms of Reference of the Commission, endorsement of the principal of Free Prior and Informed Consent (FPIC), reconciliation of the positions of the NTC and the Government on the objectives of the Commission of Inquiry and a review of the Amerindian Act.
Minister Allicock described the discussions as a step in the right direction. "It's about understanding the issues and coming together to discuss the said issues. That is what is really important here. I think that for too long we have not been communicating the way we should and I look forward for the continuation of this kind of dialogue."
Meanwhile, the NTC Chairman said that he is pleased to have the opportunity to discuss some issues surrounding the Lands COI with the Head of State, particularly as it relates to mining and governance. He added that "I want to say that the NTC had the opportunity to bring these matters to him so that we can see how best these organisations, who represent the Indigenous peoples, can all work together with the Government in addressing some of them."