Georgetown, Guyana – (June 18, 2017) President David Granger said that the holy month of Ramadan helps Guyanese to recognise that harmonious relations have been built across religions and cultures, while respecting each other's differences even as it helps Muslims to intensify their service to God. The Head of State was speaking, this evening, at the Ramadan Iftar dinner, which is the evening meal when Muslims end their daily fast at sunset, held at the Central Islamic Organisation of Guyana's (CIOG) Headquarters on Woolford Avenue.
"Guyana is a multi-cultural country. We can be proud, however, of our religious tolerance and social cohesion. Guyanese must do as we are doing this evening; we are eating dates and breaking bread to acknowledge one another's differences and to share our common humanity," the President said.
President Granger told the gathering that the sacrifices made during the holy month help Muslims to become more sensitive towards the needs of others and that spiritual awareness encourages them to cast aside the vices of prejudice and intolerance. He said that Ramadan also promotes the virtues of fellowship and friendship. "Service to God strengthens relations with others through acts of compassion and sympathy," the President said. Speaking on the significance of Iftar, President Granger noted that when shared with persons of other faiths, it represents the importance, which Islam attaches to the acceptance of differences and promotion of religious tolerance.
President David Granger addresses those gathered at the Ramadan Iftar dinner held at the Headquarters of the Central Islamic Organisation of Guyana in Woolford Avenue
The CIOG's Director of Education, Sheikh Moeen ul Hack expressed gratitude that the leadership of the country respects the Muslims of Guyana and respects their worship and teachings. He noted that this reassurance from President Granger and his Government goes a far way with respect to social cohesion and peaceful coexistence in Guyana.
The Director assured that "we will continue to play our role as Guyanese and as Muslims and we see our role as complimenting that of the Government." He thanked President Granger for supporting the CIOG's education drive, noting that "education is the enemy of prejudice and for us to move forward and to develop our country, our people will definitely have to be educated."
Reference was made to the collaborative efforts between the CIOG and the ministries of Public Health, Social Protection and other government agencies in providing support for the vulnerable groups and promoting women's empowerment, among other initiatives. He said that the organisation, given the prevalence of extremism and other misconceptions about Islam has commenced a programme which provides a counter-narrative teaching tolerance and acceptance for all.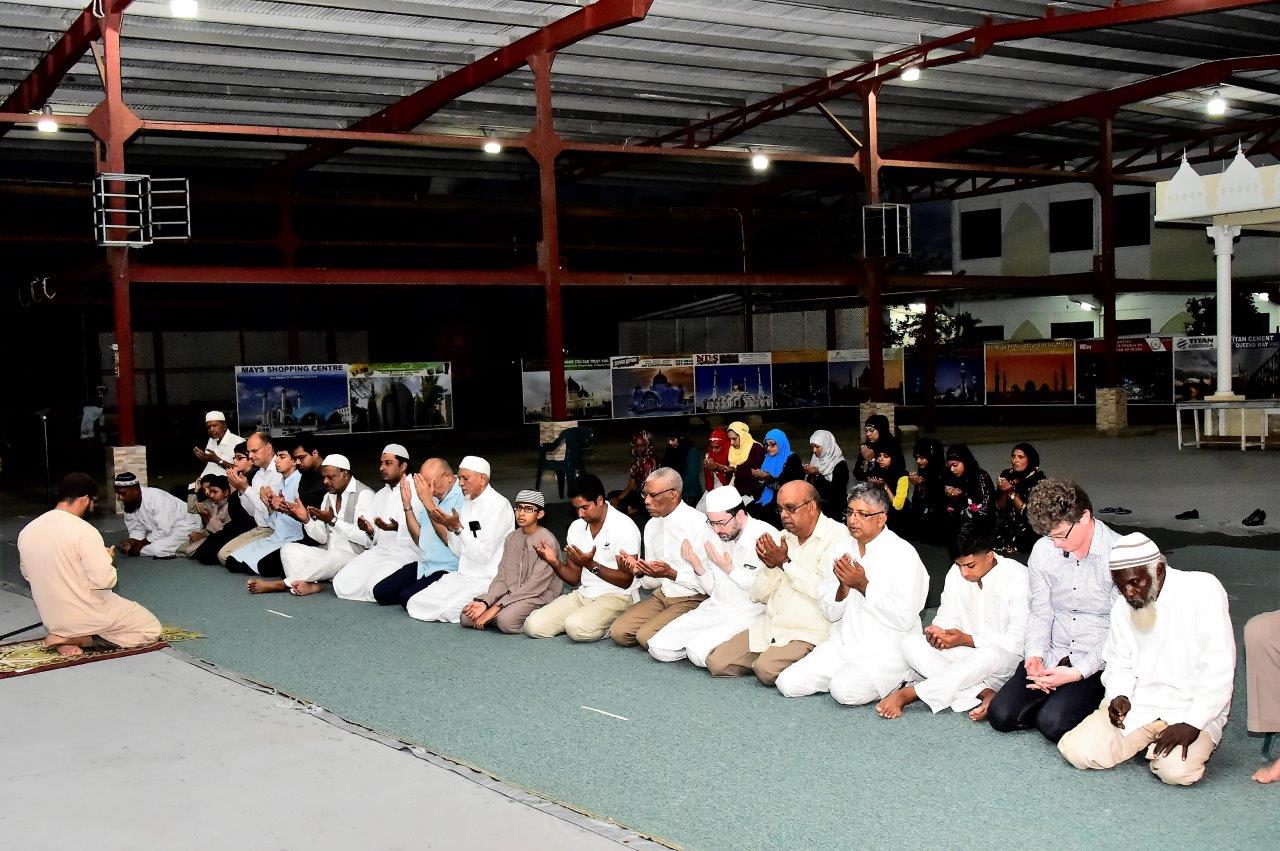 President David Granger (seventh from right), British High Commissioner, Mr. Greg Quinn (second from right) and members of the Central Islamic Organisation of Guyana during prayers
British High Commissioner, Mr. Greg Quinn and his wife, General Secretary of the CIOG, Mr. Khakan Ramjohn, Treasurer of CIOG, Mr. Hajji Raza Ally, along with other members of the organisation were present at the event.