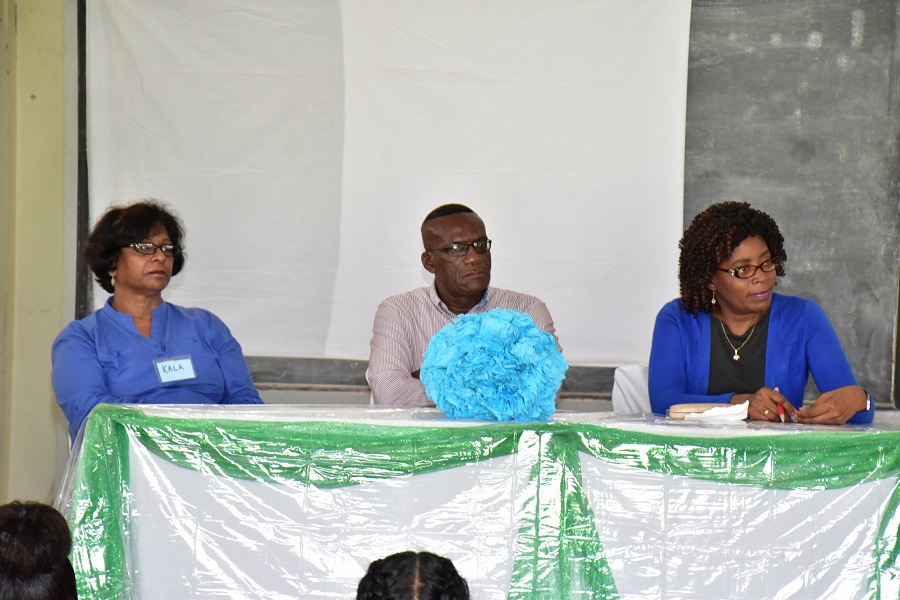 Georgetown, Guyana – (June 17, 2017) Programme Coordinator at the Ministry of Social Cohesion, Ms. Sharon Patterson, today, charged 40 youth at the 35th Diversity Education and Inclusion Regional Training Workshop to capitalise on this learning experience so that they can develop the skills that will help them to foster closer relations with their peers and others, better manage conflicts and contribute to nation building. Ms. Patterson made these remarks in her opening address at the two-day workshop, which is being held in the Woodrow Telford Auditorium of the Linden Foundation Secondary School, Amelia's Ward, Linden, Upper Demerara-Berbice (Region 10).
Ms. Patterson said that the workshop targeted youth as the ministry views them as significant agents of change, who will someday become leaders in their communities, regions and in the country at large. As such, the workshop aimed to utilise their drive and energy and introduce them to new concepts that will help them to learn more about themselves, widen their mediation skills and help them to learn how to use differences to their advantage.
"You have the future in your hands so unless you understand the issues, you will not be able to function effectively and make a difference in the development process. So it is important that you understand some key issues like the divisions in our country…This is an opportunity for learning experience and so don't treat it lightly… By the end of it you [will be] in a place where you believe you can make a contribution to enhancing and promoting social cohesion," she said.
Members of the head table: From left to right: Ms. Kala Seegopaul, Lead Trainer, Regional Chairman, Upper Demerara-Berbice, Mr. Rennis Morian and Programme Coordinator at the Ministry of Social Cohesion, Ms. Sharon Patterson
Similar sentiments were expressed by Regional Chairman, Upper Demerara-Berbice, Mr. Rennis Morian, who said that the Ministry is seeking to channel the exuberance of youth into the right direction. "There's a certain amount of energy, intuition, waiting to be nurtured that resides in you and this training, today, is to help to fashion what is already in you and point you into the right direction… We want to see each of you excel… treat today as a very important step in your life," he said.
Youth ages 15-30 from communities including Mackenzie, Cinderella City, Speight Land, Amelia's Ward and Central Amelia's Ward are participating in the sessions. Several of the participants said that they had high hopes that the sessions would enable them to make better choices and to enhance their lives.
In an invited comment, Ms. Shamaiah Denny, an aspiring doctor, said that she made some surprising discoveries about herself and hopes to become less partial. "I have learnt that I can be prejudiced, meaning prejudge people on the way they look, their ethnicity, where they come from, the way they talk… but I can tell you that not because of the way someone looks or the way they may approach you, you can just judge them on that. You have to get to know that person first, then you can [draw a fuller conclusion]," she said.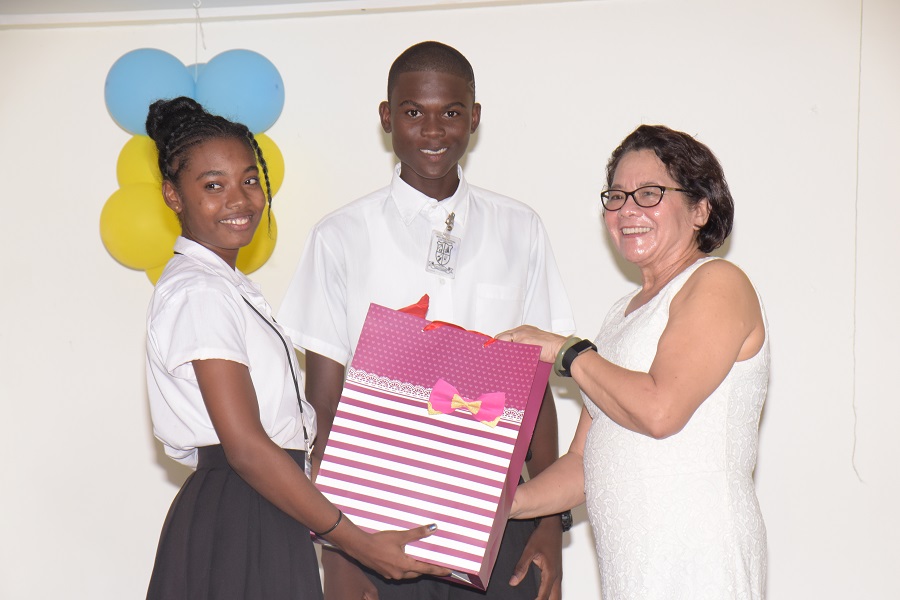 Master Kenroy Clementon (left) and Master Jomieel Peters participate in a 'mirroring' exercise during one of the interactive components of the workshop.
Similar sentiments were expressed by Mr. Jeremiah Denny. "I decided to come today because I think this would help me to be a better person in society. I have learned a lot, I have learned that you don't just judge a person by his or her ethnicity, age or what they wear …not to judge a book by its cover. In today's society there are all sorts of children and people and you will have to learn how to deal with them," he said.
Previously, the Ministry has hosted a number of workshops in the region, all aimed at engaging stakeholders in discussions and practical exercises to identify the factors that are stymieing social cohesion, with the view of equipping them with the necessary skills to erase those inequalities. In November 2016, the Ministry hosted its 30th Regional Sensitisation and Strategic Planning Consultations in Kwakwani, Sub-Region Two and last month it hosted a sensitisation meeting for regional and municipal councillors.