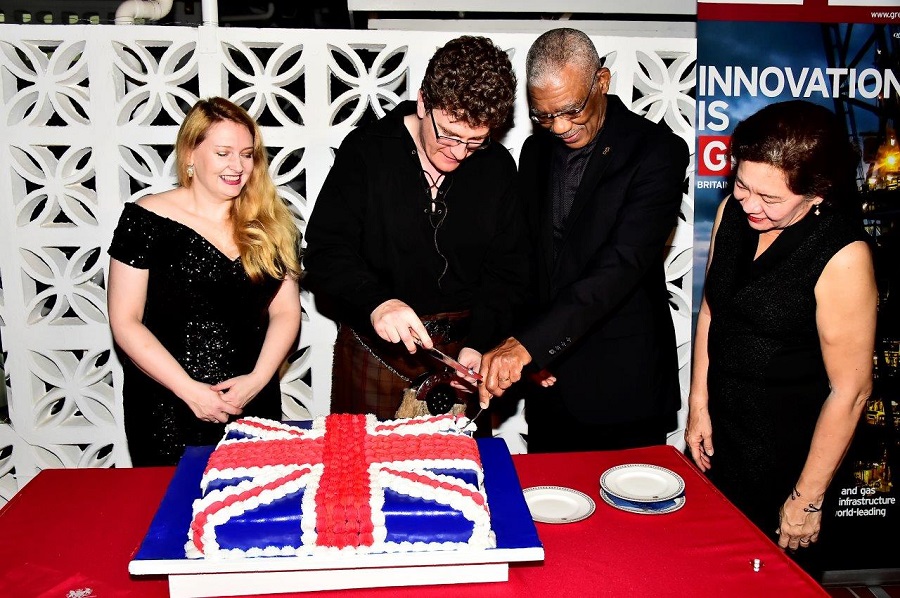 Georgetown, Guyana – (June 15, 2017) President David Granger saluted Britain's support for the development of Guyana's security sector and its struggle to preserve its sovereignty and territorial integrity. The Head of State said that the re-engagement between the two countries on the re-implementation of reforms in the security sector is a welcomed development, which will benefit the country immensely in terms of improving policy-making and crime-fighting. President Granger made these remarks, this evening, at a reception hosted at the residence of the British High Commissioner to Guyana in Bel Air in honour of Her Majesty the Queen's 91st birth anniversary, which she celebrated on April 21.
President David Granger and British High Commissioner to Guyana, Mr. Greg Quinn cutting cake in honour of Her Majesty the Queen's 91st birth anniversary while First Lady Mrs. Sandra Granger and wife of the High Commissioner, Mrs. Wendy Quinn look on
Also commenting on security sector support, British High Commissioner to Guyana, Mr. Greg Quinn said that British security expert, Mr. Russell Combe, who is an Advisor to President Granger as part of the Security Sector Reform (SSR) project, is on the cusp of producing his initial interim report. He added that in addition to the strategic aspects of his mandate, work will commence as soon as possible to ensure implementation of some of the recommendations he is expected to make.
In addition to the re-introduction of the SSR project, President Granger said Guyana's development has been boosted by Britain's assistance in the areas of education, public sector reform, strengthening of the Judiciary, disaster relief, water supply, the restructuring of the sugar industry and debt relief. Further, he said, "Britain's Caribbean Infrastructure Fund will be a welcome and necessary boost to the extension of our country's infrastructure."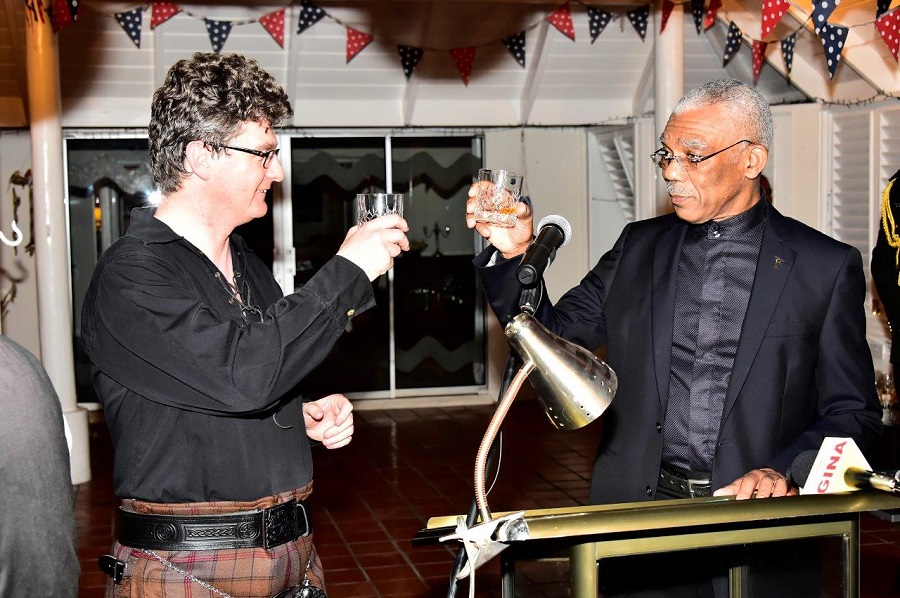 President David Granger and British High Commissioner to Guyana, Mr. Greg Quinn toast to the long-standing relationship between Guyana and Britain
The Head of State said that the two countries have also enjoyed good cooperation within the framework of the Commonwealth, a body which has come out in full support of Guyana in the ongoing border controversy with Venezuela. The President added that Guyana looks forward to Britain's continued support, especially within the Commonwealth Ministerial Action Group, as Guyana prepares to finally bring the claims to territory to a peaceful and lawful conclusion.
Meanwhile, High Commissioner Quinn said that apart from funding projects such as the SSR, the UK will be committing is some £61M worth of Department for International Development (DFID) expected in Guyana over the next few years. He also spoke of the UK just concluded general elections which saw the re-election of Prime Minister Theresa May. The High Commissioner said that next week when Her Majesty addresses Parliament, countries will know more about the UK's plans and programmes.
During his visit to London last April, President Granger had met with Her Majesty Queen Elizabeth II, who, he said, shares his commitment to environmental protection. "Guyana's drive to become a 'green' state, which will balance environmental sustainability with economic and human development, is well known. I am happy to have had the honour of meeting Her Majesty and of sharing with her a common commitment to forest conservation and the protection of our precious biodiversity.