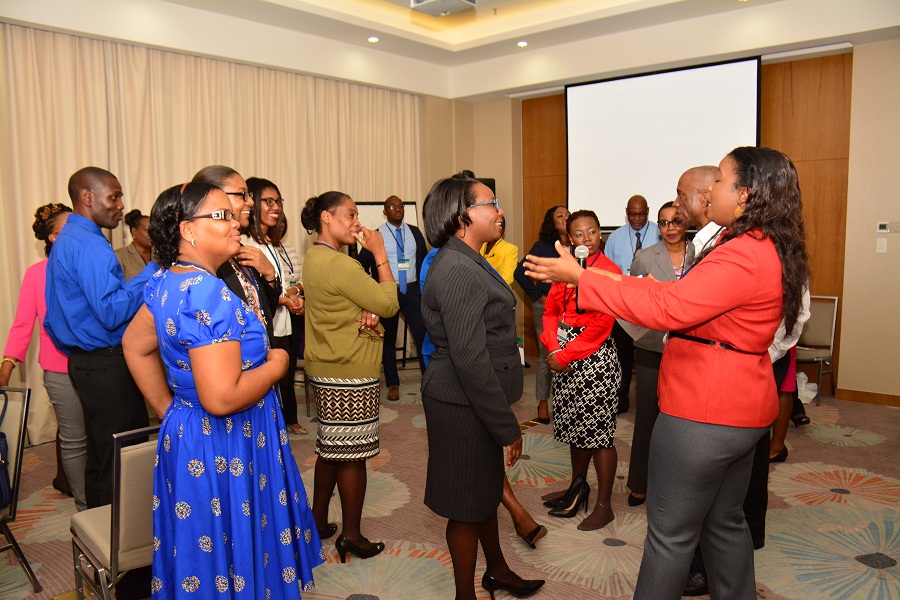 Georgetown, Guyana – (June 5, 2017) Public Service leaders in the respective Caribbean countries must be exposed to sustainable leadership development training, given the current dynamic work environment where multiple and complex issues confront them daily. This is according to Regional Project Manager of the Caribbean Leadership Project (CLP), Dr. Lois Parkes, who was speaking at the first face-to-face session of the Leadership Development Programme (LDP) being held from June 5- 9, 2017 at the Marriott Hotel, Kingston.
The session follows the virtual launch of cohort nine of the LDP, which was held in April. The overall purpose of this LDP is to support Public Service leaders in developing their capacity to contribute more effectively to regional integration, economic growth and gender-sensitive public sector reform.
Dr. Parkes said that "we recognise that leadership is critical, but even more so in our current very dynamic, very difficult environment when our Public Service leaders are dealing with multiple and very complex issues such as crime and security, socio-economic development, youth, unemployment, non-communicable diseases, very challenging public policy issues; it is not a simple environment that we live in but yet much more is required of our public service leaders."
Participants of the Caribbean Leadership Project during an interactive session at the first face-to-face cohort being held at the Marriott Hotel, Kingston
She noted that the programme is not academic, but is based on an experiential model to help the public service leaders to understand and apply leadership tools and principles. Participants will focus on developing a greater understanding of self, beginning with what awareness, competencies and strategies are required to develop, strengthen, recognise, appreciate and learn in order to provide effective leadership that serves a wider purpose.
Dr. Parkes said that the session aims to cover, at minimum, ten cohorts of participants and thus far they are on track with training some 250 Public Service and Regional Institution leaders. "We started with three cohorts, one, two and three focused on persons at the Permanent Secretaries level; four, five and six were focused on persons at the Deputy Permanent Secretaries level and now cohorts seven, eight, nine and ten are focused on persons more at the middle management leadership level," she said.
Cohorts eight, nine and ten are running simultaneously. Cohort nine is currently in progress and, according to Dr. Parkes, there are six members of Guyana's Public Service participating in cohorts eight, nine and ten, in addition to three persons from the Caribbean Community (CARICOM) Secretariat.
By participating in the LDP, participants are expected to advance regional integration and economic development by bringing practical learning to the workplace and developing a network of trusted colleagues during and beyond the programme.
Participating countries are Antigua and Barbuda, Barbados, Belize, Dominica, Grenada, Guyana, Jamaica, Saint Lucia, Saint Kitts and Nevis, Saint Vincent and the Grenadines, Suriname and Trinidad and Tobago. The regional organisations participating in the Project are the CARICOM Secretariat, Regional Security Systems and the University of the West Indies Open Campus.
The Caribbean Leadership Project is funded by the Government of Canada, and executed by the Canada School of Public Service.