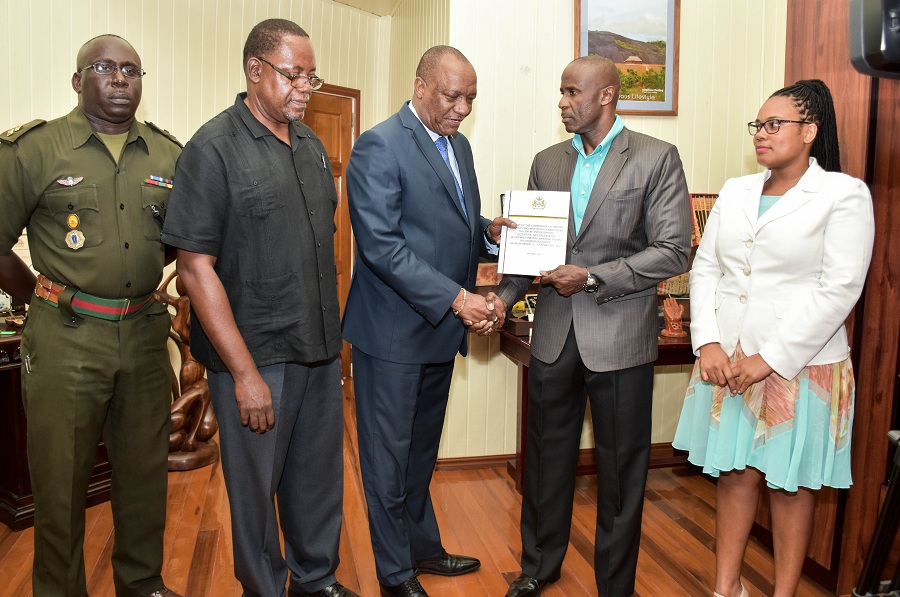 Georgetown, Guyana – (May 31, 2017) Minister of State, Mr. Joseph Harmon, today, received the Report from the Commissioners of the Commission of Inquiry (COI), which was established by President David Granger on March 31, to inquire into the circumstances surrounding the entry into, the interception, detention and subsequent release of an unnamed private maritime vessel in the sea space of the territory of Guyana. The Commission was asked to report the findings and recommendations to the President, who is the Head of the National Security Committee.
Accepting the Report from Head of the Commission, Brigadier (Retired) Bruce Lovell, Minister Harmon said that the Government takes the issue of national security seriously and, as such, it is committed to examining the contents contained therein.
"I trust that the Report that the Commission has presented will assist us in making some important decisions in the security architecture of this country and that it will assist us in making decisions particularly as it relates to the fight against narcotics trafficking," Minister Harmon said.
Minister of State, Mr. Joseph Harmon receives the Report from Brigadier (Retired) Bruce Lovell as Lieutenant Colonel Denzel Carmichael, former Assistant Commission of Police, Mr. Winston Cosbert and Ms. Christine Bailey look on.
Brigadier Lovell, in an invited comment, said that inquiries are important particularly in matters of national interest.
"Inquiries do what any good journalist would do and that is to answer the Five W's and the one H; the Who, the What, the Where, the Why and the When and it also goes a bit further and seeks to recommend what should be done to prevent any further occurrence. So this inquiry has done just that. In our recommendations we look at a number of systematic issues, doctrine, organisation, training, leadership, personnel, facilities and, of course, policies," he said.
The other members of the Commission were former Assistant Commissioner of Police, Mr. Winston Cosbert and Ms. Christine Bailey.