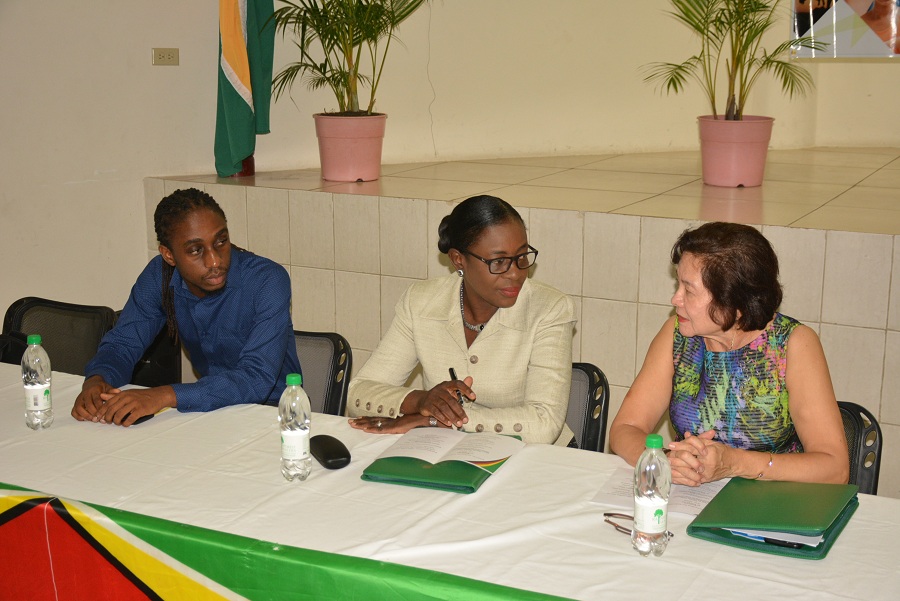 Georgetown, Guyana – (May 25, 2017) First Lady, Mrs. Sandra Granger, today, urged those in attendance at the National Youth Week Symposium to seek inspiration from individuals, who have overcome adverse circumstances and to invest in themselves by capitalising on the opportunities available to them to acquire marketable skills and to empower themselves. The Symposium was held at the Guyana Police Officers Training Centre, Eve Leary, Georgetown.
"Let us be inspired by the teenage mothers, who struggle to raise their children in the best way possible, while continuing their education and serving as mentors for their peers… Let us be inspired by the differently-able child, who wants to lead an independent life. Let us be inspired by the young women and men, who decide that they will become entrepreneurs. Let us be inspired by the young girls, who have been trafficked, who take their courage in their hands and identify the predators, even more so when they begin to develop a sense of self-worth and recognise and stand up for their own humanity… Let us be inspired by the young members of the LGBT community, who demand equality. Let us be inspired by the youth, who speak out against HIV stigma and discrimination… They demonstrate to me that our Guyanese civilisation is growing and developing in a positive way, because if we let our minds roam free and understand and appreciate the views of others, we will become a better-informed, more open-minded society," she said.
The First Lady said that while many of this generation may not have benefited from the same kind of nurturing environment that she experienced, it is not too late for young people to take charge of their lives. She also said that in the light of the fact that more than half of Guyana's population comprises youth, the onus is on the adults to accept that the torch has already been passed on to the younger generation and as such they must be "nurtured, guided and encouraged to pursue the path to your own and our country's development".
Further, she said that in keeping with the theme of the week of activities, "Inspiring our youth: Celebrating their achievements" it is also important that the sentiments expressed there in become a reality. "Having given our youth the environment and the tools through which their minds can blossom, let us celebrate their creativity, their innovation and their boundless energy and enthusiasm, as they contribute to the growth and development of our beautiful country, this dear land of Guyana," she said.
From L-R: Mr. Adrian Alfred, Ministry of Education, Department of Culture, Ms. Nicolette Henry and First Lady, Mrs. Sandra Granger at the head table at the National Youth Week Symposium
Meanwhile, Minister within the Ministry of Education, Ms. Nicolette Henry said that the National Youth Week Celebration is a demonstration of the Government's commitment to youth. "Many of the young people and some of you in the audience were involved in a number of activities that not only showcased your talents and skills, but also recognised your worth to the nation. You were provided with opportunities to interact and learn from one another, to air your views and to learn about possible courses of action that you can pursue for your own development… The more opportunities you have the better it will be for you to become fully empowered," she said.
In an invited comment, Ms. Saskia Hinds, a Four Humanities student at the St. Rose's High School said, "My expectations are that after this Symposium that youths will be more informed about the things that are happening around them and the tools that they can use to make life better for [themselves]. I think that it was very important that [the First Lady] was here because she is very influential and she is very involved in youth programmes and I think that she will have an influence on the youth. I think they will listen to her."
Her classmate, Ms. Alleah Hamid, expressed similar sentiments. "I personally was very honoured to be here. It was very interesting the way [the First Lady] spoke about youths and the empowerment of youths… With the technology that has been going around the world, Guyana needs to be more [tech savvy]," she said.
In addition, Ms. Alliyah Adolphus, a Four Arts student at the North Ruimveldt Secondary School said that she was particularly impressed with the First Lady's presentation. "I felt her participation was meaningful since she compared her life to our present [generation] and it is far different. She compared the different usage of technology… Its advances [have] contributed really meaningfully to our society… I expect that they are going to have more technology programmes for the youth and I hope that they do so because in our current society technology is something that most youths use almost every day," she said.
The Symposium also included presentations by Mr. Ryan Belgrave of the Guyana Youth and Students Movement, Ms. Cynthia Rutherford of the Alliance For Change among others. It also featured a panel discussion under the topic "Youth Employment, Entrepreneurship and Technology". Students were also treated to an inspiring spoken word performance by Ms. Nacaesy Adams.