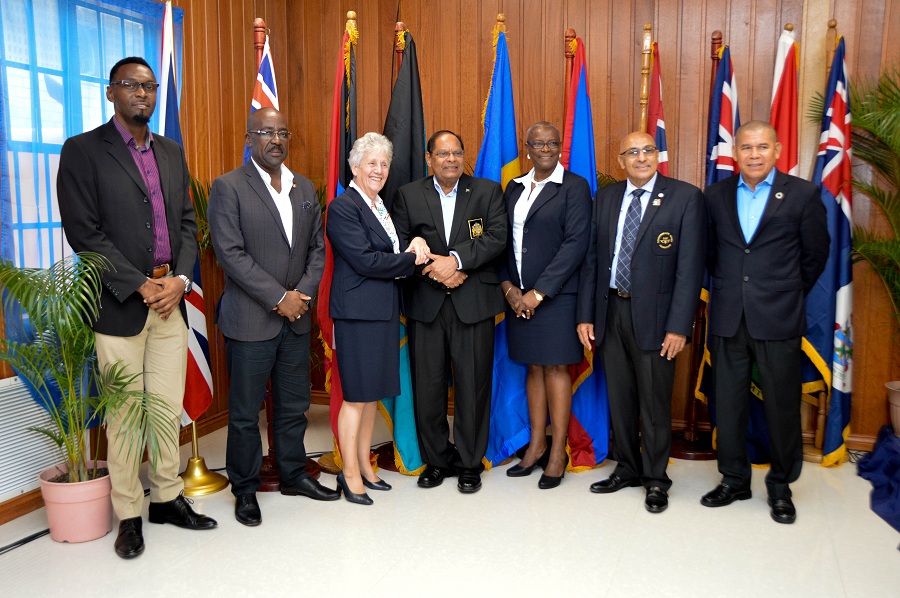 Georgetown, Guyana – (May 15, 2017) President David Granger was, today, paid a courtesy call at State House by a visiting team of geologists from Chilean technical agency Sernageomin, who are in Guyana to conduct technical geological surveys, and field work to assess the conditions within Guyana's mining sector. Later in the year, the project will see 12 members from the Guyana Geology and Mines Commission (GGMC) visiting Chile to observe the mining operations there. The four member team of geologists included Project Manager, Dr. Juan Pablo Lacassie, Mr. Jaime Barrera, Ms. Laura Mateo Rio and Ms. Mariela Santana.
This visit comes as a result of previous engagements between Guyana and Chile, which began in July last year when President Granger met with President Michelle Bachelet of Chile on the side lines of the Thirty-seventh Regular Meeting of the Conference of the Heads of Government of the Caribbean Community (CARICOM) in Guyana. Discussed as part of a range of bilateral issues was how Guyana could learn from Spanish State's sound regulatory framework for the mining sector. President Granger referred to Chile as an ideal partner in this area, given that that country is one of the most successful mining enterprises in the world.
These discussions continued in October, during President David Granger's first official State visit to Chile. There, Guyana received commitments of support for collaboration in the areas of trade, capacity building in telecommunications, geological mapping in the field of mining and environmental management. With regard to mining, Chile offered to provide technical assistance for geological mapping, which would allow for a scientific determination of the location of mineral wealth deposits in Guyana. Further, Guyana was required by Chile to provide project proposals in the area of Geological and Metallogenic maps and Petrographic Studies.
President Granger has highlighted the need for achieving a healthy balance between the effective management of our renewable resources while preserving our environment. The team's presence in Guyana and the research they will conduct will, therefore, help to contribute to the overall improvement of the sustainable development of the country's extractive industries sector. During the meeting, President Granger said, "[We are] looking toward not only the technical means of extracting minerals, but also the regulatory framework, of course [we must consider] the protection of the environment to which both president Bachelet and I are deeply committed."
Echoing the President's sentiments, Minister of Foreign Affairs, Mr. Carl Greenidge said that Guyana looks forward to the information sharing benefit that will accrue as a result of the visit, as it will assist the Guyana in dealing with certain difficulties within the extractive sectors. "We have had a long tradition in mining, both in the private and public sector, but a number of the challenges that face us now are perhaps a little unprecedented and they come at a time when we are challenged by trying to do many things at once; problems of managing petroleum, problems in trying to reactivate manganese for example, as well as putting in place the appropriate regulatory framework because that is a major challenge for us," the Minister said. Given Chile's expertise in mining, Minister Greenidge said that Guyana will be looking to that country for advice in other related areas as well.
President Granger also highlighted that the engagement will serve both countries well and is likely to see future collaborations in other areas.
"It is entirely in keeping with Government's policy and with the policy of your own Government that the continent not only becomes a zone of peace but also a zone of prosperity, a zone of development and that is one of the reasons why we are stretching across the distance to reach out to each other… We know that this engagement will not just be technical but it will lead to development and close relations in other fields," the President said.
Minister of Natural Resources, Mr. Raphael Trotman told the team that Government's policy with regard to the extractive sector stands on four pillars: the sustainable use of the environment, better management of land resources, geological surveys and mining safety. "While your efforts will be focused on geological surveys and assistance we have no doubt that you will continue to guide us in the other three areas so that we lift those areas of focus," he said.
Chilean Ambassador, Mr. Claudio Rachel Rojas said that this project is just one in many that will see the strengthening of relations between Guyana and Chile as the two countries move step by step in working to develop their futures.
At the end of the meeting, the team presented President Granger with a publication on the mining sector in their country. The meeting was also attended by Acting Commissioner of the GGMC, Mr. Newell Dennison as well as officials from the Ministry of Foreign Affairs.