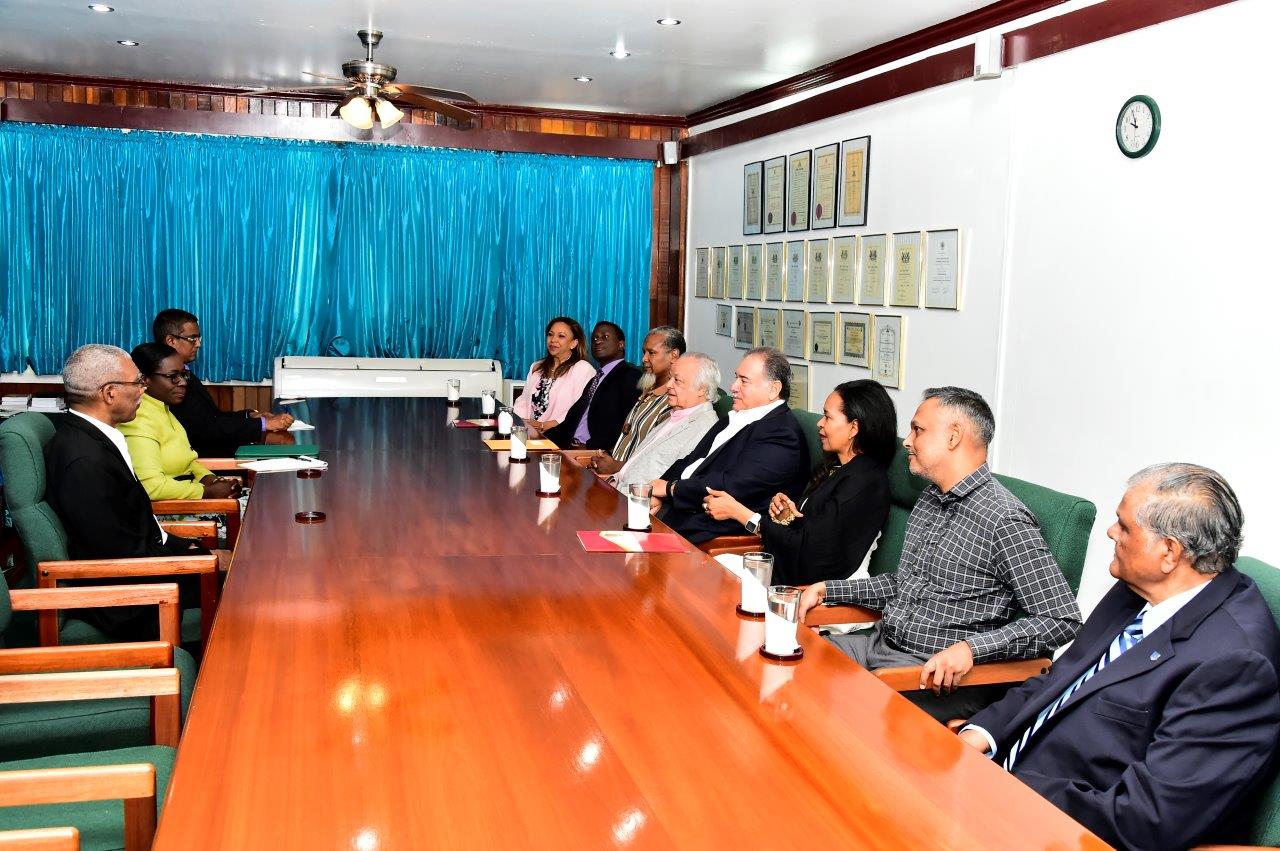 Georgetown, Guyana – (May 12, 2017) President David Granger, today, received a courtesy call from officials of the Anthony N. Sabga Caribbean Awards for Excellence (ANSCAFE) and the four 2017 laureates, who will be receiving their awards at a ceremony tomorrow evening at the Marriott Hotel. Minister within the Ministry of Education, Ms. Nicolette Henry was also present at the meeting, which was held at State House.
The visiting delegation included Chairman and Chief Executive of the ANSA McAL Group, Mr. Norman Sabga, Sir Shridath Ramphal and Major General (ret'd) Joe Singh, both of whom sit on the ANSCAFE selection panel, ANSCAFE's Programme Director, Ms. Maria Superville-Neilson and this year's laureates, Guyanese Mr. Arif Bulkan and Mr. Winslow Craig, Ms. Shadel Compton from Grenada and Mr. Kwame Ryan from Trinidad and Tobago.
During their brief discussion, the Head of State described the award is an important cultural element that recognises excellence in the Caribbean and which, in many ways, helps to give people of the Region a sense of belonging to a single Caribbean community. He also expressed his condolences on the passing of Dr. Anthony N. Sabga, whose decision it was to host this year's award ceremony in Guyana. Dr. Sabga, who initiated the ANSCAFE in 2005, died earlier this month at the age of 94.
Meanwhile, Mr. Norman Sabga, son of the late Dr. Sabga, explained that the awards are given to people, who are in the prime of their careers. He said that all of the recipients have used the recognition to propel them even further in their respective fields. He said, too, that the Caribbean is blessed with extraordinarily talented people, who for far too long have gone unannounced and uncelebrated.
President David Granger meeting with the visiting delegation at State House
Mr. Arif Bulkan, who is receiving in the category of Public and Civic Contribution, is a lawyer and senior lecturer at the Faculty of Law, University of the West Indies (UWI), St Augustine Campus. He has been at the forefront of promoting indigenous rights, environmental rights, and human rights regionally through legal interventions, training and advocacy. Guyanese sculptor, Mr. Winslow Craig, a Medal of Service awardee, was selected for an ANSCAFE in the Arts and Letters category. Mr Craig is a lecturer in art at the University of Guyana and his work can be found in private collections through the region, in Guyanese institutions and international collections from New Zealand (Retribution II), China (The Unseen Helper) and Belize (Cutting Edge and The Watcher).
To date, Guyana has produced more ANSCAFE awardees than any other Caribbean country. In 2015, Dr. Paloma Mohammed and Professor Suresh Narine were recipients of this award. Awardees are selected by a distinguished panel, which, in addition to Sir Shridath and Major General (ret'd) Singh, includes Professor Nigel Harris, Justice Christopher Blackman of Barbados, Professor Bridget Brereton from UWI, Justice Rolston Nelson from the Caribbean Court of Justice and Attorney-at-Law and former Senator, Mr. Christopher Bovell.
Each recipient receives an ANSCAFE gold medal and citation, TT$500,000 and the opportunity visibility, encouragement and support across the Caribbean and further afield.