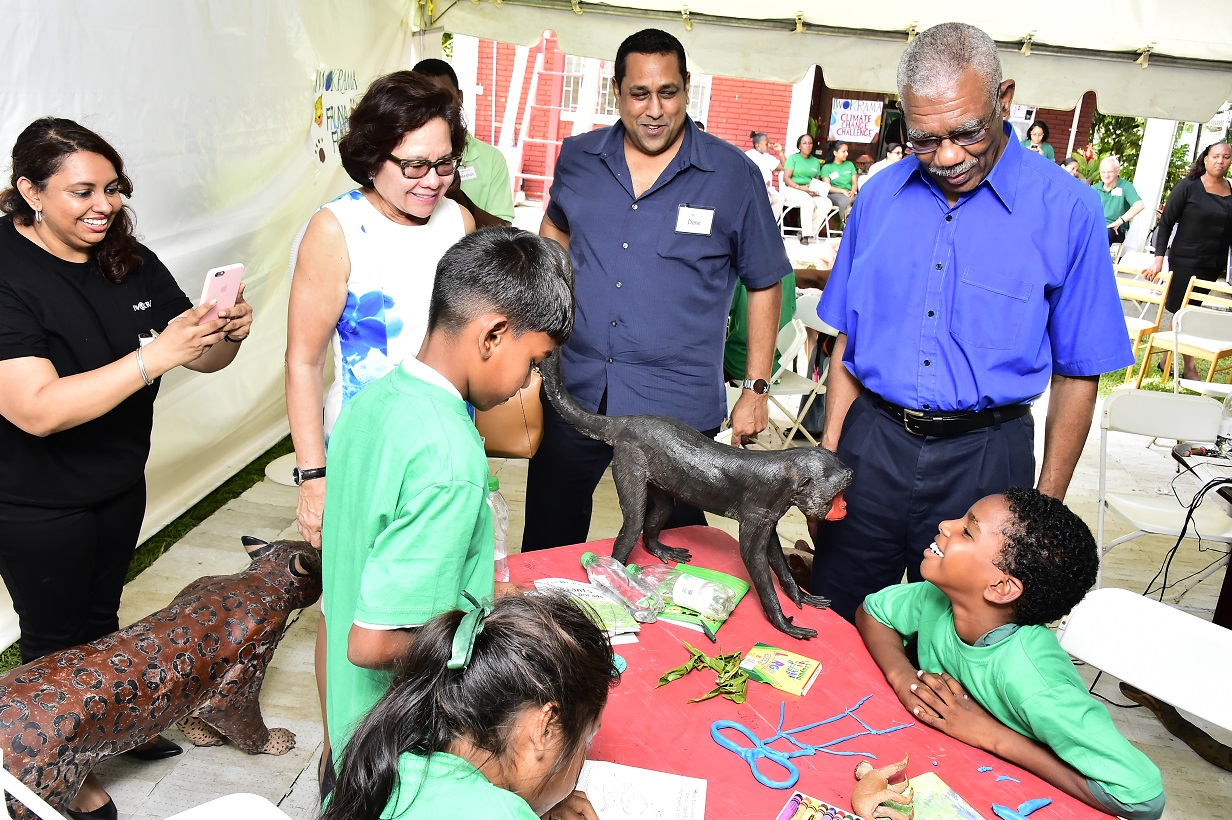 Georgetown, Guyana – (May 8, 2017) The Iwokrama Centre for Rain Forest Conservation and Development today marked the 21st anniversary of the passing of the Iwokrama Act of 1996 with an interactive sensitisation session with the children, who reside at Joshua House. The event, which was held at the Centre's High Street, Kingston head office, was attended by President David Granger and First Lady, Mrs. Sandra Granger, who both had an opportunity to engage with the children as they were taught about the importance of issues such as forest conservation and proper solid waste disposal.
Iwokrama's Chief Executive Officer (CEO), Mr. Dane Gobin explained that it is easier to influence a change in culture with regard to the way environmental issues are perceived by educating and sensitising children. "If you talk about climate change to children at a young age you influence their behaviour and make them more responsible," he said. The CEO also urged the children to stay focused on their studies so that they will be able to make meaningful contributions to the 'green' development agenda and the preservation of the national patrimony.
President David Granger, First Lady Mrs. Sandra Granger and Iwokrama's Chief Executive Officer (CEO), Mr. Dane Gobin looking at some of the artwork created by the children
The children engaged in poetry recitation, games, visual art and discussions on rare flora and fauna that can be found in Guyana and the work of the Centre with regard to conservation and the protection of the forests. The session was facilitated by the staff stationed at the head office.
Last month the organisation held similar sessions with differently-abled groups and two more such sessions are planned targeting children on the East and West Coasts of Demerara. Mr. Gobin also lauded President Granger for his unequivocal support for Iwokrama, noting that he is the first Head of State in the country's history to overnight at the Iwokrama International Centre for Rainforest Conservation and Development in Region Eight.
Last year, the First Couple spent two days at Iwokrama when the President became the First Head of State to cross the famous canopy walkway, which is suspended at some 33 metres (100 feet) from the forest floor.
The Iwokrama International Centre for Rainforest Conservation was established in 1996 through an agreement by the Government of Guyana and the Commonwealth Secretariat with the aim of managing and preserving 371,000 hectares of pristine rainforest. Former President Desmond Hoyte Committed to the Iwokrama Rainforest Project in 1989.