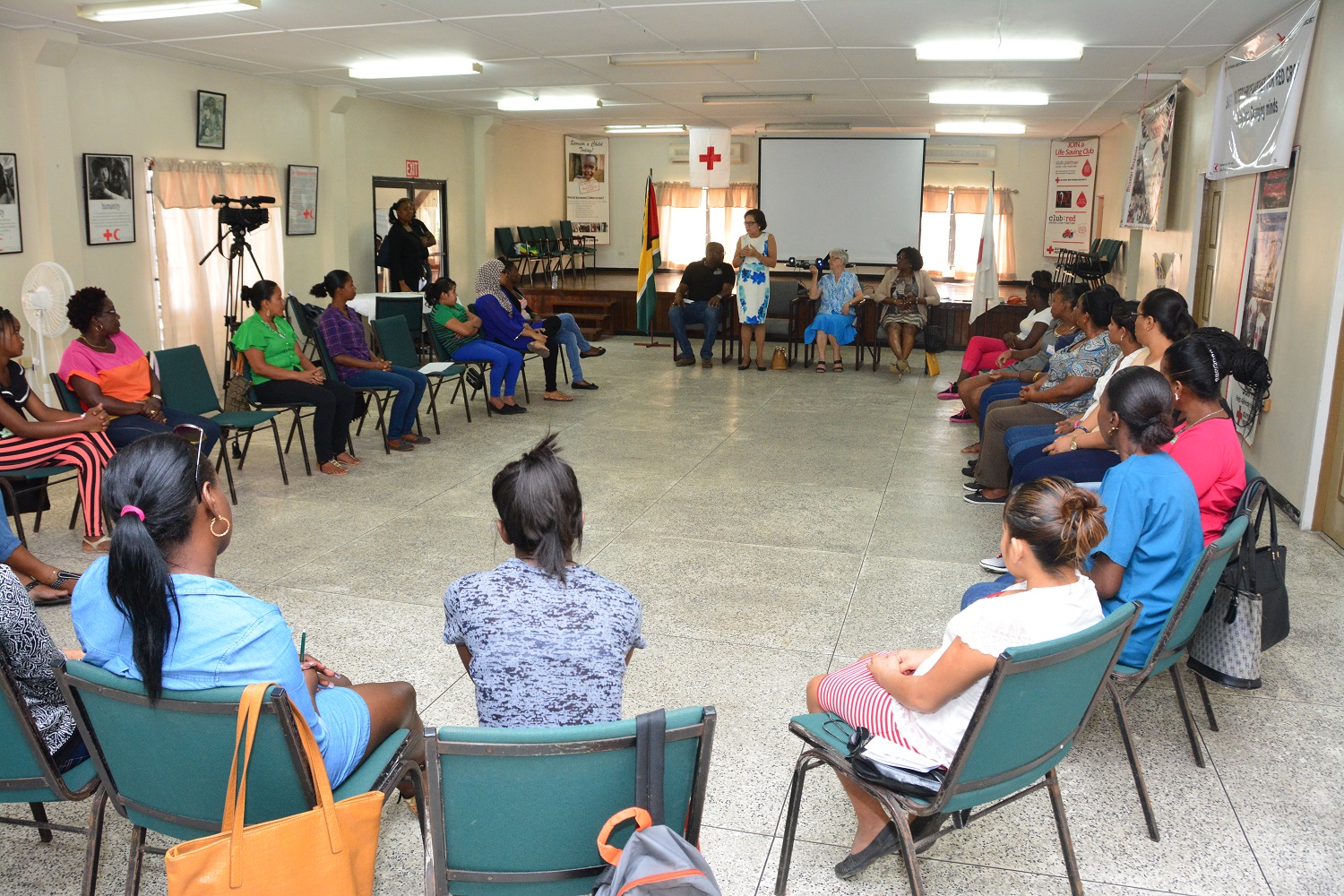 (Georgetown, May 8, 2017) As the world observes World Red Cross day, First Lady, Mrs. Sandra Granger declared opened another training workshop in First Aid, Cardiopulmonary Resuscitation (CPR) and the use of the Automated External Defibrillator (AED), at the Guyana Red Cross Society (GRCS), in Kingston Georgetown for the recent graduates of the 'Caregivers for the Elderly' programme.
In her address the First Lady said that it is important for each participant to be fully equipped and grasp all they can as they accept the responsibility of caring for the elderly, who need more careful attention as they advance in age. "This [training] is a vital component of your training to care for our seniors… For you to be recognised as professionals in this field, people need to know that you have received adequate training. I know you will really gain a lot from this training and apply what you would have learnt," Mrs. Granger said.
First Lady, Mrs. Sandra Granger speaks to the participants, during the opening of the First Aid Workshop.
General Secretary of the Society, Mrs. Dorothy Fraser encouraged the participants to be actively engaged in all aspects of the course. "One of the things that you would learn is that elderly people must be treated with respect, dignity and to know that they can still do things and want to do things for themselves. Your First Aid training is just another step for you to learn all the things that you need to. Pay attention and learn well… We really want to make sure [that you] learn the First Aid well so that you are able to implement it as you care for the elderly," Mrs. Fraser said.
The General Secretary also expressed appreciation for the fact that the Office of the First Lady has continued this initiative, through the GRCS. "It is really exciting to be working with the Office of the First Lady in order to be able to carry out this five day training in First Aid… The relationships with Office of the First Lady has been a very positive one, and President Granger as Head of State is the Patron of the organisation and he has supported us extremely well in this position," Mrs. Fraser said.
The workshop is a collaborative effort between the Office of the First Lady, the Ministry of Social Protection and the GRCS and will conclude on Friday, at which point each participant will be certified.