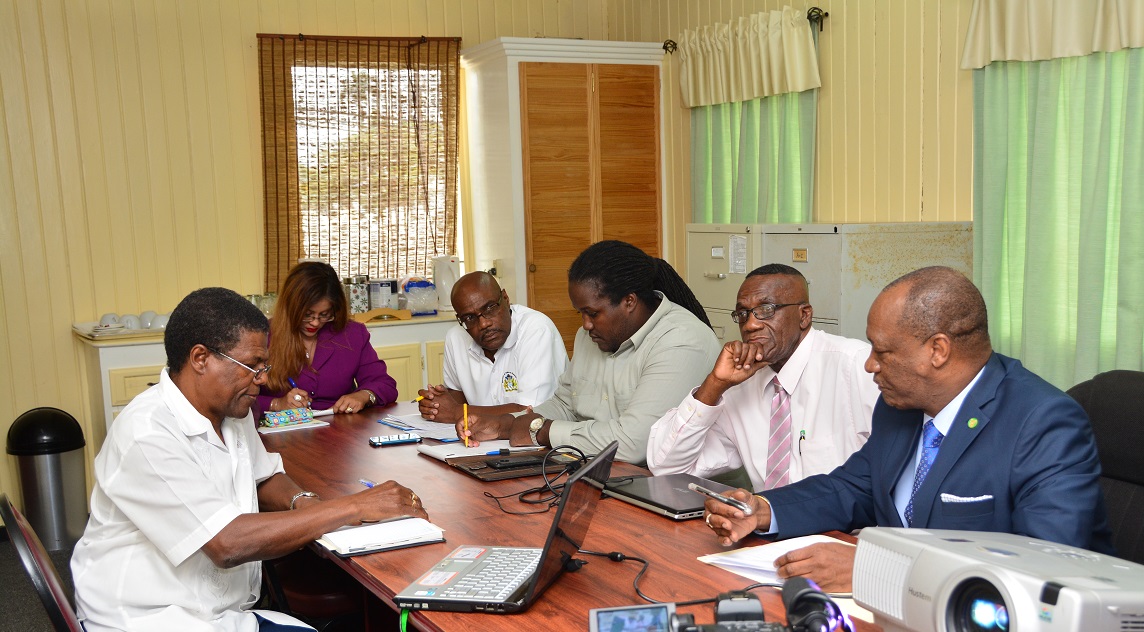 Georgetown, Guyana – (May 4, 2017) The Government will next Wednesday deploy a team of engineers and other officials from various Ministries to the community of Coomacka, located in Upper Demerara-Berbice (Region Ten), to conduct a final scoping mission for the planning and execution of projects to address impassable roads and frequent flooding during the rainy season caused by intense erosion in the remote farming community.
Minister of State, Mr. Joseph Harmon, who has responsibility for the Civil Defence Commission (CDC) and disaster risk reduction, today, convened a meeting at the Ministry of the Presidency's Boardroom with personnel from key Ministries, where he noted that a plan must be presented as soon as possible for works to commence in the area so that the plight of the residents can be addressed.
"This matter arose at our last Platform [National Disaster Risk Reduction Coordination Platform (NDRRCP)] meeting and arising out of that meeting, we decided that we should have an inter-agency task force so that we can bring a solution to the problem as we see it. We have to come up with a plan to deal with this matter. I was disturbed by what I heard and I think it is enough for us to take emergency action to address the issues affecting the residents in this region," Minister Harmon said.
Minister of State, Mr. Joseph Harmon chairing the meeting held earlier today at the Ministry of the Presidency.
The State Minister noted that while there have been different approaches by the various agencies in the past, it is time for a more holistic approach to be taken so that long-term relief for the residents can be guaranteed.
The Government over the past few months, through the Ministry of Public Infrastructure, National Drainage and Irrigation Authority (NDIA) and the CDC have been conducting works and monitoring the community. However, the problems are worsening at a rapid rate and as such, urgent action has been recommended. Based on the site visit, it is expected that short and medium term solutions will be drafted and submitted to the Government for consideration and approval while a proposal for a long-term solution will be drafted.
Head of the CDC, Colonel Chabilall Ramsarup, Permanent Secretary of the Ministry of Natural Resources, Mr. Joslyn McKenzie, acting Permanent Secretary of the Ministry of Public Infrastructure, Mr. Geoffrey Vaughn, Chairman of Region Ten, Mr. Renis Morian, Head of the Land Management Division at the Ministry of Natural Resources, Mr. Derrick Lawrence and Head of the NDIA, Mr. Fredrick Flatts all attended the meeting.